Bernard Jackman believes law changes enacted during the summer have increased the injury-toll in this year's Six Nations championship.
Both Tadhg Furlong and Robbie Henshaw suffered injuries in Ireland's comfortable victory over Italy Saturday, with the latter presumed likely to miss the rest of the championship.
Speaking on RTÉ Radio 1's Sunday Sport, Jackman, whose Dragons side were decimated with injuries over the Christmas period, partly attributes the worsening injury rate to law changes from last summer.
"Sports science is doing everything in its power to try and limit injuries. But the reality is that the game is won by the biggest, fastest, most powerful teams.
"We're talent ID'ing these players who have the potential to be very athletic and generate great force. But the human body can only take so much of it.
"So, you have to have a big squad. You have to have great depth. At the Dragons this season, we've had a horrendous injury-crisis. I've got 40 full-time players and 26 of them were injured over Christmas.
"The law changes over the summer which have massively increased the 'ball-in-play' time. And the way the referees are reffing the law - it's called 'positive refereeing'. If you listen to the ref mic, they're telling players to roll away, let go of the ball.
"This decreases the amount of penalties, which keeps the ball in play longer which means there's a lot more contact points and breakdowns.
"And that's where most of the injuries (occurr). I know Tadhg Furlong got injured just running, that was a freak thing. Robbie Henshaw got injured in the act of scoring a try.
"But the more contacts you have and the more high intensity metres you run, it increases your frailty and the likelihood of getting injured. So, I think the law-makers need to look at it and ensure that the laws of the game don't go overboard on ball-in-play and contact points."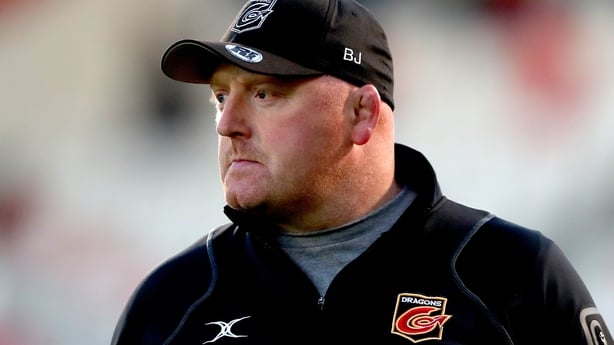 As far as replacing Henshaw in the centre goes, Jackman rejects the notion that Keith Earls could be shifted from the wing into the centre and insists that Munster's Chris Farrell is the best available replacement.
"There was some chat around playing Keith Earls at 13, where he finished the game yesterday. Now, Keith Earls is a more than adequate 13 but I think he's in such a rich vein of form as a wing that I think it would be a dangerous move to push him to 13 and expect him to do the same things he's doing on the wing.
"I think him being Mr. Versatile early in his career didn't help him, in terms of his confidence and prep for games. Wales are very physical and Chris Farrell is a big physical man and is the most likely replacement for Robbie who I don't expect to come back in this competition."