Conor Murray insists that Ireland cannot afford to take Italy lightly as they prepare to welcome the Azzurri to the Aviva Stadium for the second game in the Six Nations campaign.
Ireland and Italy enjoyed contrasting fortunes on the opening weekend of the tournament.
While Joe Schmidt's side claimed a famous 15-13 victory over France in Paris, Italy were beaten 46-15 at home to England.
That Italian scoreline does not tell the full story of their clash with England, however, and a late surge from Eddie Jones' side gave the result a more lopsided look than it perhaps deserved, with Italy causing problems for the visitors throughout.
Murray expects a similar performance from Conor O'Shea's side when they meet in Dublin and while he admits the expectation is that Ireland will run up a big victory, he's wary of the challenge the visitors will present.
Speaking to RTE Sport, Murray said: "Next up is Italy and we're returning home to the Aviva. Home Six Nations games have a massive buzz about the town and about the country so I think everyone's excited. 
"We know the challenge that they'll pose. People always say 'you've got Italy at home, that will usually be a win', we can't look at it like that.
"I've lost to Italy away before in this competition, I know how good they are. They still have the leadership spine, they have [Sergio] Parisse there, [Alessandro] Zanni who has 100 caps now.
"They have a good bunch of talented players and a good core to them and we know the threat they pose so we've got to be on task and really on our own game."
Murray revealed that the Irish squad watched Italy's clash with England as a group and that they saw plenty of reasons to be wary of the Italians, not least their ability to battle their way back into the game after a setback.
Indeed were it not for disallowed Tommaso Boni try in the second half, the game could have taken on a very different complexion.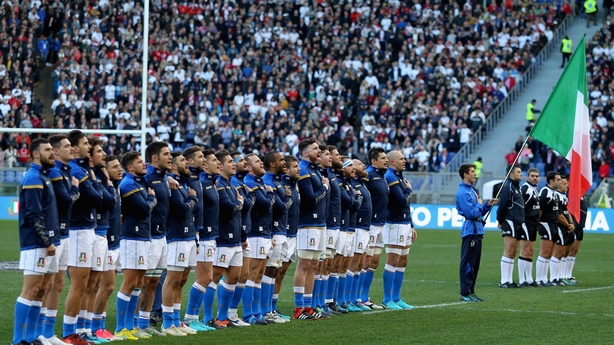 "We were watching it and we were very impressed with them," Murray said. "They gave England a little bit of a lead but then they clawed it back before England got another score and they clawed it back again.
"I don't know the exact points margin but they were close to England at one stage and it was just that England put a little bit of icing on the cake at the end of that game.
"You play Italy and they're a really tough challenge for any team. We've experienced losses against them, we've experienced games at home where we've narrowly won because we've been off a little bit.
"I think going down to the basics of it, rugby and the breakdown, that's where it's won and if you're a little bit off, if you think you just need to get your shape right and you're not physical, if you don't gain momentum and you don't target the breakdown well, that's when Italy thrive.
"Fans probably expect us to win this weekend but from our point of view, we prepare absolutely no different to any other team. We know we have to be on and we need to be there at that level to put on a performance."