Writing this, I feel a bit like someone who had a really solid first cap, received generally positive reviews and is now on the eve of their second cap and a bit worried they might drop the ball.
For the record I got the ball twice on my first cap (Scotland 1994) and dropped one of them!
So what did we learn from the opening weekend of the NatWest Six Nations?
Women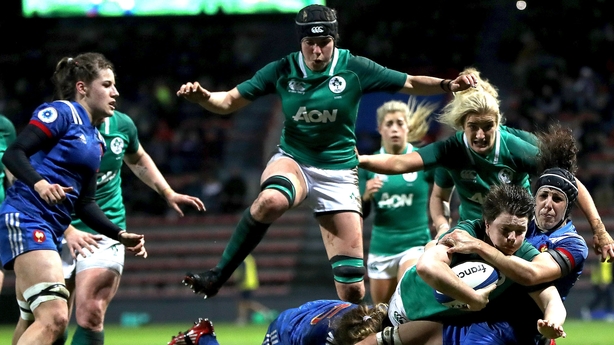 The Irish women started poorly in Toulouse last Saturday night, with loose kicks, missed tackles and poor awareness around where and how to attack with ball in hand.
The French, on the other hand, started off right where they finished off in the World Cup last August, full of attacking flair, running with conviction and a powerful offloading game.
The one positive from the first half was the Irish scrum, where Fiona Reidy and co managed to put the French eight under pressure on opposition put-in and produced a solid enough platform for Ailsa Hughes on their own.
One feared for a demolition as the first half continued, however, the Irish girls rallied after half-time with an improved defensive effort.
The story of the game for me was that the Irish entered the French 22 on only three occasions and then failed to capitalise. This Six Nations will be a steep learning curve for Adam Griggs and his team as they try to embed patterns and plays with new compositions all across the team.
Men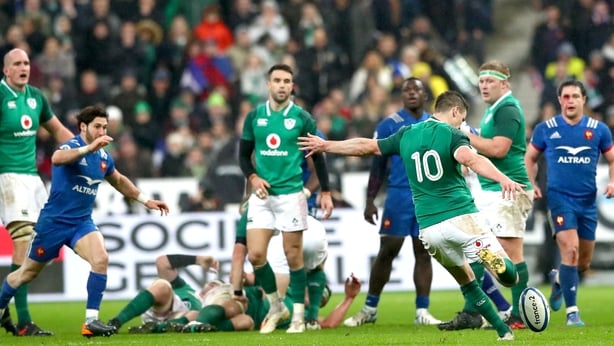 I better start with 'that kick'.
Lynne Cantwell, Rosie Foley and I were having the finishing touches of mascara and lipstick applied as we looked up at the TV in the make-up room at RTÉ. Let's just say there was a lot of reapplication needed afterwards!
That drop-goal could well turn out to be the championship decider. The control and discipline shown by the Irish team in each of the 41 phases was superb. The skill it took to execute the kick under that sort of pressure was phenomenal.
The sigh of relief and joyous outbursts of a nation is testament to its importance.
My question is: how did it come to that? How, when we were favourites for a comfortable win against a young, inexperienced, disjointed French team, did it come down to 41 phases of control and one kick of pure brilliance?
What if the kick had fallen short and it was game over, Grand Slam over and championship over? Thankfully the end result in Championship rugby is all that counts.
What's next?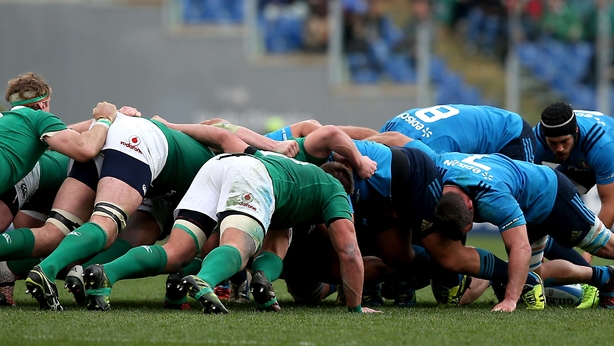 Italy bring a fresh and interesting challenge to Dublin. Let's face it, no one reading this expects them to trouble any of our three teams at the weekend. However, the Irish women will need to be much improved to suppress their Italian counterparts.
It has long been the case that the public expects a bit of a dogfight for 20 or 30 minutes after which Ireland will run out comfortable winners. For me, that sense of comfortable ease never existed when watching Ireland's men lock horns with the Italians.
The Azzurri have always had a scrum and seemingly always had Parisse (more on him later). The sight of Martin Castrogiovanni and co huffing and puffing around the field, all hair and flair, never excited me.
They could always scrummage, though not always legally, and the sense was always that if our scrum held up the backs would run riot. Imagine having all that weight of expectation on my slim shoulders and not even being on the pitch?
Martin, like other excellent props (some with a bit less hair and flair) has since retired but Italy showed last weekend against England that the new breed of Italian front-row beef carry on the tradition of 30 or so minutes of grunt and grind slowly fading into penalties and early substitutions.
Opposition Watch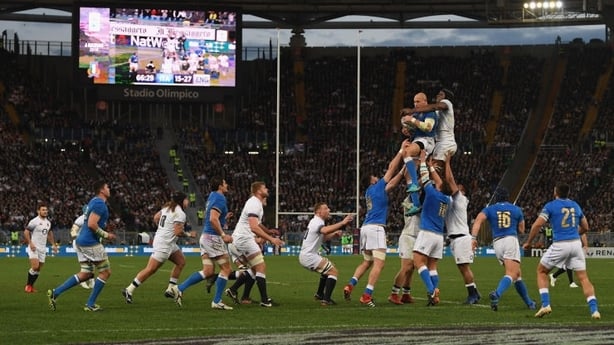 How could I not pick Sergio Parisse as my one to watch this week?
He made his Italian debut as a fresh-faced 18-year-old in 2002 and has gone on to play 130 Tests for his country. He will bring all his passion and power to Dublin. I noted on Twitter that RTÉ's Damian O'Meara had the stat that he has lost 96 of those internationals and 51 before today's game in the Six Nations.
This prompted the debate about why he still does it, with some observers suggesting that the appearance fee is the reason. For me this cannot be the case.
Did anyone notice how in the 66th minute he rose highest to steal the English lineout from the hands of Maro Itoje as England threatened his Italian line?
The phases that followed sum up Italy to me. Parisse was imperious but his team did not follow suit; Owen Farrell sliced through the defence less than a minute later and gave the easiest of run-ins to George Ford. Yes, Sergio is not the athlete he once was and time waits for no man, but for me Italy have no one better.
Team Selections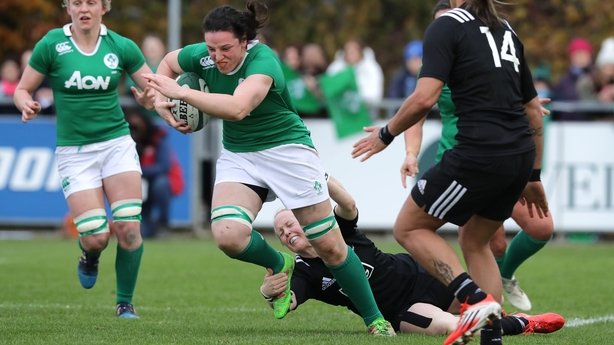 I was happy enough with my selection picks last week 14/15 right for the men and 13/15 for the women's 15s. James Ryan blindsided me straight into the starting 15 for the men, I didn't think Joe would go without the safe hands and shrewd lineout operator Devin Toner, however, I am delighted that he did.
For the women, Nicole Cronin's return from injury kept her out and Paula Fitzpatrick losing out to Anna Caplice in the back row were the ones I didn't get.
Both coaches have made some changes this week. Adam Griggs has been forced into a reshuffle of his pack following the injury to Ciara Cooney in the second row. He has opted to change both locks though with a new combination of Paula Fitzpatrick and Nichola Fryday.
Fitzpatrick will bring a lot of experience to the pack- even if she would probably prefer to be back at number 8. In the backs, Katie Fitzhenry returns from 7s duty to start alongside Sene Naoupu at 13.
Fitzhenry started in that position in the last match of the ill-fated world cup against Wales and actually showed good attacking intent and passing on the day.
Joe Schmidt has made four changes in the pack on a like-for-like, or at least similar-for-similar, basis, giving opportunities to those who are breathing down the necks of the incumbents. Even the proud Munster woman that I am can't object to Jack Conan getting his shot instead of CJ Stander (I'm only giving him a shot mind) and Dan Leavy did more than enough last week to justify selection, with or without the unfortunate season-ending injury to Josh van der Flier.
Time to test Carbery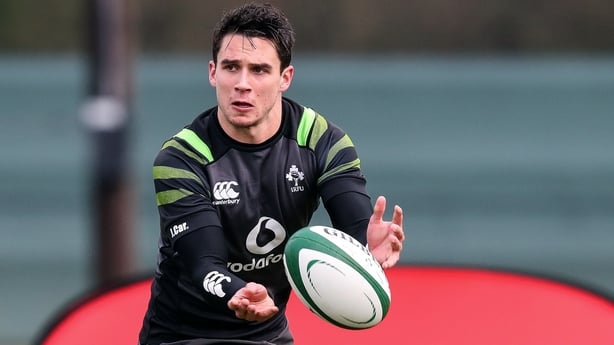 My one gripe around this team selection is that Schmidt has opted not to start Joey Carbery. Johnny Sexton is world-class, the dogs on the street know that and we all know that he can direct us to victory given the right platform.
But what do we know of Carbery in that situation and when will we find out?
Carbery's talent is undisputed and the glimpse we got of those talents at the Aviva stadium in November was sublime. I was speaking to Stuart Lancaster at the Aviva that day and he was saying the plan was for Joey to get lots of game-time over the Christmas period. Unfortunately, an untimely arm injury put paid to that.
The issue for me is that I think we can win a World Cup in 2019 and to do that we have to have strength in depth in all positions. To be fair, we are nearly there and, injury permitting, we will have the best squad when it all kicks off in 19 months' time.
Until then, we need to see whether someone other than Sexton and, to a slightly lesser extent, Conor Murray, can steer us home. We will only find that out if players are given meaningful game time in the important matches between this and then.
I recall Joe Schmidt on The Late Late show after our early exit in 2015 bemoaning the fact the Ian Madigan hadn't had enough time as back up to Sexton as one of the key reasons for our demise. Well, now is the time to test Carbery, test him again against Scotland and, dare I say it, the cauldron that will be Twickenham on D-Day.
What I am most looking forward to this weekend
At half-time in Donnybrook, Bruff, Virginia, Sligo and Wicklow rugby clubs will be represented by their girls' under 12 teams. I'll be busy giving my opinions on RTÉ as to what's gone on in the first half and will not be able to watch it.
However, the significance of four non-traditional rugby clubs having four under-12 girls teams representing them at a women's international will not escape my notice. There is much to be done around the women's and girls' game but let's not lose sight of what has already been done.
We need your consent to load this Facebook contentWe use Facebook to manage extra content that can set cookies on your device and collect data about your activity. Please review their details and accept them to load the content.Manage Preferences
Follow our live blog of Ireland v Italy (2.15pm kick-off) on RTÉ Online and the RTÉ News Now App, or listen to commentary from Michael Corcoran and Donal Lenihan on RTÉ Radio 1's Saturday Sport.