Ian McKinley is nothing if not perseverant.
The 28-year-old has battled back from serious eye injuries, retirement and law changes in order to become an international rugby player.
It is the beginning of his career that lay the foundations for a most unusual path. A talent for Lansdowne, he made his Leinster debut in 2009, but received a major setback the following year.
A team-mate's stray boot, when playing for UCD in 2010, was planted straight into his eye, the metal stud He was told he would be a year on the sidelines, but was back within six months.
That would pale into insignificance for what would follow a year later. During his playing comeback, he was gouged twice in his good eye.
"I don't want that to be the main point but that's actually the reason I wear the goggles. I think it's important that people know that," he clarified to the Guardian last year.
A perforated left eye, two gougings in the other and four eye operations left the out-half in a bleak situation.
"My eye was in a lot of pain because it took a beating," he told Ray D'Arcy last year. "Whether it be through rugby or just the four operations, there was a lot of heavy work on it."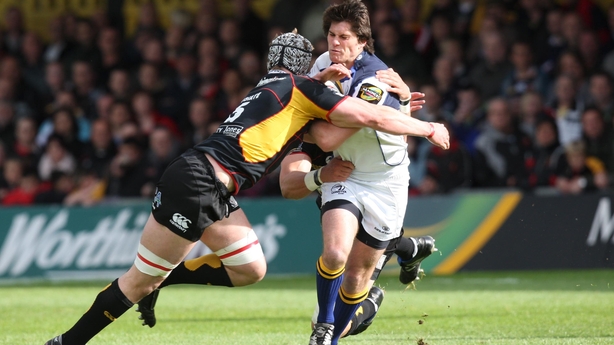 The journey since has been something worthy of the big screen.
Eighteen months after the injury, with the retina detached and his sight fading fast, he decided to retire, and moved to Udine in Italy to coach for a period of time.
As it happened, Italy were one of the few unions to sign up for a World Rugby trial for protective goggles in 2014. What started out as run outs in the third-tier was followed by a move to professional outfit Viadana, then to Zebre as injury cover and in 2015, he arrived at Treviso.
Four and-a-half years after his last appearance in the Pro12, McKinley was introduced as a sub against the Scarlets. His first start came four months later against the most apt opposition. Leinster departed the Stadio Sergio Lanfranchi with the expected victory, while McKinley knocked over a couple of kicks.
Another key aspect of his journey was the fact that he was initially denied the opportunity to return to Ireland as a Zebre player. Unlike their Italian counterparts, the IRFU had opted out of the World Rugby trial regarding the use of protective goggles amid safety concerns.
More than 10,000 signatures on a petition helped persuade the Irish authorities to have a change of heart.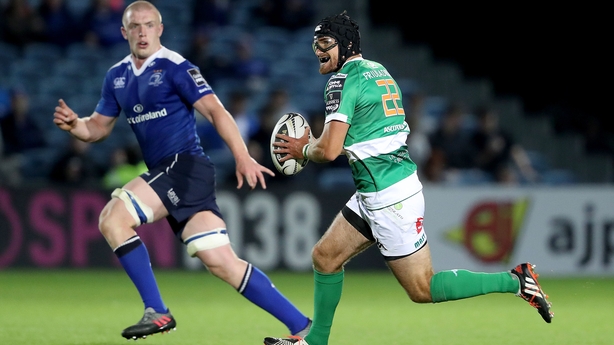 His first time back on Irish soil as a player came at the beginning of last season at the RDS. Joey Carbery sparkled on his full debut, but McKinley's introduction for Tommaso Allan on the hour mark was another hurdle overcome.
On a personal level, his season went from strength-to-strength. He missed only one game in the league and demonstrated at times the form that saw him represent Ireland at underage level.
He didn't escape the attentions of Italian head coach Conor O'Shea either, who included the Dubliner in a training panel ahead of Italy's summer Tests.
He didn't make the cut then, but was brought back in for the Autumn internationals a few months later.
On the same day that Ireland put South Africa to the sword at the Aviva Stadium last November, McKinley made his Test bow against Fiji.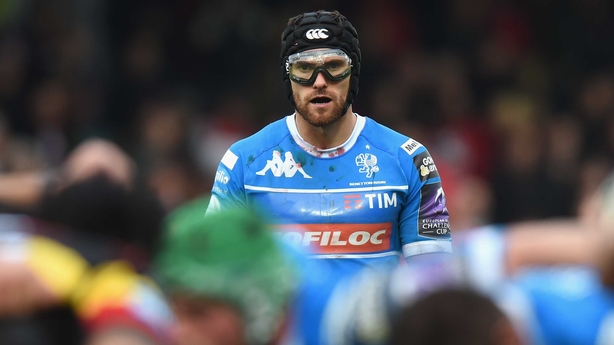 Introduced in the 62nd minute, he kicked a pressure penalty to help send the Italians on their way to a 19-10 success.
He duly became the first player to line out in an international Test match wearing special protective goggles.
"He was knocked more so than any player and he had the balls to come back"
"It's a fantastic story, Ronan O'Gara told RTÉ Sport at the time. "He was knocked more so than any player and he had the balls to come back."
While the background story has been captivating, O'Shea insists the player is in the Test arena on merits.
"He was judged for selection on who is best for the job, not because Ian has a good story," he said at the launch of the Six Nations Championship.
"He is the best to play, but to think of where he has come from is amazing."
McKinley was in the 31-man squad to face England last weekend, but ultimately missed out on the match-day 23 as the Azzurri were ground down by Eddie Jones' side.
"Treviso have stuck with me when maybe other teams wouldn't have. I owe an awful lot to Italy"
Fluent in Italian, the 28-year-old and is fully appreciative of the opportunities afforded to him since departing these shores.
"It's an honour and privilege to be part of it," he said prior to his Test debut last year.
"It is my home now. I'm very much part of the furniture. They supported me during the goggle trial. They were one of the first nations to sign up for the trial.
"Zebre gave me my first chance at playing back in professional rugby in the Pro12. Treviso have stuck with me when maybe other teams wouldn't have. I owe an awful lot to Italy."
His Six Nations time is coming and how fitting it would be were it to take place in his hometown this weekend against Joe Schmidt's Ireland.
Follow our live blog of Ireland v Italy (2.15pm kick-off) on RTÉ Online and the RTÉ News Now App, or listen to commentary from Michael Corcoran and Donal Lenihan on RTÉ Radio 1's Saturday Sport.