The journalists would have begun formulating the questions for the head coach from around the 62nd minute.
And somewhere in the back of Joe Schmidt's mind he would have been scrambling for the best way to answer.
When Johnny Sexton missed a penalty, from that spot again, which would have given Ireland a nine-point cushion, France smelt blood.
Uncannily like 2016, minus the brutality, Ireland were drifting towards a seemingly inexorable loss.
That's something we've got to make sure doesn't happen next week - Joe Schmidt
Failure to put away a determined Les Bleus, no doubt stung by the withering criticism that came with a seven-match winless streak, gave them hope and when Teddy Thomas put his foot on the gas to give Jacques Brunel's side the lead with six minutes to play, Ireland looked shot.
A missed penalty handed the pre-match favourites one more opportunity to head upfield but the posts must have looked tiny in the distance.
Had Sexton's long-range drop at goal died a yard before it did, the questions at Schmidt's post-match press conference would have been pointed.
As it stood, enquiries about why they had failed to convert their 68% possession and 68% territorial advantage into a two-score win, were still relevant in terms of championship ambition.
"We felt it was one that got away if it managed to get away," said Schmidt afterwards.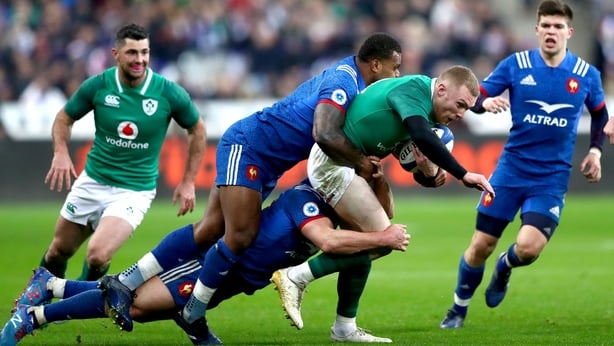 Ireland went in at half-time with a six-point lead, thanks to French indiscipline, (the penalty count at full-time was 10-6 in Ireland's favour) but surely the coaching team had identified the problem, would let the troops know in no uncertain terms, and expect a full calibration to have the desired effect.
"I felt we started the second half well," Schmidt told RTÉ Sport when asked about the half-time message and whether he felt his words had been heeded.
"We went straight on the offensive and got to 12-3 up.
"As the game goes on and new players come in a out of the game, it does tend to lose a bid of shape and that's a challenge for us and we'll keep working on that.
"You have the first game of the championship and you have your baseline that you can springboard from, where we can be better through the second quarter and the third quarter."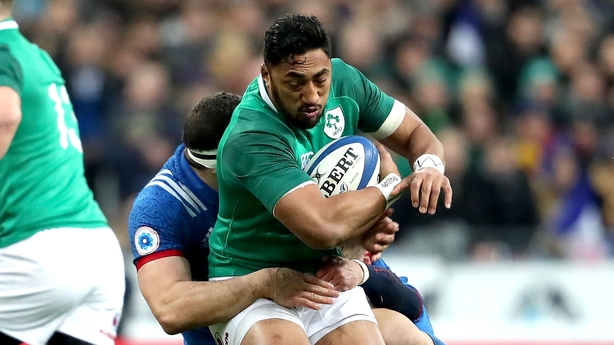 But new half, same pattern: a positive start and then a retreat into robotics.
Somehow, it seemed, that the fear of making a mistake stifled Ireland.
France spread out and absorbed the attacks relatively comfortably.
The conditions may not have helped but when a little bit of imagination that may have broken the blue line was called for, it was absent.
"To a degree we saved our best bit for last," added Schmidt.
That much is certainly true. The out-half's drop-goal will be celebrated - and rightly so.
And, as it turned out, it came from precisely the type of mechanical play that had led them down a very dark path.
Forty-one phases of play, where every circuit and synapse connected perfectly – the type of monotonous Lego-building that one imagines is played out ad nauseam in Carton House day after day – meant Ireland found themselves in a position where a perfectly struck shot would prove the killer blow.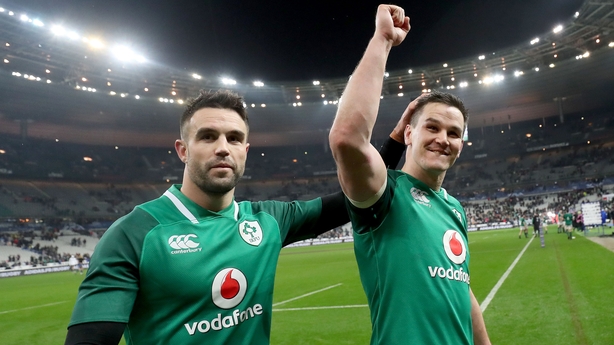 That shows discipline and, in Sexton's case, a hitman-like cool.
However, that sort of execution doesn't happen every game, in fact, it's notable for its rarity.
What about Monday's review session? Will the euphoria have worn off, will the hard questions be asked, will fingers be pointed?
"We have to make sure that we make the most of those advantages and get the points that you need," said Schmidt.
"We will look at a few things from that perspective and obviously I felt we defended well for long periods at times and we got the ball back but suddenly one freakish event and one freakishly good player can undo all that hard work.
"That's something we've got to make sure doesn't happen next week."
Next week it's Italy who will come to Dublin and Ireland, minus the injured Josh van der Flier, will go about their business and probably rack up a healthy score.
Winning in France is hard; Ireland made it harder than it should have been. It's a team like Wales who would take a lot of encouragement from that performance and Ireland must have another string to their bow.
Schmidt said last Thursday that uncapped Jordan Larmour will be used and if it's a bit of spark that the team are lacking then the Leinster man may be just the answer.