It's officially 20 years now since Ireland were last on the end of a whitewash in the Five/Six Nations championship, something which used to occur at five to six year intervals in the late 20th century. 1998 marked the seventh time since the Second World War that Ireland had registered 'nil pois', and it was the sixth time since the late '70s.
It hasn't happened since, and not just because Italy joined the party in the new millennium. Leaving aside the Italians, Ireland have yet to lose four games in a Six Nations Championship in the 21st century.
The media reaction to Ireland's most recent whitewash was relatively benign, for a few reasons.
By the end of the 1990s, Ireland were well acclimatised to failure so fans weren't inclined to indulge in entitled whining at their every setback.
Also, their points difference, for instance, was a considerable improvement on the '97 campaign, when they had sneaked a one-point win against Wales in Cardiff, but were hammered out the gate by an average of 28 points in the other three matches.
And the new coach Warren Gatland - installed mid-campaign after an unhappy Brian Ashton flounced out of Lansdowne Road following the Scotland game - was still enjoying a mini-honeymoon thanks to a rousing display in his first match against eventual Grand Slammers France in Paris.
It's the France game which is the only memory that Irish popular/sporting culture has preserved from that campaign.
It was a moral victory par excellence, along with the Gordon Hamilton game against Australia in '91, the very pinnacle of the genre. The kind of beautiful, unrewarded effort that might bring tears to overly-sentimental eyes and which Kevin Myers might write an article giving out about once the dust had settled.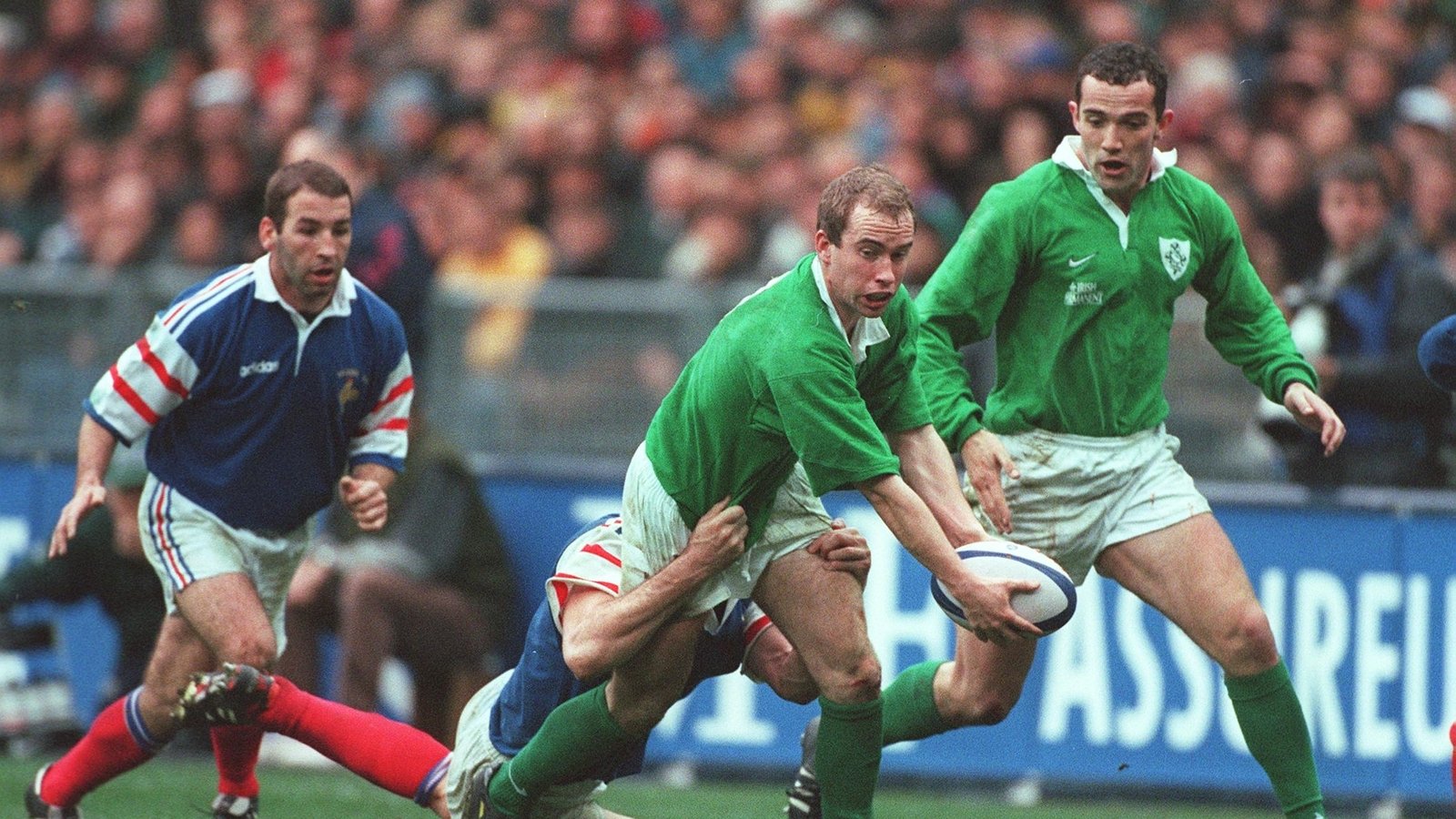 With the disdainful technocrat Ashton finally out the door, much to the relief of several of his players, Ireland returned to core values under the more humble Gatland, who'd been elevated to the job after turning heads at Connacht in the Challenge Cup.
The Irish rugby fraternity was braced for a mauling to end all maulings in the second match against France.
Even at times of less coaching upheaval, and against less well-drilled French teams, Ireland were invariably battered to a pulp in Paris. In the circumstances of February 1998, this had the potential to be a historic beating.
Victor Costello, recalled to the back-row after starting from the bench against Scotland, remembers the standard feeling of trepidation that week.
"We genuinely didn't believe we could win," he says. "I remember driving down to Naas for a training session and I heard on the sports news that Ireland were going over for their biennial smashing. That was the way it was."
It was the first ever Five Nations game played in the new Stade de France, built in the dilapidated suburbs of Paris for that year's World Cup. Ireland's last away win over France was in 1972 in a game played in Colombes. In between, they'd played 12 times in the Parc des Princes from 1974 and 1996 and lost every match.
No Irishman had scored a try in the French capital in 18 years and 20 minutes in, Paul Wallace thought he'd done it. But the referee Jim Fleming generously allowed that the retreating Jean Luc Sadourny had successfully touched down behind his own try-line after an Irish grubber kick. Replays indicated that the full-back had been sloppy and that Wallace steaming in behind him was the first to properly ground the ball.
Ten minutes later, Ireland did score a historic try when Denis Hickie reached out and intercepted an insultingly casual Christophe Lamaison pass on halfway, wheeled around and scampered over for the score.
"This is Freddie. You're some b******s. Nobody remembers me apart from that try and now nobody is going to remember me ever again." - Freddie McLennan
Winger Freddie McLennan was the last Irish player to score a try away against France in a 19-18 loss in 1980 (Ireland had been awarded a seven-pointer in 1996 but it was a penalty try). He rang Hickie straight after the game.
"This is Freddie. You're some b******s. Nobody remembers me apart from that try and now nobody is going to remember me ever again."
As those watching back at home rubbed their eyes, Ireland extended their lead out to ten points early in the second half, before France's prematurely aged looking winger Phillipe Bernat-Salles beat the Irish defence on the outside to touch down for a score.
Still, Ireland maintained the lead right up until the final seven minutes - frittering away chances themselves in the meantime - until Rafael Ibanez scored a grimly unflamboyant try after a drive from a lineout.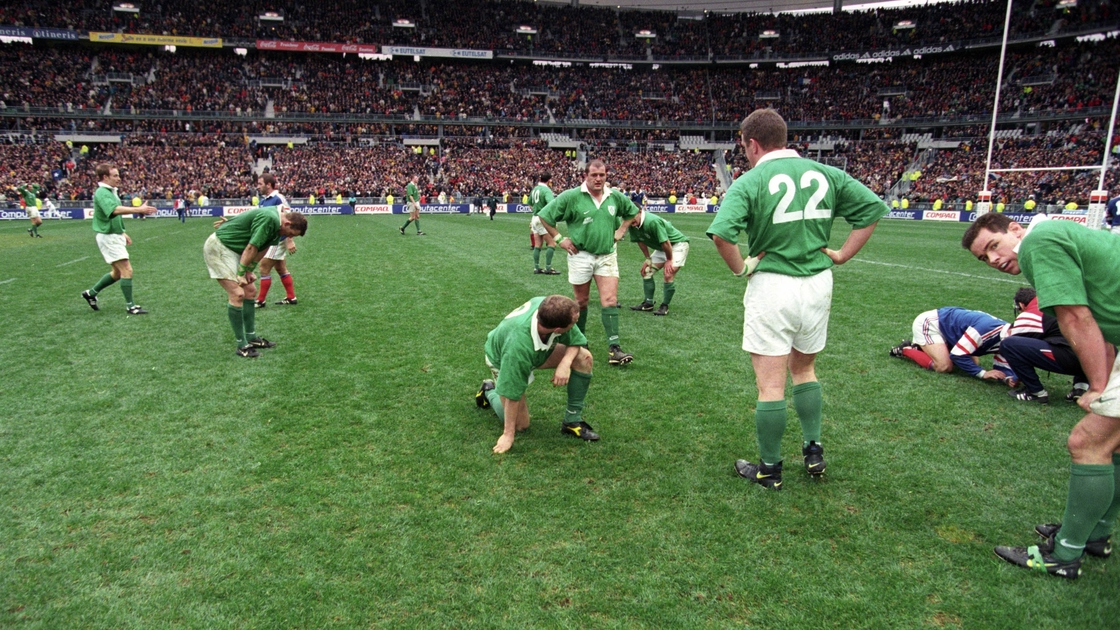 BBC News, in their report of the game, said Ireland had roundly stuffed those who were idly chattering about two-tier championships.
For Costello, it was a valiant performance but the game's finale betrayed the mentality. Self-deprecating fatalism was still the salient feature of the Irish rugby personality.
"That's where Irish rugby was at the time. It was 'we can't be winning this. The scoreboard says 8-6 to us with ten minutes to go but sure we're hardly going to be winning this game.'
"He just wanted our weaknesses to be better. And he forgot about our strengths."
Notwithstanding the fact that Gatland's team lost their remaining two matches, the mood at the end of spring was better than at the start.
After the inspirational effort in France, Ireland's loss at home to Wales was a downer but not exactly unexpected either. This was the still the era when you had to be on foreign ground to win the Ireland-Wales fixture. (Incredible stat: Between 1984 and 2001, only twice did the home team win an Ireland-Wales match). It also confirmed to the realists that Ireland would be receiving another lash of the wooden spoon, with only a visit to Twickenham still to come.
Sure enough, Ireland lost to England in the final weekend, albeit respectably. Denis Hickie, a shining light in those years and the successor to the prematurely retired Simon Geoghegan, scored two tries, the second of which arrived after a tasty offload by David Humphries.
It was as dignified a wooden spoon performance as it was possible to achieve, certainly more than so than Ireland's previous whitewash six years earlier, when they were hockeyed in both London and Paris.
It contrasted with the vibes emerging from the camp at the start, when the much lauded Brian Ashton resigned after the Scotland match, wishing Irish rugby all the best.
Ashton had been appointed in somewhat opportunistic circumstances at the beginning of 1997. He had left Bath and was casting around for a new role and his agent Tim Drohan happened to be an Irish rugby nut.
Inconveniently, Ireland still just about had a coach at the time but Murray Kidd - the 'Pointless answer' to the question, 'Name an Ireland rugby coach since 1990' - was done for following a loss to Italy in January '97.
Ashton was appointed days later, charged with leading the time through that year's Five Nations. Prior to the final game against Scotland at Murrayfield, the IRFU boldly announced that it was presenting Ashton with a six-year contract.
For a shambling outfit like Ireland, it seemed like a startling statement of ambition. Like if the Irish football team had hired Giovanni Trapattoni in the mid-eighties.
Ashton had been backs coach at Bath in the early 90s under Jack Rowell. In that role, he was credited as the brains behind the most admired attacking unit in the northern hemisphere. When Rowell left to take the England job after the 1994 Five Nations, Ashton ascended to the head coaching job at Bath and led them to another League and Cup double in 1996.
Ashton confessed later, to Brendan Fanning, that he harboured massive doubts about whether it was the right move for him. At every stage of the process, it seemed as if he was merely going along with others' suggestions, like a gifted but surly teenager whose parents and teachers kept on making career choices for him.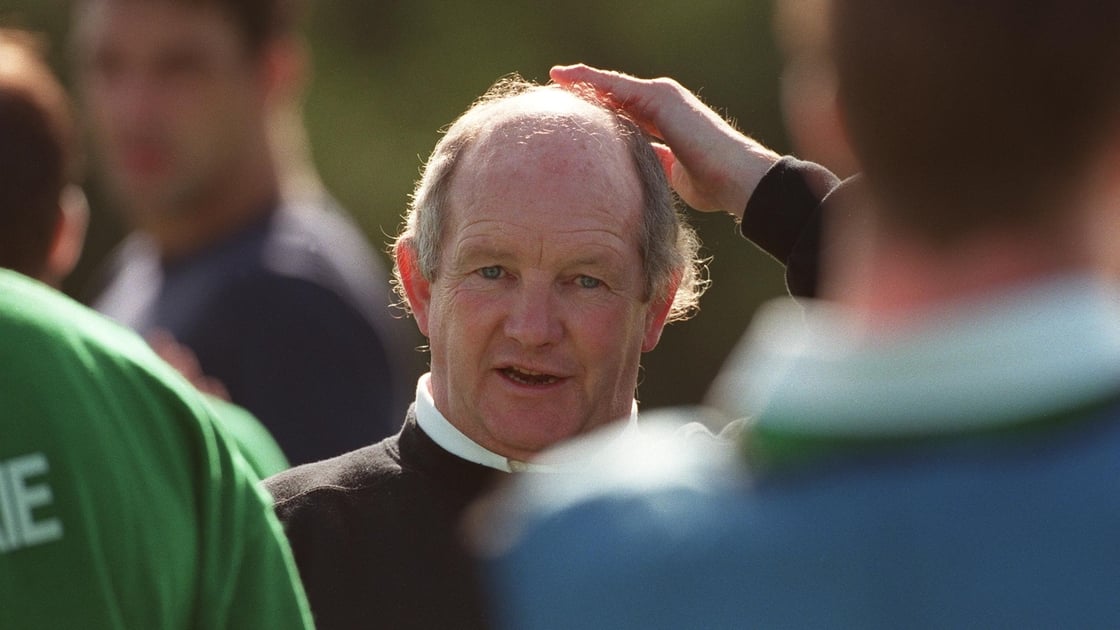 During the 1985 Five Nations, when asked to comment on Ireland's conversion to running rugby under Mick Doyle, England coach Dickie Greenwood (father of Will) scoffed that "You can't give a nation a brain transplant overnight."
Ashton's failing, it appears, was that he initially believed that you could. And then, when he regretfully concluded that you couldn't, he grew frustrated and decided to change the players.
Some players from that era, such as Denis Hickie, still speak fondly of Ashton and appreciate what he was trying to do.
"He just did not understand the Irish psyche. He was a very bad man-manager, a very bad communicator. And he did not respect the Irish way." - Victor Costello
Victor Costello is much less sympathetic in his appraisal.
"Ashton was what I would call a career coach. It didn't matter about the culture or the pride of the country he was in. He didn't really work on the strengths of a unit. He looked on what his strengths were. And our strengths didn't match his strengths. And he would blame, as he did, the players.
"He just did not understand the Irish psyche. He was a very bad man-manager, a very bad communicator. And he did not respect the Irish way."
In Costello's telling, Ashton decided quickly that Irish-based players were incapable of enacting his vision on the pitch and he turned his attention to England. There was some logic to Ashton's thinking at the time.
In 2018, leaving Ireland to play club rugby abroad is considered fatal to one's chances of international advancement.
In 1998, staying in Ireland to play your rugby was considered death to one's international chances.
While the European Cup was up and running at the time, and Leinster, Munster and Ulster were competing in it, the professional, inter-provincial game hadn't quite caught fire yet.
There were a paltry number of contracts handed out initially and the wealthier English clubs swooped to pick up several of the more promising Irish players. The natural presumption was that England was the place to be.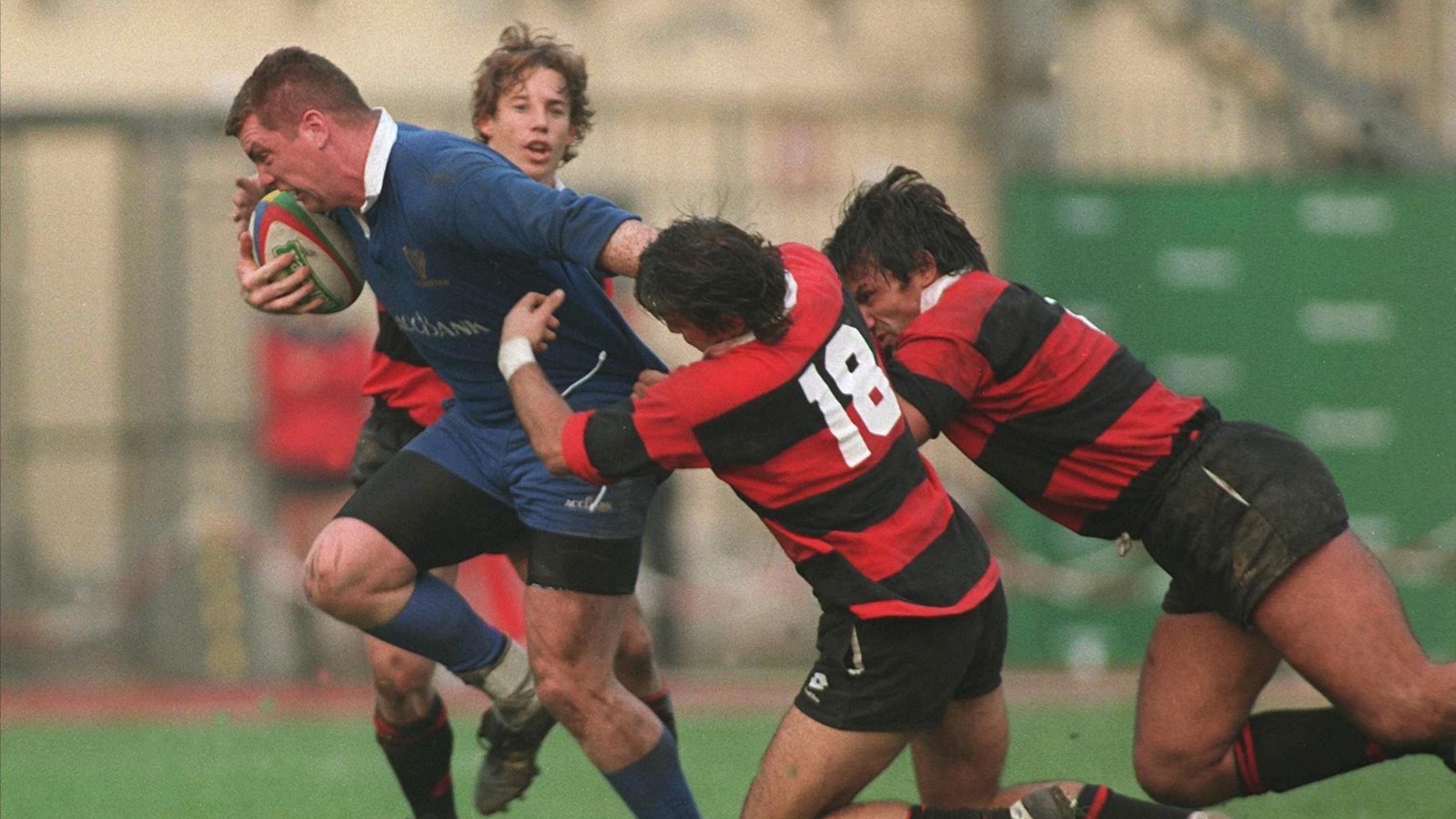 Keith Wood was already at Harlequins. Costello departed for London Irish, the destination for a fair few of his teammates, while others headed for Saracens and elsewhere.
"There was a feeling amongst players at the time that if you were playing for an English club, that was a better standard than playing for an Irish club," says Costello.
"The repetitive day-to-day games, if you were with the likes of London Irish or Saracens, you were at a better level than you were with Mary's, 'Rock, and Cork Con in the AIL.
"I went to London Irish, the Wallace brothers went to Saracens, there were a few scatterings around Moseley and Birmingham and various other places.
"So, everyone kind of departed at that time. Irish contracts were at a minimum. By 1998, they were a little bit more structured. But certainly from '95, '96, they were a few teething problems in professional rugby in Ireland.
"But from a club points of view, the English probably had better structures in place. Because they were probably playing their players before the game went professional. So, that's where the immediate gold rush was. And the way I looked at it was, you were looked at more favourably if you were playing that standard of rugby."
Those who remained at home grumbled that they couldn't get a look-in. The Shannon contingent, busy hoovering up four in a row in the AIL, were especially aggrieved.
Not only was Ashton partial towards Premiership players, he didn't even restrict himself to the Irish born players who'd migrated there. The granny rule was used liberally.
"He picked a load of guys from the UK. There was six or eight guys pulled out of Premiership rugby that hadn't set foot in Ireland before that probably. If you look at an Irish squad from 1997, you'll see David Erskine, Dylan O'Grady... There was a handful of them that came for a year and then disappeared. And remember that at that time if you got capped for a country, it increased your value as a player."
"I don't know who's game plan that was but it certainly wasn't mine"
Results not only failed to improve, the margin of Ireland's hammerings grew conspicuously wider. In the summer of '97, while the Lions brand enjoyed one of its finest hours on its new home of Sky Sports, Ashton took an Irish development squad to New Zealand and Samoa. The team lost heavily to a series of Kiwi provinces, eventually finishing with a win over a 'Samoa XV' in the final game.
In the winter, things got worse again. New Zealand won by a cricket score in Dublin before Canada were beaten by the hardly overwhelming scoreline of 33-11.
And then, five days before Christmas, Ireland were beaten by Italy for the third time in a row, this time by the biggest margin yet. Ireland's standing as pre-eminent wooden spoon contenders was going to survive even the introduction of Italy into the championship.
The chief media fixation throughout Ashton's tenure was his obviously rancorous relationship with team manager Pat Whelan.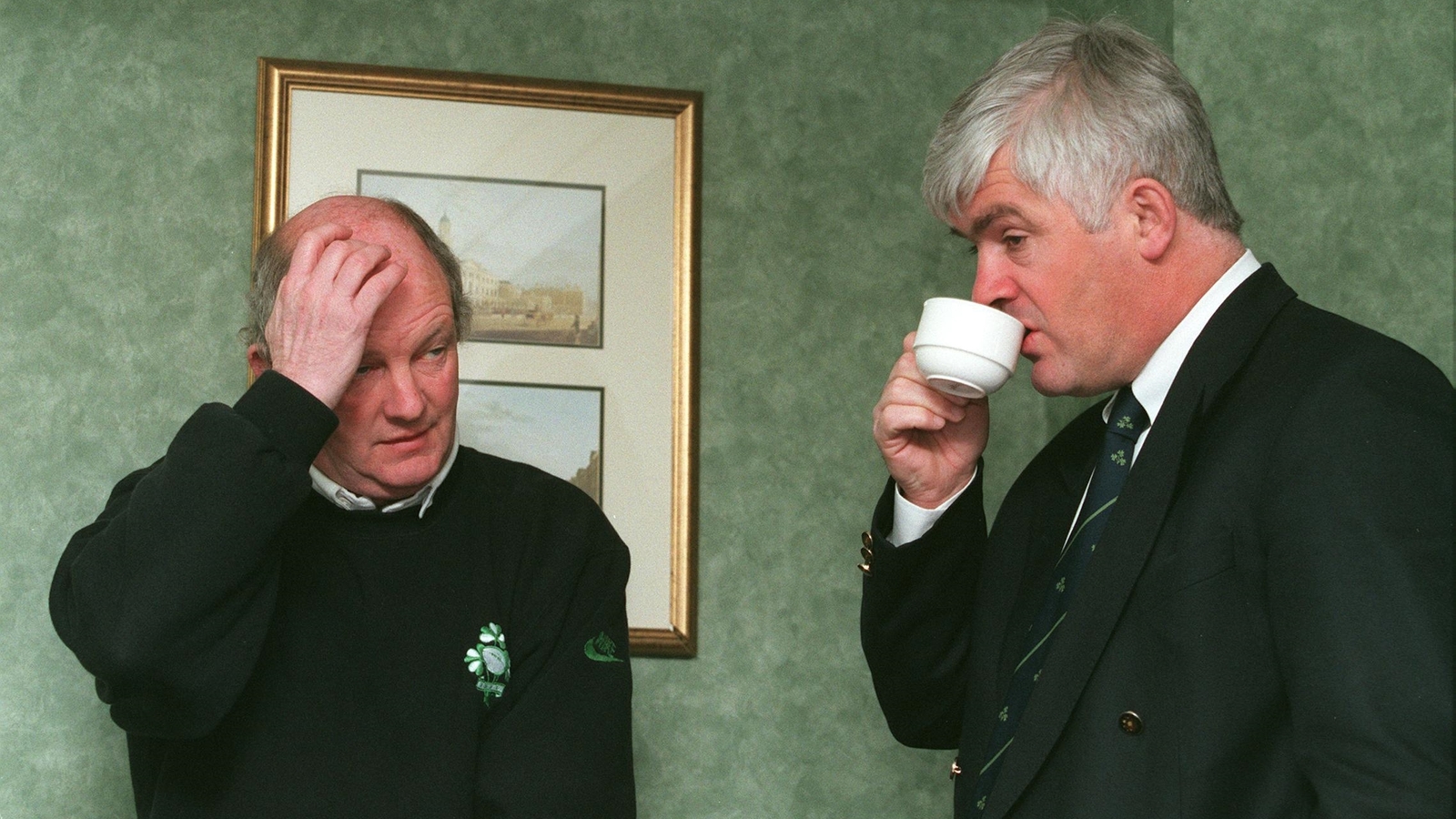 The two men were portrayed as coming from different planets, symbolising the battle between the professional modernising tendency and the old-style way of dealing.
As Brendan Fanning detailed in From There to Here, Whelan was ultimately willing to grant Ashton most of his wishes by the beginning of 1998 - with the major exception of switching the team training sessions to England.
Ashton often gave the impression that if he could have coached Ireland without setting foot in Ireland that would have been preferable.
While Ashton probably won that PR battle against the abrasive Whelan, Victor Costello saw the Limerick man as the more realistic of the pair.
"Pa comes from a Garryowen club mentality. And you'd this kind of regimented, rigid, north of England idiot trying to make us play in a manner that no province would have been used to. It wasn't exactly winning rugby. It wasn't as if it was beyond what we could do, it just wasn't an Irish way of playing.
"You had to tap into your strengths and improve your weaknesses. He just wanted our weaknesses to be better and forgot about our strengths."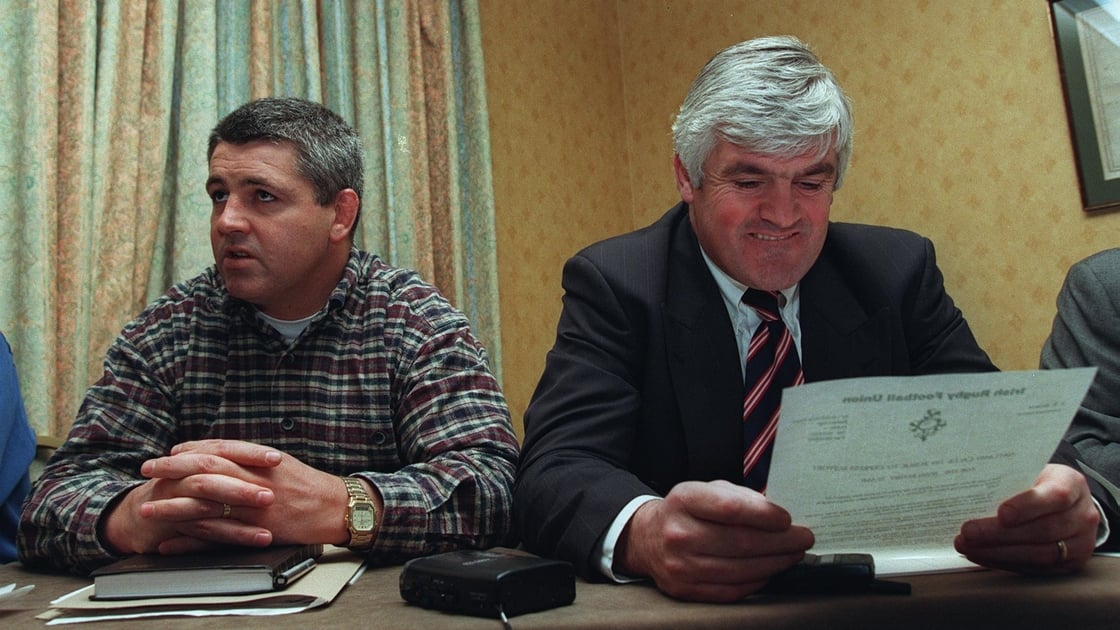 "You had to tap into your strengths and improve your weaknesses. He just wanted our weaknesses to be better and forgot about our strengths.
"The first thing that Gatland did was that everyone went out for a few pints and relaxed," remembers Costello. "So, the tensions were all broken down. If you said that now, there'd be war. But that was the way it was. That was club rugby, that was the team mentality."
While Ireland wouldn't start winning regularly under Gatland for a couple more years - and indeed they suffered a further humiliation at the 1999 World Cup - Costello nonetheless believes that the New Zealander tapped into what was happening in the provinces.
It was in the provinces that Irish rugby began it's revival.
"I'd refer back to the four proud provinces, as the song goes. There were four provinces there that were sleeping giants.
"The first sleeping giant was Munster, the second was Ulster to a certain extent, in 1998-99. And then the third sleeping monster was Leinster. And he (Ashton) did not respect those in any shape or form.
"If you go back to 1996-97, the Courage League, as it was called at the time, the champions were Wasps. That season, Wasps went down to Thomond Park to play Munster and got kicked out the gate by 40 points.
"And that was the best team in England. And that was the start of what we now know as Heineken rugby and the success that followed.
"The reason that Munster won in Thomond Park against the English teams was because they played guerilla rugby. And they developed from that seed, that DNA that was there all along from way back.
"Ashton didn't get that. Gatland tapped into it."
Follow our live blog of France v Ireland (4.45pm kick-off) on RTÉ Online and the RTÉ News Now App, or listen to commentary from Michael Corcoran and Donal Lenihan on RTÉ Radio 1's Saturday Sport.