The Ireland women's rugby team will get their Six Nations campaign underway on Saturday against France and former Ireland player Sophie Spence feels the future is looking bright for Adam Griggs' new-look side.
"It's nice to have fresh new faces in the squad," Spence told 2FM's Game On.
"It's the end of the World Cup and you have to rebuild and start the transition for a new cycle. The future is bright in Irish rugby and hopefully I can play a part in that."
Spence recently retired from international duty and has been coaching at grassroots level. She has worked with Griggs as a player in Leinster and is expecting the Ireland team to play a good brand of rugby.
"Griggs likes to play a free-flowing game, I think that is something that will suit a lot of players. That focus on general movement is the system that a lot of us would have been used to playing.

"I think our strength is definitely going to be in the pack and I think once we let the backs loose with the ball we will do well, especially having Niamh Briggs back, and her being a key decision maker."
Briggs has returned to the starting line-up after a series of injuries kept her on the sidelines during 2017. She is named to start at out-half and could come in for some special treatment in the opening game.
"Wherever Niamh plays she will be targeted, she is a great decision maker and very agile and works around. 
"She has been out for a long time so people will try and get in her face, it will be up to the people around her to support her. She is a key decision maker and we need her to stand up and stand up early."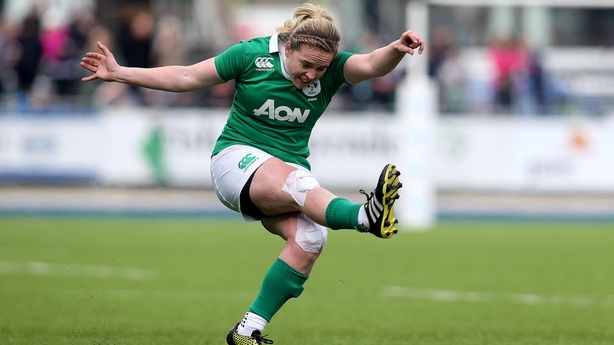 Jenny Murphy is also a former team-mate of Briggs and she thinks that having Sene Naoupu in the centre will be a benefit to the number ten.

"The likes of Sene is definitely going to have a massive positive impact, not just for the girls but for Briggs herself," explained Murphy.
"She has been out of the game for a while, it's brilliant to see her back, it's basically like playing with two fly-halves with both of them on the pitch."
Megan Williams will earn her first cap for Ireland on Saturday, having previously been capped at Sevens and has been named on the wing for the France game.
"Megan has great speed, her 0 to 5 is very impressive, solid acceleration, she gets around the pitch, a really impressive player, I'm looking forward to seeing her with ball in hand," added Murphy.
"She's aggressive all right being interesting to see how she deals with these French wingers."
Watch live coverage of France v Ireland in the Women's Six Nations on Saturday evening from 7.30pm on RTÉ 2