Keith Earls is in the form of his life and has put his resurgence down to a quiet word from his former Ireland and Munster team-mate Paul O'Connell.
The Munster wing, who will win his 63rd cap against France in the Six Nations on Saturday, has now found himself a nailed-on starter after a series of electric performances both for club and country over the last 18 months.
At first not quite able to put his finger on why no-one can lay a hand on him at the moment, Earls then recalls a recent meeting with the former Ireland captain that contributed to a new-found attitude on the pitch.
"I don't want to be sitting down when I'm older regretting not enjoying [the games]," he told RTÉ Sport.
"After speaking to Paulie on the schoolyard a couple of weeks ago and having roomed with him for a couple of years, we used to be a bit nervous before games.
"He said if he had his chance over again he wouldn't worry as much and I took something from that."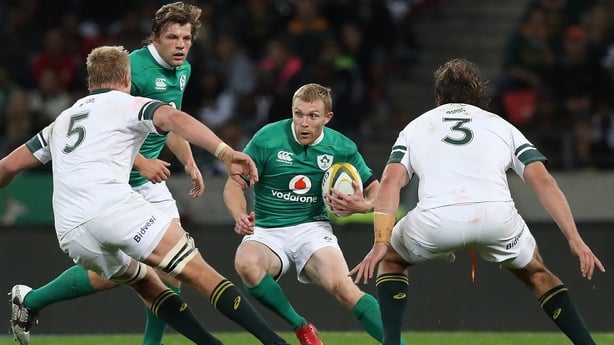 The 30-year-old will switch to the right wing to accommodate Jacob Stockdale but that move is unlikely to bother the Young Munster man, who scored two tries against the USA as recently as last summer from that position.
Earls, who missed the November internationals through injury, added: "I'm feeling good, I'm enjoying my rugby at the moment.
"In particular down in Munster as well we've been doing all right in the last couple of weeks and I suppose I'm champing on the bit to get a run-out with Ireland after getting injured in November.
"I'm just enjoying my rugby and it seems to be working. It's about enjoying it rather than being nervous and over-playing situations in your head.
"I'm just trying to enjoy every moment as I get a bit older and hopefully I have another five years left in me, six or seven maybe."
Asked about their slow start to last season's campaign, where Ireland opened with a defeat in Scotland, Earls said: "The plan with every team is to get out there and start quick, rather than starting slowly and having to catch up."