Racing 92 lock Donnacha Ryan admitted that it was strange to play against his former side but reckons Munster will book a Champions Cup quarter-final place by beating Castres next week.
The Reds came away from the new U Arena in Paris with a losing bonus point, still top of Pool 4, but the over-riding emotion may be frustration as they allowed the hosts to steal a 34-30 win by conceding a late penalty straight from a restart.
Ryan, who left Munster at the end of last season, was making his 50th European appearance and did as much as any of the Racing pack to deny his old friends, who host Castres at Thomond on Sunday (1pm).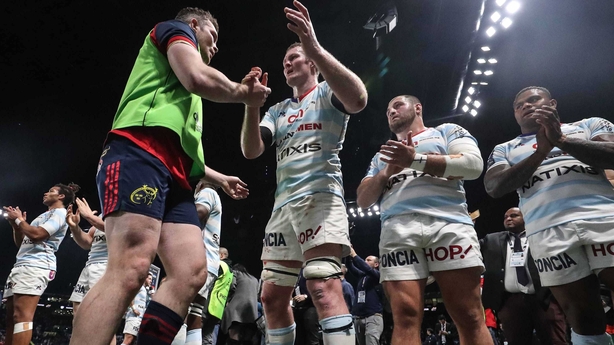 "The lads will be disappointed; they would have had massive ambitions of winning," he told RTÉ Sport.
"But they got something out of the game. They'll go out next week and I think they'll do a job on Castres, no problem at Thomond Park.
"It was very strange, analysing the lads, seeing what they are doing nowadays.
"When we were doing our video presentations it was very strange the way they were talking about specific players and considering you're playing against your [old team], you know them so well.
"It's an interesting viewpoint seeing them from the other side.
"I thought it was a great game. There was some fantastic rugby played out there.  
"It was very surreal playing my 50th game against my home town club."
The 47-cap Ireland international revealed he was wearing Keith Earls' shirt after swapping with his good friend post-game.
Congrats to @DonnachaRyan on his 50th European cap... 48 in the red 🔴 & 2 with Racing 92!  

Squeezing himself into Earlsie's jersey.  #R92vMUN #MunsterFamily pic.twitter.com/NcbdujlOKn

— Munster Rugby (@Munsterrugby) January 14, 2018
"I'm sure he'd fit into mine no problem, he's a big man, he has a big chest," said the 34-year-old.
"My GPS [readings] wouldn't be as high as Keith Earls.
"We swapped jerseys at the end, sure, that's what it's all about.
"It's great to catch up with the lads, I haven't seen them in a while.
"In the professional game now it just rolls over from week to week so you rarely get time to socialise as much as you would like, to catch up on things.
"Some of the wives and girlfriends who have come over to support the guys are staying in my house for the weekend, which is great.
"That's what rugby is all about, to have your friends [around] and catch up and make a big event of it and having a few beers, rehydrating.
"So we'll make the most of it."