Les Kiss struggled to find any positives from Ulster's 28-point Pro14 loss to Connacht but was hopeful that some of his young guns will learn from the chastening experience.
Ulster are third in Conference B and face Munster at home and Leinster away in their next two fixtures.
Director of Rugby Kiss felt that his side failed to match the 2016 champions in the intensity stakes and were fighting an uphill battle after going 12 points down in the first nine minutes.
"[The squad] were a bit battered, some sickness, some injuries and some rotations," he told RTÉ Sport.
"When you give them a start like we gave them with some [loose rugby] they got 12-0 up and they just kept coming. We held the tide for a while but they fully deserved their victory.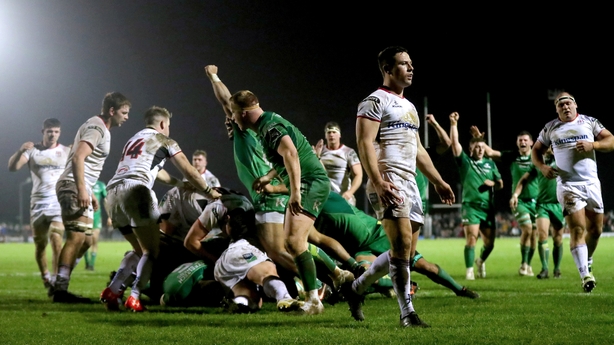 "To say the least, we're disappointed.
"You've got to be able to match [the intensity]. It's still a work-on for us, when we go away and having that level of intensity where it needs to be."
Kiss revealed that they are "on the way" to finding a replacement for out-half Christian Lealiifano who will return to Brumbies in Australia after the Champions Cup pool stages, but pointed to the lessons that some of his inexperienced bench can take from the Sportsground.
"I thought they stood up well," he said.
"Johnny McPhillips came on and did some nice sparky bits, Rob Lyttle, Greg Jones - he came on and added his deft touches and physical nature to the game as well.
"Adam McBurney [learned something from those conditions] so we've got to take some positives but there's very few.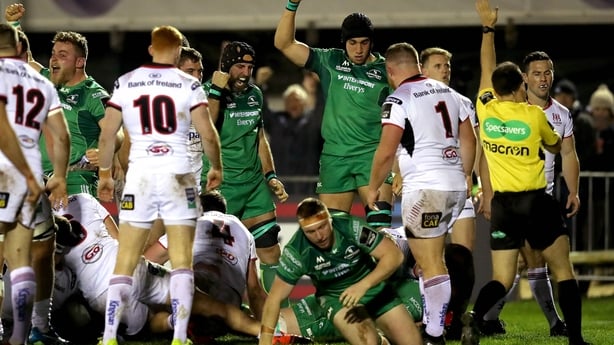 "At the moment the health of the squad is not in the best nick but you've got to rely on them and by no means was it their responsibility what happened but it's a learning experience for them as well and we've got to take something from it."
The games won't get any easier, however, and Kiss admitted that a much-improved performance is required when Munster come to Belfast on New Year's Day (live on RTÉ Radio 1).
"We've got to turn up and do something that reflects on [us] more positively than what [the Connacht] game did so we've got to dust ourselves down, go away with our tail between our legs.
"I take my hat off to Connacht: once they smelt it they went for it. Unfortunately we just weren't good enough."