Former Ireland rugby player Joy Neville is blazing a trail as a referee on the international stage and and the Limerick native hopes that her exploits will benefit other women who want to follow in her footsteps.

Last week she was named referee of the year at the World Rugby Awards in Monte Carlo and in two weeks will make history when she becomes the first woman to referee a European professional club fixture.

She is set to officiate at the Challenge Cup meeting of Bordeaux-Bègles and Enisei-STM.

"I'm honoured and I'm looking forward to the challenge, "Neville told The Ray D'Arcy show.

"That was one of my goals and my goals have changed as I have grown as a referee. For me it's about doing a good job and being in contention for round six and seven and with hopes of creating opportunities for other females to come through and referee at this level."
Neville played for Ireland for 11 years and during that time earned 70 caps. She retired from playing after Ireland's Grand Slam win in 2013 and after hanging up her boots she picked up the whistle.
During her time as a ref she has encountered some negative reactions because of her gender but she feels the best way to deal with them is by performing on the pitch.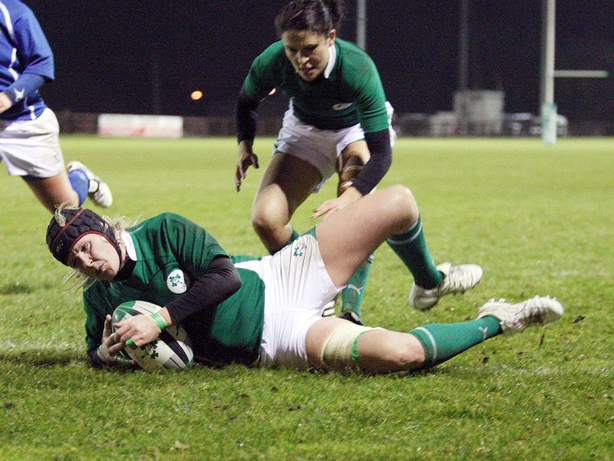 "There's no point getting defensive about it, it's about changing perceptions and educating people so they understand that it's not about the gender of the person refereeing," added Neville.
"Nine times out of ten the individual will come up after and say wow that was great when is your next game and that for me is the reward."
When asked what sets her apart from her male counterparts Neville revealed that she thinks it's her empathy.
"I think as an ex-player I'm more empathetic with the players and I have an understanding of what they are trying to achieve.
"I understand what they are feeling when things aren't going well, maybe it's a female emotional trait that they appreciate, a softness."
Neville officiated at the Women's Rugby World Cup final, refereed a senior men's international game and became the first women to officiate in a Champions Cup game.
The former player also recently signed a professional contract with the IRFU, she has made up incredible ground in a short period of time and has no intention of slowing down.
Joy Neville, the World Rugby Referee of the Year, keeps changing attitudes and breaking barriers #RTErugby pic.twitter.com/OZrldRyI0K

— RTÉ Rugby (@RTErugby) December 2, 2017
"If you asked me three years ago would i be capable of officiating PRO14 game I would have said no but I am very optimistic now and i think anything is possible to a certain degree.
"I hope I am being given the opportunities from merit and that I deserve all the opportunities I am being given.
"I am very thankful for the opportunities, the IRFU are very forward thinking and I have been provided with challenges thankfully where as in other countries the same opportunities wouldn't be there.
"My next goals are to referee in the middle for the PRO14 and possibly hopefully be in line for a Six Nations gig whether it is this year or five years down the line."