What must Keith Earls be thinking?
The Munster man was the in-form winger on the island just over three short weeks ago when a hamstring injury sustained in training put him out of contention for the three November Tests.
In steps Jacob Stockdale, the Ulster wing who had scored on his debut against the USA during the summer.
The Young Belfast Harlequins back then scores on his home debut against the Springboks and bookended his fourth international appearance with a two-try man of the match showing against Argentina.
"He's a kid who's learning fast and he's willing to learn," coach Joe Schmidt said after the 28-19 win.
"He's got some great athleticism and very good power. He's a big young lad."
Then Joe went into Joe Specifics: some praise, some famous work-ons.
"I thought he finished that second try really impressively because it wasn't just the line he took flat at the line to break their defensive line.
"It was then the fact that he could arc and get around someone as good as Tuculet. So there are impressive aspects.
"At the same time there were a couple of times he was a little bit hesitant defensively and even trying to win a couple of those aerial battles were a bit of a battle for him.
"He'll go through it and get some real confidence I hope and at the same time he'll get further motivation to try to improve aspects of what he delivered tonight.
"He's a natural left-footer. He put in a great left foot early in the second half after we scored to carve off a bit of territory.
"There are many aspects of his game that he can help us."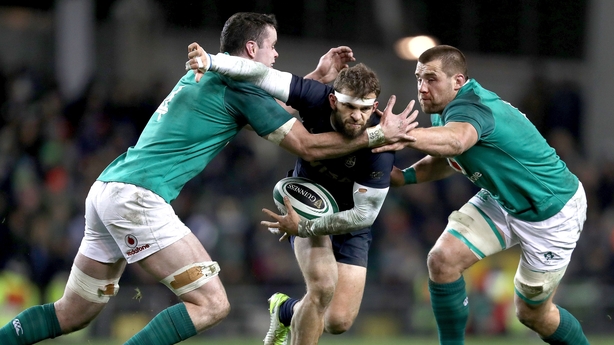 Home debutant James Ryan, who lasted 48 minutes before a shoulder knock saw him replaced by Devin Toner, played his way up the levels, starting at Under-18 Schools, with Stockdale.
"He always stood out in fairness. He just a big winger, he's got great feet, he's fast so he has kind of all the attributes you look for really," said Ryan.
Captain Rory Best was of a similar opinion.
"He's a quality player and what's impressed from last year to this year is the way he's improving," Best, winning his 106th cap, said of the 21-year-old.
"You always hear about this second-season syndrome
"I think while he continues to learn and stays grounded there's a bright future for him in a very tough position.
"He'll go back to Ulster and it'll be as tough. It'll be good for him. There's no doubt that he's done really well."
Stockdale's ability and pace helped Ireland play with an expansive style that left Pumas boss Daniel Hourcade admitting his his surprise, leaving Schmidt in turn raising an eyebrow at the visitors being caught unawares.
"I think we've always had a couple of different styles of game, so I'm surprised that Daniel said that," Schmidt said.
"He's done a super job with his team, but if he didn't anticipate what we did tonight... I'd say against South Africa (38-3 win a fortnight ago) there was quite a lot of dew on the grass, you are going to get more kicking.
"But to a fault last week we threw the ball around, against Fiji (23-20 win).
"And we want to mix our game up.
"And I think the players would agree that there's a real licence to pay. If the opportunity's there, play to the space.
"I don't think that's too different from what we've been doing for some time."
The 21-year-old he has done as much as one could expect to force Schmidt's hand for a Six Nations start.
But with Andrew Conway's progression evident, debuts for Adam Byrne and Darren Sweetnam, and with Earls to return, it's a welcome selection headache for the coach for Paris on February 3.