Cian Healy has earned a starting spot in Joe Schmidt's side for Ireland's final Test of the Guinness Series at the Aviva Stadium on Saturday.
The Leinster prop has been vying for the number one jersey with Jack McGrath and concedes that Irish camp is a very competitive place to be.
"There's a lot of competition now with Jack McGrath and myself and also Killers (Dave Kilcoyne) who is coming into a serious run of form," Healy told RTÉ Sport.
"It's ramped up and training has ramped up too and we are all thriving.
"It's an extremely positive environment and we have been pushing a lot of player led stuff for lads to get into groups to bond and spend time and work together and do reviews.
"That level of enjoyment comes more when you are fully prepared. You can't enjoy your time in camp if you are worried you don't know moves or anything like that.
"We have a good system in place where we are on top of all our plays, there's no mistakes happening and the lads are in a positive mind frame."
Saturday's game against Argentina is set to be a big occasion for Healy's Leinster team-mates Adam Byrne and James Ryan.
Byrne will make his debut on the right wing while James Ryan comes in at second-row and Healy feels the new guys are raising the standards in the Ireland and Leinster set-ups.
"I've talked to a few people about how professional the lads are coming out of school and their mindset," said the Clontarf man.
"It took us a lot of years of going on nights out in town and enjoying the fruits of rugby to figure out we need to have serious heads.
"This generation of lads coming through have this switch where they are always tuned in, they are always ramped up for training and they are very accurate with what they do.
 "That has rubbed off on the older lads, you see lads setting examples at 21 or 22 and you think I better up my game here and try and show them a thing or two about camp life or something.
"They are helping you and you want to help them, it brings it up another gear."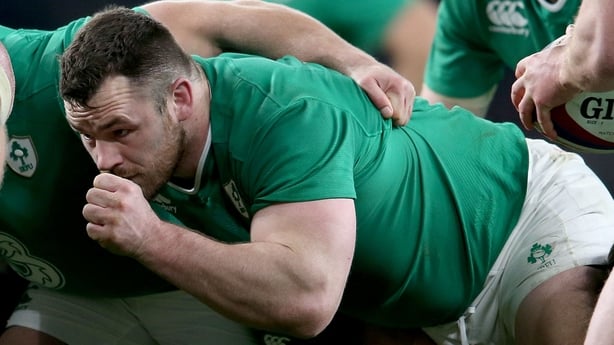 The 30-year old has suffered a series of injuries in recent years; he underwent neck and ankle surgery but is now back fully fit.
"I feel like I'm enjoying it a lot more than I have in the last couple of years. You can't really enjoy it when you are worried about injuries or you come back off one quick.
"I've a season-and-a-half of a clean body so it's starting to become fun again."
Healy credits a combination of factors for enabling him to return to his best.
He said: "It's a combination of things, the way I train I way, the way I prepare to train, the way I look after myself off the field; be it nutrition, recovery, knowing when to relax or finding a hobby to take my mind away from rugby."
Ireland play Argentina at Aviva Stadium on Saturday and Healy is expecting a tough challenge.
"They are dangerous in attack they have live-wires in their back-line and their forwards are brutally physical.
"We haven't left a stone unturned when it comes to looking them and seeing how they decide to play, they could completely have a different game plan for us so you have to anticipate anything coming and be fully prepared."
Live coverage of Ireland v Argentina begins on Saturday on RTÉ 2 television and RTÉ Player at 4.30. Live commentary is on RTÉ Radio 1's Saturday Sport, which starts at 2.45, and you can follow all of the build-up and action on our live blog online at rte.ie/sport and on the News Now app.