What a difference a year makes.
Little over 12 months ago, Dubliner Mikey Russell was juggling club Gaelic football duties with a promising junior rugby union career.
Now he's back in Australia, the country of his birth, preparing for a World Cup – in rugby league.
Rugby league's 2017 World Cup gets underway tomorrow and the Irish Wolfhounds are hellbent on putting on the kind of show that might turn heads back home - and perhaps help give the 13-a-side game a more prominent place in the hearts and minds of Irish sport fans.
This year's competition is jointly hosted by 10-time champions Australia and her League-mad neighbours, New Zealand and Papua New Guinea.
Ireland boss Mark Aston has brought with him a 25-man squad that includes two home-based players in Casey Dunne of Longhorns RL and the Waterford Vikings' Alan McMahon.
Added to those, is 23-year-old surprise package Russell, who is coming off the back of a whirlwind first season with Coventry Bears.
Born in Sydney to a Kiwi mother and Dub father, Russell eventually landed in Citywest, south Dublin, when he was "about 10, or 11… or 12". It wasn't long before he had wandered across the road to Clondalkin Rugby Club, where he happily rekindled a grá for the oval-ball game he had excelled at as a child Down Under.
As soon as school started, he took just as easily to a sport more traditional to his new surroundings, and would go on to become an accomplished Gaelic footballer, while also catching the eye in both rugby codes.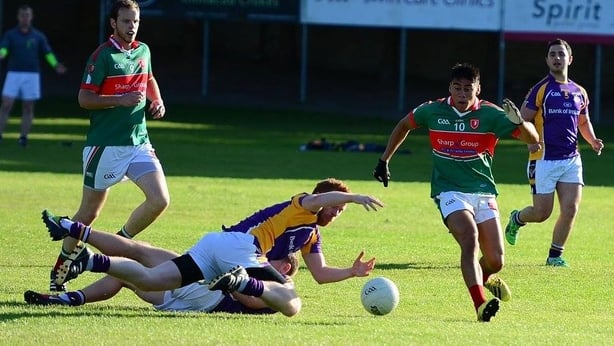 "I first played GAA in school and it seemed really weird – all that kicking and stuff!" Russell told RTE Sport just before heading off on the World Cup trail.
"By the time I headed off to Coventry, I was playing Gaelic football with St Finian's in Newcastle and Rugby Union with Clondalkin, then later Barnhall. I also played League for a few different teams, most recently Dublin City Exiles."
A quick call from a former clubmate at Clondalkin would - eventually - lead him to the English midlands and a semi-pro contract with the Bears.
Clondalkin local and Rugby League Ireland director Conor Kelly has been first-team manager at Coventry since the club joined the professional ranks in 2015.
Co-founded - and now owned - by Fermanagh man and former Ireland rugby league international Alan Robinson, the Bears are an attractive proposition for young Irish stars looking to take a step up the league ladder. It would be that connection that brought Russell aboard - albeit at the second time of asking
"When they first went pro three seasons ago, Conor gave me a call to come over and I turned it down. I didn't think I was ready," Russell explained. "This time last year, the call came again and I decided it was now or never – so off I went.
"I flew over, signed and moved over here in January this year. I was by myself initially, then my girlfriend Aishling moved over in May when her college year was done. Now she's gone home for her final year."
"In the UK, there's SuperLeague, Championship then our division, League One. We played against mostly semi-pro teams although Toronto came into our league this year and they are fully pro. We come up against a lot of ex-SuperLeague players.
"Bradford Bulls got relegated from the Championship this year so they'll be in our division next season – they're one of the best known teams around."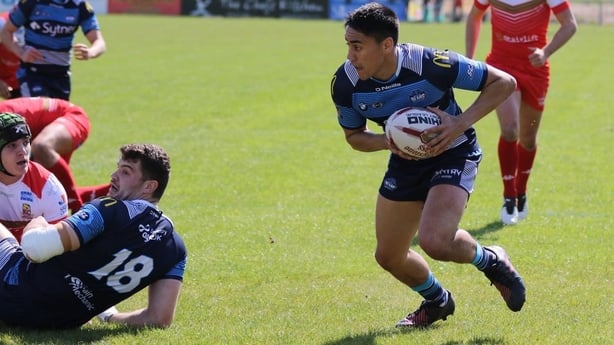 From the outside looking in, the chasm between the haves and have nots of British Rugby League appears impossible to breach. How do the Coventrys of this world expect to meet the Bradford behemoth on an even footing?
Yet, perhaps it is this seemingly impossible task that might lead a club to mine for talent in the most unlikely of places – and dig up the occasional rare gem.
Although he certainly wouldn't say it himself, Russell might well fit into that category. He could hardly have improved on his debut season with the Bears if he had inked the script himself.
A 14-try haul saw boss Tom Tsang give Russell his Coach's Player of the Year award while he also garnered similar recognition from the local supporters' club.
"It could not have gone better, thankfully. When I got here, I really didn't think too far ahead. Yeah, it was always the dream to go to the World Cup but, from a club point of view, I looked at it in much smaller steps," Russell reasoned.
"I wanted to come over here, train hard, get through my first game, second game, third game… and I just broke it down like that. Bit by bit, piece by piece.
"But I have been surprised at the reaction I have got over here. It's been pretty cool and I enjoyed my first year immensely."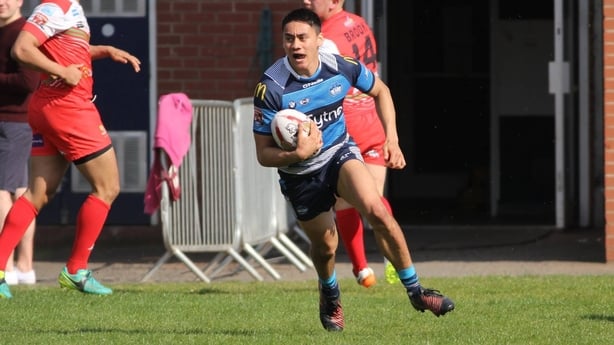 Despite the personal accolades, it was a difficult season on the pitch for Russell and his team-mates. Just two wins in the league all season left them far nearer the bottom of the table than the top. The fully pro Toronto Wolfpack – who include Russell's World Cup squad-mate Liam Kay – topped League One with a perfect 15 wins from 15 games record.
"As a team, we had a disappointing year. We didn't do ourselves justice," Russell acknowledged. "We had a good few games where we lost by just a score. If you turn a few of those around, you're looking at the table from a different perspective. We tended to play for 40 minutes and then switch off.
"The average age of our team is 22, we're a really young team. If we can keep most of the lads together for next season, we'll be in really good shape."
It's fair to say the full-back hit the ground running at his new home. If the club's established squad members were wondering whether the new Irish recruit's non-league experience would be sufficient to get him through the rigours of full-time rugby, they were not long having their concerns assuaged.
"I didn't know what to expect when I first got here," Russell said candidly. "Coming from a different country. Playing with lads that have been through the English system, coming up at professional clubs' academies - the likes of Wigan etc - I was conscious of earning their respect on the field. So I was nervous about that but all the guys have been great. They're a sound bunch of lads
"I had no idea if I was going to play one game, two games or every game. I didn't really know how 'up to' this level I would be. I just wanted to do it for myself so I could say I gave it the best I had. It's hard to know what the standard is like until you're in the middle of it. Small things also play on your mind – will I get on with the squad, the coaches etc… but none of that has been a problem."
"GAA players make good rugby league players because they're similar sports" - Conor Kelly
If Russell perhaps surprised himself somewhat with his crowd-pleasing opening act at the Bears, one person he did not catch off guard is his manager and old Clondalkin pal Kelly, who insisted he saw it all coming years ago.
"I knew the player I was getting, I've known him for quite a while, I've watched him play rugby league and union so I knew exactly what he was capable of," Kelly told RTE Sport. "I've been pushing to get him over ever since I landed here.
"You're always looking at players you might want to bring through and he was always top of my list. I knew he'd do well, but I wasn't sure he'd do as well. He scored 14 tries in 23 games which is massive for someone who hadn't played at this level.
"GAA players make good rugby league players because they're similar sports," Kelly added. "In league, you don't have a five-minute break for a scrum or a line-out for instance - like you might in union."
The benefits of teenage years spent on playing pitches of all descriptions is not lost on Russell himself. "Playing GAA was a huge help in developing me as a League player," he reckoned. "With gah, you're always on your feet and always moving. The ball is in play a lot longer in league than in union so you always have to be ready.
"Kids should always play as many sports as they can. You pick up skills from other sports that help you along the way."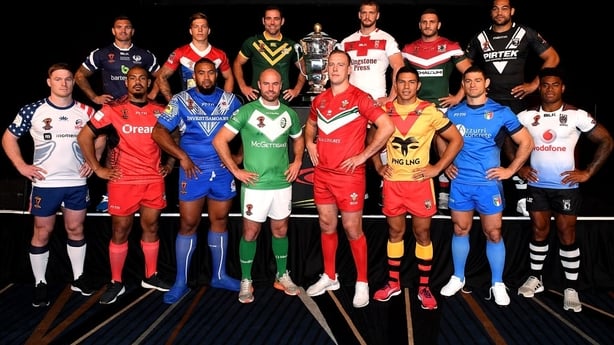 World Cup or no World Cup, it's impossible to ignore the fact that, despite being first cousins, rugby league and union inhabit vastly different universes in Irish sport.
The league game, still effectively in its infancy in this country, remains very much the poor relation of a code that has become one of the country's most-watched, attended and participated in sports.
Once upon a time, the sight of a fan sporting a provincial rugby jersey may have seemed quaint. Now, few kids' Christmas wishlists are complete without a request for the replica jersey of their nearest union powerhouse.
Union stars are generally adored, often wealthy and if they're really lucky, nicknamed: Drico, Darce, Rog, Shaggy…
So, the million dollar question - what effect could a decent World Cup showing have on the pursuit of Rugby League on this island of ours? Irish sport fans, if nothing else, have proven time and again that we will get behind anything if it looks like we could knock a bit of craic out of it.
@CoventryBearsRL Supporters player of the year was awarded to @MikeyRussell94 who had a great year on & off the field as a community coach. pic.twitter.com/FHfOifzvtj

— CoventryBearsRL (@CoventryBearsRL) September 17, 2017
Is there hope on the horizon for lovers of the League? Ireland's pair of Coventry Bears certainly think so.
"A couple of stirring performances - particularly in the opener against Italy could really capture the imagination," Kelly enthused. "During the last World Cup - where I was a member of the coaching staff - it got people's attention.
"When we played England, it was the highest rated game in terms of TV ratings and it was one of the few sell-out games in the group stages. Anytime Ireland play England in any sport, there's always interest.
"The Irish fans, in the best possible sense, are bandwagon fans. They'll jump on to any sport Ireland are playing, especially on a big stage like a World Cup. With the huge Irish population over in Australia, it will be massive for them to be able to go and watch their country play – even if it's in a sport that might be a bit alien to them."
"If Ireland can get out of what is a very tough group, then maybe get a bit of luck in the quarter-finals, you'll see interest grow back at home.
"Anyone I've ever introduced to a game of Rugby League, if they go in with their eyes open, they'll come away a fan. Because of the nature of the game, it's a bit quicker, more action, the ball is in play 60 per cent of the time – it's entertaining."
Russell, who combines his budding rugby career with a day-job working with Positive Youth Foundation - a charity that supports children in disadvantaged areas - agrees with his fellow Irishman.
He even pointed to the fact that a few soul-stirring performances helped the ladies' national union team slip the 'minority sport' noose in recent years. The can-do attitude from those who champion the league code could well be summed up as 'Why not us?'
"A big World Cup showing could be a real boost to Rugby League in Ireland," Russell said. "You only have to look at how the women's union game has taken off. People are taking more notice of it. That's how we have to look at it."
In a year that has taken him from a Dublin GAA Junior Football Championship run with St Finian's, to Player of the Year honours at Coventry and a ticket to the Rugby League World Cup, modest Russell was still somewhat lost for words on his whirlwind few months even as he got ready to set his watch to Cairns time.
"It hasn't sank in yet at all," he laughed. "Although when I got the World Cup kit it did kind of hit me. To go from being a semi-pro at Coventry, all of a sudden in this environment with all these top professional players, it was kind of surreal."
Manager Kelly, naturally, gives all the credit to the player. "It's been an incredible year for Mikey and it's just a testament to how hard he has worked since he got over here," he said. "It shows other fellas at home that there are opportunities over here to play your sport and even get paid - which is always an bonus.
"Once the World Cup gets going, every player has a chance to make an impact. Some of it is luck, some of it depends on other players being injured or playing poorly. It will be tough to stand out, it's a tough competition.
"Wales have quite a few full-time players, Italy have some top players playing in Australia. Of course you have Papa New Guinea, who are one of the hosts. It's their No 1 sport over there and you will have 40,000 fans baying for blood!"
Currently in talks to extend his Coventry stay through the 2018 season, Russell has no doubts where he wants to play his rugby next term. "I really enjoy it here. I like the coaching, I get along with the group as a whole," he said.
"There's an offer on the table at the minute, we just haven't sat down and had a proper chat just yet. As it stands, I fully expect to be signing – I certainly hope so anyway."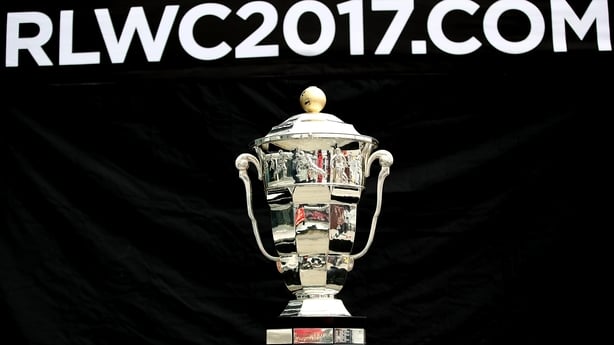 The when and where – Ireland's Rugby League World Cup Group fixtures
IRELAND v Italy
Sunday October 29, Barlow Park, Cairns, 5.0am Irish.
Papua New Guinea v IRELAND
Sunday November 5, National Football Stadium, Port Morseby, PNG, 6.0am Irish.
Wales v IRELAND
Sunday November 12, Perth Rectangular Stadium, 8.30am Irish.
*Knockout stages begin, Friday November 17*
The Opposition…
ITALY: In only their second World Cup, the 14th ranked side in the competition will rely on a playing staff who ply their trade in five different countries – Italy, France, England, Australia and Wales.
PAPUA NEW GUINEA: Despite a lowly ranking of 15, this is their seventh World Cup and, as one of the tournament hosts, their frenzied crowd is sure to make life difficult for the visiting Wolfhounds.
WALES: The Dragons have been to the World Cup four times before and are ranked ninth this time around. Their fixture with Ireland is one half of a juicy double-header that also includes the meeting of England-France.
The Favourites…
Holders Australia have had a stranglehold on this competition since its inception in 1954. They have taken the title 10 times altogether and, as co-hosts this time around, few would look past The Kangaroos to make it 11.
IRELAND squad: Liam Finn (Wakefield Wildcats), Scott Grix (Wakefield Wildcats), James Hasson (Wakefield Wildcats), Kyle Amor (St Helens), Liam Kay (Toronto Wolf Pack), Will Hope (Sheffield Eagles), Oliver Roberts (Huddersfield Giants), Ed Chamberlain (Widnes Vikings), George King (Warrington Wolves), Toby King (Warrington Wolves), Joe Keyes (Bradford Bulls), Joe Philbin (Warrington Wolves), Jack Higginson (Wigan Warriors), Anthony Mullally (Leeds Rhinos), Tyrone McCarthy (Salford City Reds), Brad Singleton (Leeds Rhinos), Micky McIlorum (Wigan Warriors), Louie McCarthy-Scarsbrook (St Helens), Api Pewhairangi (London Broncos), Matty Hadden (Rochdale Hornets), Shannon McDonnell (Camden Rams), Casey Dunne (Longhorns RL), James Kelly (Sheffield Eagles), Alan McMahon (Waterford Vikings), Mikey Russell (Coventry Bears).