Former Ireland head coach Philip Doyle believes it is time for the women's team to fight back against the appointment of a part-time head coach on a six-month contract.
The IRFU Tuesday posted the job vacancy, with criticism aimed at the governing body for downgrading the post. Tom Tierney was previously employed on a full-time basis, on a three-year contract.
The IRFU said the decision to return the role to a part-time basis followed feedback from coaches they had spoken with, and a further decision on the nature of this role would be completed post the 2018 Six Nations.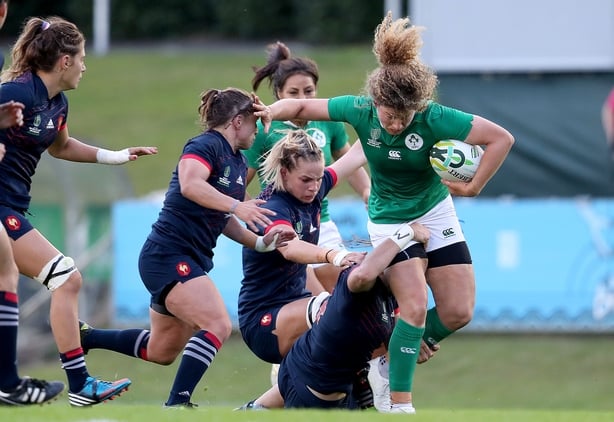 Doyle told RTÉ's Drivetime: "It's very concerning to see that they have gone from a three-year full-time contract to a part-time contract. It's very worrying.
"I'd love to see the IRFU once and for all state what their long-term plan is for the women's game, from underage representative to the AIL and inter-provincial. Where are we going with this? It is a full-time job.
"When I was doing it at the end, it was a full-time job for me. I was holding down my own job at the same time which was incredibly hard thing to do. It can't be done, not in this day and age and not to the level that the ladies need to have in order to go forward."
Doyle stated his belief that taking a short-term approach was not the correct one and that now is the time to start building for the 2021 World Cup. He also added he is not interested in the position himself.
"I think there are plenty candidates out there either in Ireland or abroad who would gladly take up a position for a World Cup cycle in my opinion.
"We've gone back badly in the world rankings. World Cups come around every four years but in rugby years four years is a very short timeframe.
"The [head coach] has to be in that position surely for the full four-year period and not just six months. I just don't understand where they are going with the XVs.
"We have just come out of our own home World Cup which to be very fair was very well run from a logistical point of view. There was a lot of money put in behind it and it was very successful from a punter's point of view.
"But not from a rugby point of view. For me, yes, where is this money? Is it fairly distributed? I don't know. It certainly doesn't look like it."
Jenny Murphy has already slammed the decision, saying it was "a kick in the teeth for players" and that "so much progress had been made by other nations and we take five steps backwards",
Doyle feels other players should come together and demand a bigger investment in the women's game.
When pressed, he said: "It really is [time for that]. It's their decision but they have to stop leaving it for everyone else to step up.
"It's their decision but there comes a time in my point of view where enough is enough. And enough is enough."