Ireland's women's international rugby players need certainty over the role of their future head coach.
That's the view of former international and RTÉ rugby analyst Fiona Steed, who has called on the IRFU to clarify their intentions with regards to the women's game in Ireland.
"I hope that there's some big plan there that they're not telling us about and that in six months time they'll show us that they have something fantastic lined up," said Steed. "Unfortunately, I don't see that being the case."
Tom Tierney stepped down as head coach following Ireland's unsuccessful Women's Rugby World Cup campaign, leaving behind a full-time position.
On Tuesday morning the IRFU advertised for his replacement, stating that the new head coach would get the role on six-month, part-time basis.
The game's governing body in Ireland were contacted by RTÉ Sport on Tuesday and via email briefly answered four questions about the issue.
In response to a question about why the IRFU had decided to seek a part-time head coach they said: "The decision to return the coaching role to a part-time basis follows feedback from coaches the IRFU has spoken with, and a further decision on the nature of this role will be completed post the 2018 Six Nations."
The IRFU also denied that they had decided to prioritise the women's sevens game over 15-a-side and confirmed that Ireland have no international fixtures planned for between now and the start of next year's Six Nations.
"The Six Nations starts in less than four months time," said Steed. "England have an autumn international series to look forward to on the back of a good, though ultimately unsuccessful, world cup.
"We are now behind Wales, France and England in terms of where they are in their cycles and I feel for the players because they need stability and planning."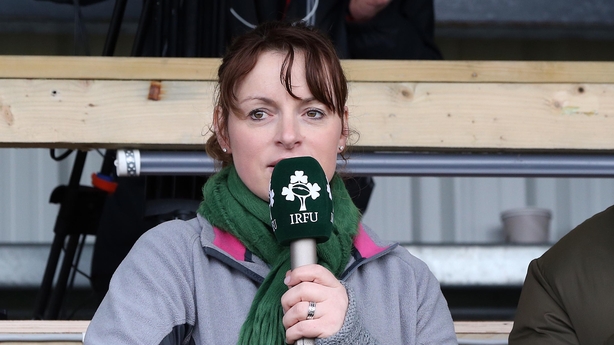 It appears that the players are none the wiser than the general public about what will happen once the newly appointed head coach's six-month deal runs out.
"Tom Tierney's tenure didn't end well, we'll all admit that," said Steed. "But there were positives to come out of it and that he had the job for three years offered stability.
"Now we have a situation of six months and then what? There's a void there because no one seems to know what is going to happen.
"You'd have to wonder will the IRFU be able to attract top class candidates when they're only offering the job on a six-month, part-time basis."
Ireland won the 2013 Six Nations Grand Slam and the Championship in 2015 and made the semi-finals of the 2014 Women's Rugby World Cup.
But this year the world cup, staged on home soil, didn't end well and Tierney stepped down after his team lost the seventh place play off to Wales.