Sophie Spence believes establishing an U20 side should be top of Ireland's agenda to avoid a repeat of their enormous World Cup disappointment.
As the host nation, there was a genuine belief both inside and outside the Irish camp that they could at least match their heroics in France in 2014, when they famously beat New Zealand in the pool stages before going down in the semis to eventual champions England.
Instead, the tournament was a disaster. Ireland started poorly and got progressively worse, losing their seventh/eighth-placed play-off against Wales to suffer the ignominy of failing to even secure automatic qualification for the next World Cup.
In the aftermath, head coach Tom Tierney stepped away from his post, and veterans Maz Reilly and Nora Stapleton retired. 
In an interview with the Irish Times, prop Ruth O'Reilly voiced strong criticism of both the preparation and set-up and gloom hung over the team like a dark cloud.
Now the dust has settled, Spence is hoping for a clear vision to ensure the mistakes are not repeated.
"The talent is there and the girls are extremely eager."
"We want to write a new chapter moving forward," she told RTÉ Sport's Michael Corcoran.
"You can sit in the dark and ask loads of questions,.
"(We need to be) completely honest with want went wrong and what went well, and look for a brighter future and look at what needs to be put in place to make sure that happens.
"The one big thing for me would be to have an U20 side.
"If you look at other nations like England, France, Wales, they all have U20 sides. It's preparing the girls for an international structure and exposing them to that level of competition.
"I started myself internationally at 24, 25. At that point you've other nations who have five years' experience already internationally, which is huge and it makes a massive difference.
"The talent is there and the girls are extremely eager. I think it could potentially make for a better structure."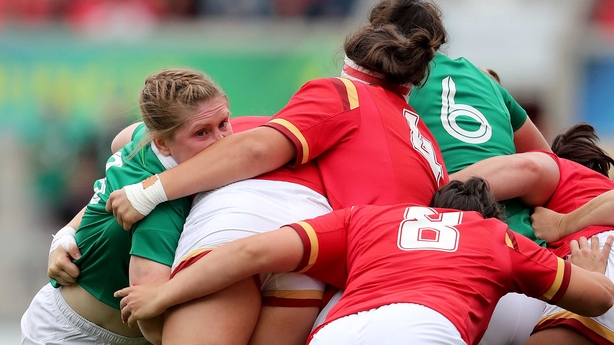 Ireland scraped past Australia and Japan before being outclassed by France in their final pool game. After that came defeats to the Wallaroos and Wales, chastening setbacks that were difficult for a proud group of players to take.
Spence revealed her desire to look forward rather than dwell on a painful summer.
The Leinster player also stressed the importance of tapping into the reservoir of knowledge past and present servants can provide, as she envisioned a brighter future for the women's game.
"I took a bit of time out," the 30-year-old added.
"I've done quite a bit of reflection on it. We've had a couple of conversations but it's something I've put to bed now because it was extremely disappointing and it was a long process to get to that tournament, in terms of training hours, the group we had and the time people invested in it.
"The knowledge they have in terms of opposition, of how we play, the culture, is huge."
"I don't think there's one thing that made the tournament unsuccessful for us. We have to look at how we make sure it doesn't happen again and what has to be put in place to make sure what does work well for us a women's team.
"How are we going to do that to make we perform better in each tournament and grow as well as an international side?
"As ambassadors of the game - and that's what we are, role models to young people - the knowledge you learn... I didn't start learning until I stepped into the international side, and that was from the likes of Goose (former coach Philip Doyle), Fiona Coghlan, Lynne Cantwell. Their knowledge is extremely important. 
"The likes of Ailis Egan and Nora and Maz, who've announced their retirements, to keep them in the game is something that has to be done.
"The knowledge they have in terms of opposition, of how we play, the culture, is huge."