The Ireland team bidding to host Rugby World Cup 2023 is confident that its commitment to deliver a 'tournament like no other will capture the hearts and minds of World Rugby voters.
It also hopes to deliver the largest, most secure, commercial programme ever offered to World Rugby for the privilege of hosting rugby's biggest prize – the Rugby World Cup.
At a media briefing at The Irish Embassy in London, just one week before the IRFU will deliver its bid presentation to the World Rugby Council, Kevin Potts, Tournament Bid Director, and Philip Browne, IRFU CEO, promised a tournament full of Irish spirit, that will capture the imagination of the world and help to drive rugby's global momentum, thanks to Ireland's unrivalled network of emigrants – the diaspora.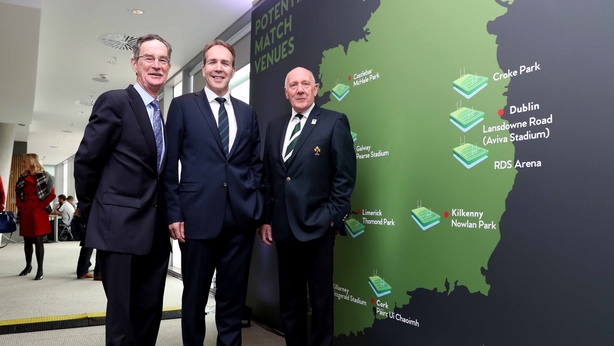 While exact details of the financial package being offered to World Rugby must remain confidential, the IRFU are confident that their financial offer will be the largest delivered to World Rugby, and the most secure, thanks to the unrivalled commitment of the governments of the Republic of Ireland and Northern Ireland.
Highlighting Ireland's world class tourism market, iconic stadiums and training venues and the ease with which teams, fans and supporters will be able to travel from venue-to-venue, the IRFU believe that a tournament in Ireland, which would be the sole focus for the entire Island, provides World Rugby with an unsurpassable opportunity to bring the Rugby World Cup to another new host.
Ireland's 900-page bid document charts an economic benefit tipped to run to €1.5billion, with organisers pledging to sell all 2.2million tickets at an overall rate of 30 per cent lower than England 2015.
A long list of 12 stadia will be whittled down to a potential preferred eight, with a fund of €65million for further upgrades, allied to €500million spent on Irish grounds in the last 10 years.
Architects Wilson Owens Owens (WOO), who worked on the London 2012 Olympics and Rugby World Cups 2015 and 2019, have consulted on those upgrades.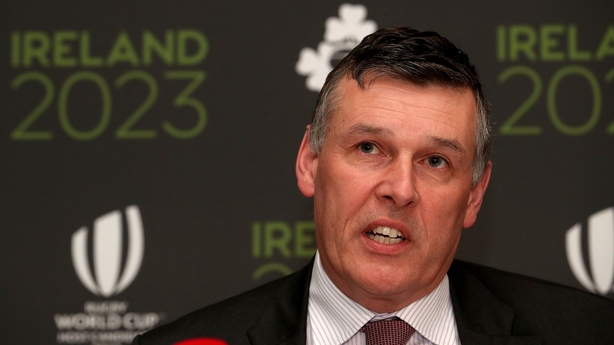 Philip Browne, added  "Ireland's commitment is underlined by the fact that Rugby World Cup 2023, from the turn of the decade, will be our sole focus in terms of a major international sporting event, ensuring no distractions for key host authorities and no competition for the attention of Irish sports fans and sponsors. 
"Ireland is truly ready for the world – ready to host the world and ready to promote rugby throughout the world.This Bid has the total support of the Irish Governments. We can guarantee that Ireland has the capacity to deliver a wonderful Rugby World Cup in 2023 which will have the backing of people throughout the island."
List of stadiums for consideration: 
Casement Park, Belfast (34,186)
Kingspan Stadium, Belfast (18,168)
McHale Park, Castlebar (38,000)
Páirc Ui Chaoimh, Cork, (45,770)
Celtic Park, Derry, (17,000)
Croke Park, Dublin (82,300)
Aviva Stadium, Dublin (51,711)
RDS Arena, Dublin, (18,677)
Pearse Stadium, Galway (34,000)
FitzGerald Stadium, Killarney (38,200)
Nowlan Park, Kilkenny (26,000)
Thomond Park, Limerick (26,89