It started with so much optimism.
A World Cup on home soil, the fifth-ranked team with a passionate backing to give them a crucial edge.
Ireland faced into the tournament believing they could do something special.
That belief rapidly drained from the camp as performances and results got worse and worse.
A nervy opening win against Australia was followed up by an almighty scare at the hands of the Japanese, supposedly the pool whipping girls.
A French masterclass ended hopes of making the semi-finals, which was a massive disappointment in itself, but things continued to go south after that.
The Wallaroos got revenge for their pool loss with victory in the fifth-to-eight-placed play-off semi-final and defeat to Wales not only ended a miserable campaign on a low, it meant Ireland had not automatically guaranteed qualification for the next World Cup in 2021.
"I think it is (the fault of) the two people in charge of the women's game: Anthony Eddy and Tom Tierney."
In the aftermath head coach Tom Tierney stepped away from his post and veteran second-row Mazzie Reilly announced her retirement.
Serious questions have been asked of the IRFU, of Tierney and Director of Women's and Sevens Rugby Anthony Eddy.
In an interview with the Irish Times last Saturday, prop Ruth O'Reilly, who had to pull out of the squad with a back injury after the France game, offered a scathing assessment of the set-up.
"Most of us knew there were systematic flaws in the structure," she said. "But it was my first World Cup after God-knows-how-many years trying.
"You are pumped. And there was an internal expectation that after battling through problems in the environment that we could keep that going for one last hurrah.
"Unfortunately there were too many obstacles to surmount with just bloody-mindedness. We can't level all the responsibility at Tom. We as players didn't perform. Our confidence just isn't there. If you haven't repped stuff out on the training field it cannot just come out in a game.
"The guys in the blazers and fancy ties need to decide if this is something they are serious about. If not, fine. We will figure out how we manage it ourselves. We will make the most out of it and keep fighting.
"If we want to grow the game in Ireland, if we want to compete, we need to become a professional outfit. End of."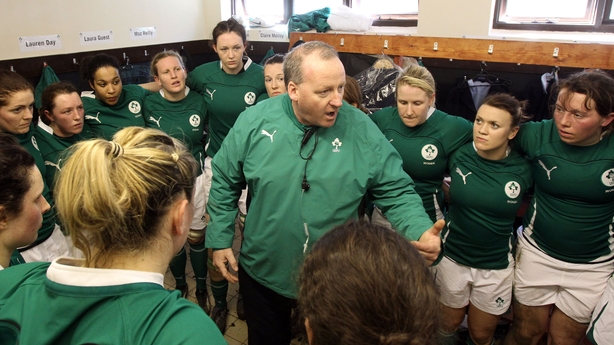 Philip Doyle, who led Ireland to the semi-finals of the World Cup in France three years ago, said the blame lay squarely at the feet of the coach and Eddy, rather than anyone upstairs.
"I'm extremely disappointed, from start to finish, at the whole build-up to this World Cup unfortunately," Doyle told RTÉ Sport.
"We had a great chance to do something special and it has been mismanaged.
"I think it is (the fault of) the two people in charge of the women's game: Anthony Eddy and Tom Tierney. In my time the committee members were fantastic, very, very encouraging. There were hurdles to jump and we jumped them."
Former player Fiona Steed had been critical of the team's preparation in her role as RTÉ rugby analyst and she too asked why the side regressed.
"We didn't we progress? Every other team that we played seemed to progress. If you look at what France and Wales did, we beat them in the Six Nations and they both hammered us in the World Cup.
"It was the same player pool. You have to look at outside of that really. You'd have to look at the wider picture in terms of the coaching or the specialist coaching that perhaps wasn't brought in."
IRFU chief executive Philip Browne said: "We've invested a huge amount of money on the women's game in the last couple of years.
"I think everyone is probably disappointed with the performances on the pitch, no more so than the girls themselves."