France 21-5 Ireland
France came laced with silk and steel to pick apart Ireland's World Cup semi-final dreams with a pulsating performance at the Belfield Bowl on Thursday night.
Tom Tierney's team had to win to make the last four, but they were bowled over by a brilliant first-half display from Les Bleus.
Romain Menager's seventh-minute opening try was complemented by two more from Caroline Ladagnous to leave the host nation trailing 21-0.
Where Australia and Japan wilted in the face of the burning French pace, creativity and power, Ireland went to the well, pummelling their opponents in a relentless 15-minute spell of pressure on the turnaround that had French heels scraping the paint of their own try line.
Somehow they kept Ireland at bay until the death, Cliodhna Moloney burrowing over for the try her hugely committed side deserved.
'Heartbroken' Ireland coach Tom Tierney says his side left themselves with too much to do in the second half #WRWC2017 pic.twitter.com/AiDgYTWpwF

— RTÉ Rugby (@RTErugby) August 17, 2017
France go through to a last-four showdown with England; Ireland have a rematch with the Wallaroos in the 5th-8th-placed play-offs at Queen's University in Belfast on Tuesday evening.
Tierney had promised his side would play "cup final rugby" and they fizzed with intent in those opening minutes, Claire Molloy's line-break followed up by two huge hits from a pumped-up Jenny Murphy before Annaelle Deshayes' powerful charge through the middle triggered a swarm of green bodies to swallow her up.
It had been highlighted as a problem area for Ireland but when the first scrum came, France made hay. An infringement coughed up a penalty chance for Montserrat Amedee midway between the 22' and the 10-metre line on three minutes. It fell short, Nora Stapleton booted clear. It was merely the start of incessant French pressure.
Two minutes later Molloy was penalised for not releasing and Amedee kicked to the Irish 10-metre line. From the lineout France went through the phases, advancing into the 22', quick hands and clever movement slowly bending the Irish resistance. Finally, they snapped, Menager stepping through two desperate Irish tackles to dot down on seven minutes. Amedee added the extras, the UCD Bowl fell silent.
The French were purring. A stunning, slaloming run by Menager saw her skate into Irish territory, winning a penalty that was botched by Amedee but then spilled into touch by Paula Fitzpatrick under little pressure. Nerves were frayed. A rolling French maul turned the screw further.
Another scrum five metres from the left corner on 14 minutes called for more tenacious defending from the host nation, but they couldn't keep the dark blue tide at bay for long. Dancing feet from wing Chloe Pelle opened the door for Caroline Ladagnous to jink right and crash over on the blindside. This time Shannon Izar converted.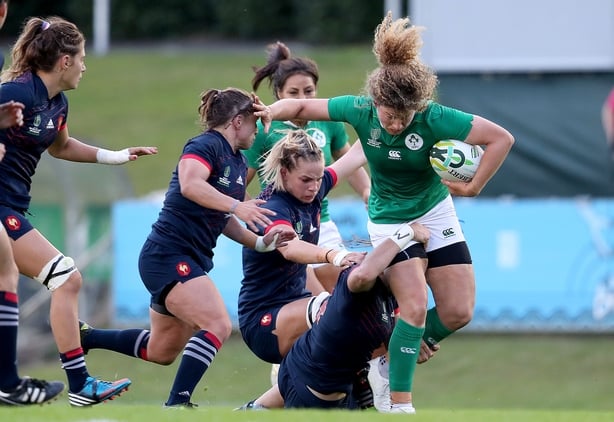 Ireland looked shellshocked. Still Les Bleus came.
Outhalf Caroline Drouin oozed class, pulling the strings as France operated on another plane.
As they took their foot off the throttle, Ireland could finally breathe.
A loose pass from Amedee conceded an 18th-minute lineout in French territory that galvanised the crowd and lifted the spirits. For the first time in the game Ireland hoarded the ball, but France had a steel fist beneath the velvet glove, their defence impenetrable as Ireland went through phase after phase without gaining yards.
Scrumhalf Nicole Cronin desperately tried to quicken up ball at the breakdown but the more Ireland pushed, the more resistance they met.
Finally their will was broken, Eimear Considine spilling the ball from her fingertips, France turning over with relish.
The support never wavered. A defiant Fields of Athenry rose up. Ireland responded.
Then, on 29 minutes, another crushing blow. Gorgeous, flowing French rugby cut Ireland to ribbons, devastating No 8 Safi N'Diaye punching holes in the Irish defence, offloading to Julie Duval who freed Ladagnous to take her second try. Amedee added the icing.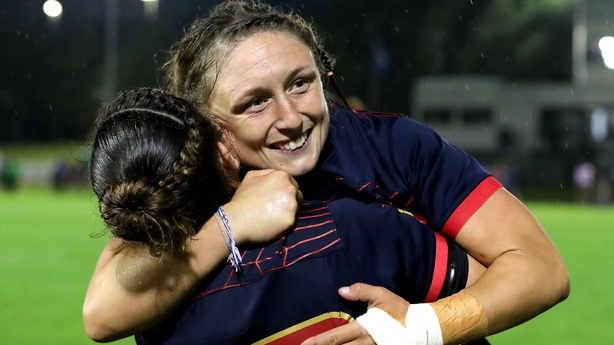 Trailing 21-0 at half-time to a side so undeniably impressive could have broken Ireland.
Instead they re-emerged a team possessed. Hannah Tyrrell's break off a 43rd-minute scrum was the trigger for her team-mates to pour into France's 22.
Lenaig Corson was yellow-carded under immense Irish pressure, but the resultant five-metre scrum ended in frustration as a knock-on let France off the hook and drew groans of despair from the home fans.
Down to 14 players, Tierney's charges tried to find a weakness. They couldn't.
Scrum-half Cronin took the initiative with a tap penalty but ran into more brutal French defending.
On 56 minutes France gave up a penalty off a scrum, Stapleton kicked to the corner - and Ireland pushed. Somehow, their opponents refused to buckle. Phase after phase inched Ireland to the line but their opponents would not yield.
The partisan crowd willed their team over but the superb France defence held them up, a five-metre scrum disrupting momentum.
Replacement Katie Fitzhenry's pick and go saw her held up under the posts, and France won a scrum, from which Lindsay Peat coughed up a penalty. Such moments break hearts and break teams. Fifteen minutes of domination had yielded zero points. France had weathered the storm.
As the clock ticked down and the rain began to fall, hope evaporated for Ireland but they never dropped off, the crowd on their feet after every tackle, any sniff of an opening to give them something to celebrate. They got it a minute from time, Moloney crashing over to rapturous applause.
Ireland had been largely outclassed but not outfought and at the final whistle they lapped the pitch with heads held high. France will take some stopping.
Ireland: 15 Hannah Tyrrell, 14 Eimear Considine, 13 Jenny Murphy (Louise Galvin 64), 12 Sene Naoupu, 11 Alison Miller, 10 Nora Stapleton (Katie Fitzhenry 61), 9 Nicole Cronin (Larissa Muldoon 75); 1 Lindsay Peat, 2 Leah Lyons (Cliodhna Moloney ht), 3 Ailis Egan, 4 Sophie Spence (Heather O'Brien 57), 5 Marie-Louise Reilly, 6 Ciara Griffin (Ashleigh Baxter 75), 7 Claire Molloy (Capt), 8 Paula Fitzpatrick (Ruth O'Reilly 72)
France: 15 Montserrat Amedee, 14 Chloe Pelle, 13 Carolinme Ladagnous, 12 Elodie Poublan, 11 Shannon Izar (amille Grassineau 52), 10 Caroline Drounin, 9 Yanna Rivoalen; 1 Annaelle Deshaye, 2 Gaelle Mignot (Caroline Thomas 64), 3 Julie Duval (Patrica Carricaburu 49, 4 Lenaig Corson, 5 Audrey Forlani, 6 Marjorie Mayans (Celine Fere 73), 7 Romane Menager (Carla Neise 46), 8 Safi N'Diaye
Referee: Graham Cooper (Australia)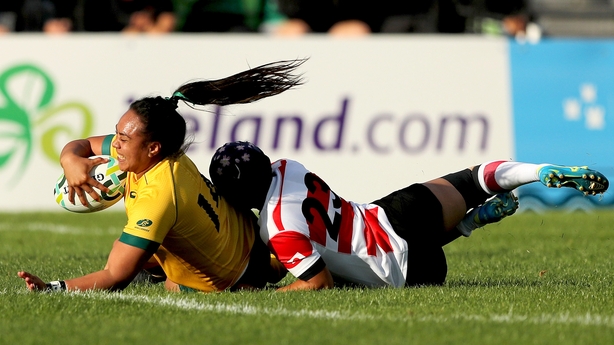 Earlier in Pool C, Australia held off a Japan fightback to secure third place with a 29-15 victory.
Australia led 19-0 at Billings Park after tries from Samantha Treherne, Grace Hamilton and Mahalia Murphy but Japan got back within four points as Saki Minami, Riho Kurogi and Maki Takano crossed.
That set up a tense second half but a try for Nareta Marsters and a second for Treherne secured the win for Australia.