Tom Tierney says Ireland have plenty of work to do ahead of their second pool game in the Women's Rugby World Cup against Japan in the UCD Bowl on Sunday. 
Ireland pipped Australia 19-17 in a nervy opener on Wednesday while the Japanese were demolished by France in Billings Park the same evening. 
The Ireland women's coach has made seven personnel changes to the starting lineup for the Japan game with a couple of members of Wednesday's starting XV slotting into different roles tomorrow.
Ireland's bench was vital against Australia with replacements Ciara Griffin and Sophie Spence scoring tries in the second half. 
Tierney, who was appointed coach of the women's national team in late 2014, winning the Six Nations title in his first season, says they have worked hard to add depth to their squad in the past few years. 
"We're very, very pleased with the 28 we have. There was a lot of work put into developing the player base over the last three years. It was one of the key areas that we were tasked with as a management team coming in.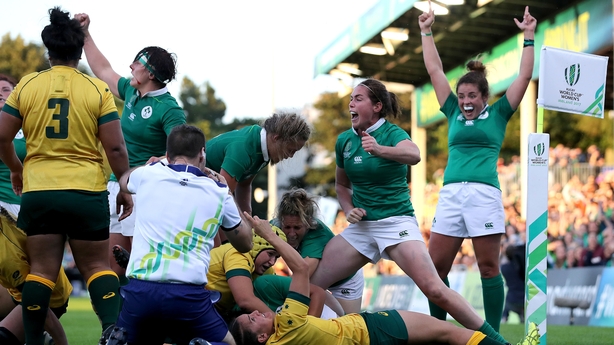 "We've planned accordingly. We've got a couple of good days under our belt since the Australia game. The girls are champing a the bit. They're really looking to putting in a good performance.
"If it goes wrong we have contingencies to get ourselves out of trouble, like we did last Wednesday and in previous games. It's nothing new to us, if things aren't going to plan. That's what happens in matches.
"You can't expect to have it perfect all the time. It was a big occasion on Wednesday night and thankfully we got over the line. We're just looking forward to the second game and imposing our game on the Japanese as early as possible."
"If you look at the stats, you're looking at a lot of turnover ball. And a few of those were unforced errors. Set-piece was consistent in the lineout but it wasn't as consistent in the scrum.
"So, set-piece and turnovers are key areas for us. But also from a defensive perspective we're looking at getting a bit more line-speed, just to put teams under pressure and not let teams come on top of us."
Watch all of Ireland's games live on RTÉ Sport and the RTÉ Player (ROI only), listen live on 2fm and follow live blogs on RTÉ Sport Online and the News Now app.