Ireland and Lions scrum half Conor Murray says that the tourists have gained greater "respect" from the rugby public following their drawn series with New Zealand. 
A late Owen Farrell penalty secured the Lions a 15-15 draw in the third test at Eden Park this morning, levelling the series at 1-1. 
For the first time since 1971, the Lions will depart New Zealand without having suffered a series defeat. It is the first ever tied series between New Zealand and the Lions and the first tied Lions series since the tour of South Africa in 1955. 
While a number of Lions players attempted to strike a phlegmatic pose in post-match interviews, there were clearly celebratory noises emanating from the tourists' dressing room at Eden Park as Murray was interviewed by reporters. 
By contrast, as noted by RTÉ's Michael Corcoran, the mood in the New Zealand dressing room was one of unconcealed frustration.
"When the final whistle went it was a bit strange. No one really knew what to do," said Murray.
"But when you think about coming down here to the double world champions, in their own backyard, and to come away with a drawn series is something we can be proud of.
"I think we're going to leave with a lot more respect that we came with. I'm not saying we didn't have any respect but we've gained some over here through our performances. It's an awesome group to be part of."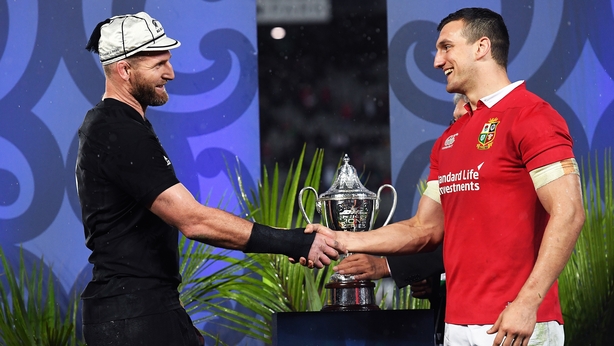 When asked to account for the contrasting moods in the two dressing rooms following to the draw, Murray remarked that the Lions have only come together as a squad eight weeks ago and have a relatively short window in which to mould a cohesive team.  
"It's different from our point of view. We came together as a squad eight weeks ago and tried to get going. There's really good players in our squad and a lot of leaders in there. They drove standards over the tour.
"It's a difficult place to come and play rugby  But it's been really enjoyable and everyone has given their all to it. You step out of your comfort zone. You play with people you usually compete against and you're enemies with, nearly. 
"Its a strange feeling at the moment but I think as the night goes on and we take our holidays and we get to look back on it, we'll be proud of this."