Having been fortunate to tour around New Zealand over the last few weeks, one of the places I looked forward to visiting most was Wellington.
Apart from the surrounds, and its fantastic people, it was the first city on this tour where we stayed in the one hotel for an entire week. Usually it was: game on Saturday, move Sunday, game on Tuesday, move Wednesday.
A mate of mine, Avan Lee, is CEO of the Hurricanes, the reigning Super Rugby Champions. I know him from a long way back. He spent time in Dublin working with World Rugby, and he even played club rugby with Clontarf. He's a top bloke.
A few weeks ago he called me and asked would I be his guest at the Hurricanes Alumni Dinner last Monday night. I agreed.
He asked would I sit on a panel to chat about rugby and the Lions tour. I agreed to that as well.
He mentioned there would be some others there also. Brian Lochore and Graham Mourie were the two names I heard during the initial call. 'Wow', I thought. I was delighted.
Almost 500 people turned up at Pipitea Marae and Function Centre on Thorndon Quay to raise money for the Alumni.
The rest of the 'chat show' line-up was confirmed when I got there: Riki Flutey and Piri Weepu. The night was hosted by former referee and Head of Sanzar Referees Lyndon Bray.
Some great tales were exchanged by fantastic story tellers, with lots of laughs, and above all a large sum of money raised on the night.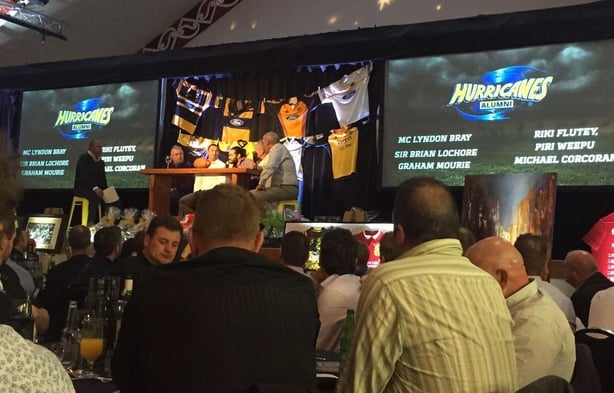 Hurricanes Alumni is the first of its kind, looking after former players and members of staff who need help and mentoring.
Well done to all concerned. I left with a treasured gift: a signed Hurricanes Super Rugby-winning shirt, a lasting memory.
On the sporting field, the Lions trained at Porirua Park, Jerry Collins Stadium during the week. Memories of the great man came flooding back as I walked through the gates in the sunshine.
It's been a very busy week. Hurricanes v Lions on Tuesday, All-Blacks v Lions on Saturday.
Rugby is in the air, so too is catching up with some old friends. Jason Holland and John Plumtree are now working with the 'Canes, my pals Dermot and Barry Murphy are still as welcoming as ever in D4 on Featherston Street, and their sister Aoife makes sure the lads are on their toes.
Wellington is a great city, its people are welcoming and warm.
Our stop here has been one of the tour highlights so far.
Join us for our New Zealand v Lions match tracker on RTE.ie and live radio commentary on RTÉ Radio 1 for the second Test in Wellington (kick-off 8.35am).