Paddy Jackson is feeling the heat in Japan, but only in the literal sense, with the out-half loving his role as elder statesman in Joe Schmidt's youthful panel.
The Ulster player was terrific in last week's 50-22 defeat of the Brave Blossoms in Shizuoka.
Jackson pulled the strings in a strong Irish performance, and has spoken of how much he's enjoying the jaunt to Asia, and the positive impact the new faces have had on the squad.
"It's great," he said. "After I got over the initial jet-lag, I didn't sleep too well the first few days, but we've been out, had a good look. The weather's been great – a bit too hot for me for playing rugby!
"But it's been great to see another culture. The Japanese have been very welcoming, everywhere we've gone. It's been a real pleasure to be here."
Joe Schmidt's men beat the USA 55-19 in New Jersey before travelling to Shizuoka for the first of two Tests in Japan.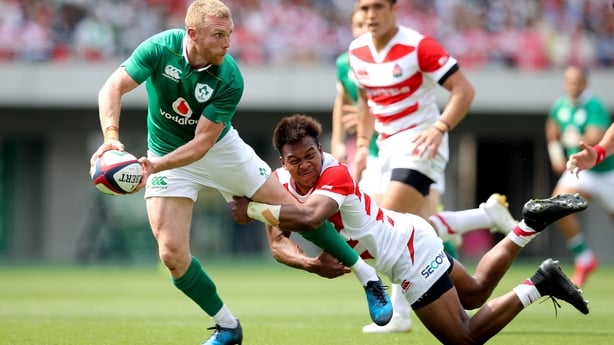 They go again in Tokyo this Saturday (6am Irish time), with Jackson braced for a backlash from the hosts.
"I'm really looking forward to it. I enjoyed last week very much.
"We got off to a great start, which was ideal for us. We're approaching it as if it's going to be another really tough challenge.
"I still kind of feel like one of the young guys, but now not so much. It's great to get the new caps. It's great to have new faces in.
"We know Japan will be looking to right a few wrongs. It was one of those days were everything was falling our way."