Steve Hansen has cranked up the pressure on Warren Gatland by insisting the British and Irish Lions boss is "running out of time" to perfect his Test match line-up.
The All Blacks battered Samoa 78-0 at Eden Park on Friday night, and then head coach Hansen set his sights on Lions counterpart Gatland once again.
Hansen again suggested he does not expect the Lions to add an extra dimension to their play, for the first in the three-Test series, in Auckland on June 24.
Claiming he expects Owen Farrell to feature at inside centre if he shakes off a troublesome thigh injury, Hansen would also not expand on what his sources were when he had suggested the Lions would call up a clutch of extra players next week.
"Do I expect them to do something different? Well (Gatland) keeps telling us he's got something up his sleeve other than his arm so we'll wait and see, won't we?" said Hansen of the Lions' plans.
"He's started running out of time to get the practice. I've always said, once you have the style that works for you, you usually stick with it, so it's going to be a big move if he changes and we'll wait and see.
"I'll look forward to it though, we're sitting here and we're finished for the weekend and we've come out with no injuries and we get to sit down now and get really excited about what's ahead of us which is the Lions.
We need your consent to load this YouTube contentWe use YouTube to manage extra content that can set cookies on your device and collect data about your activity. Please review their details and accept them to load the content.Manage Preferences
"We wait 12 years for them to come around so we don't want to miss it and we get to watch them play the Maori, who will throw the kitchen sink at them.
"It's a big game for the Lions again and then all the banter's out of the way, isn't it? We're into it, and I can't wait."
Hansen could not resist several more playful digs at Lions head coach Gatland - especially given he has led the "banter" between the coaches which he now hinted he cannot wait to set aside in favour of the actual Test match action.
New Zealand sounded a stark warning to the Lions with their 12-try demolition of Samoa in Auckland, exuding all the ruthlessness that has carried them to consecutive World Cup crowns.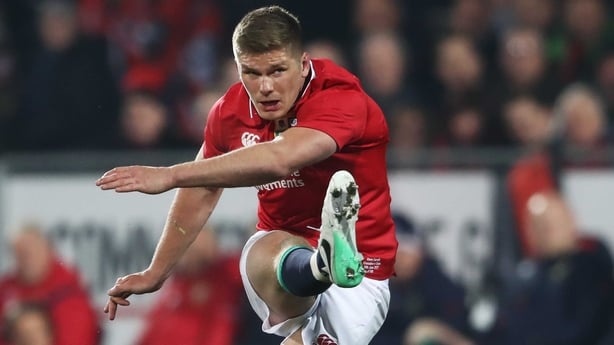 Lions talisman playmaker Farrell is a serious injury doubt for the first Test after suffering a quadriceps strain, but Hansen still feels the Saracens star could line up at inside centre rather than fly-half, as and when he features in the Test series.
"He's injured at the moment and I think he'd be a massive loss," said Hansen of Owen Farrell.
"He's a world-class player and right up there.
"Where do I think he'll play? Probably at 12. He (Gatland) has said he's got something else up his sleeve other than his arm and that might be one of them.
"It doesn't matter where he plays, he's a good player and we just have to deal with whatever the Lions decide to do with their selections. But he's a world-class player and there's a lot of respect for him in our group."
Hansen claimed on Thursday that the Lions were aiming to add five or six players to their touring party, to bolster their ranks for Tuesday's clash against the Chiefs.
The Lions are understood to be planning on making additions after the weekend, and Gatland had initially raised the concept back in September.
Asked when he had discovered the Lions' plan, Hansen replied: "If I ask you who your informant is, do you let me know?
"Do I think it's a good move? He clearly wants to bring them in so he can have two squads.
"Asking guys to play Test matches and then a midweek game is tough, so it's probably a smart play.
"It's about as many as Clive (Woodward) brought in now (on the 2005 tour).
"Although he was probably proven right, wasn't he? He should have brought them in the beginning."
We'll have a live blog on RTE.ie and the News Now App on Japan v Ireland from 5.45am on Saturday morning (kick-off 6am) followed by live blog and live radio commentary on Maori All Blacks v Lions (kick-off 8.35am).