Andy Farrell believes the Lions will be in no rush to call up a replacement if Stuart Hogg is ruled out of the New Zealand tour while captain Sam Warburton has admitted he may not be ready to start the first Test next week.
Luckless Scotland full-back Hogg collided accidentally with Conor Murray's elbow in Saturday's 12-3 win over the Crusaders.
The Glasgow flyer is still sweating on the outcome of specialist examinations on his cheek, but defence coach Farrell believes the Lions boast a good array of alternative options.
Ireland's Jared Payne will slot in at 15 for Tuesday's Highlanders clash, with Elliot Daly and Anthony Watson also comfortable at full-back - and Leigh Halfpenny also a specialist.
"Warren (Gatland) will give Stuart all the time he needs to make sure he's right," said Farrell, of Hogg's injury situation.
"We'll just wait for the outcome but at this point in time we've got a big squad and a lot of people in place to cover different positions.
"We picked a bigger squad this time round than we did for the last tour, simply because of the schedule - not just the games but the travel time and the amount of time we're going to have on the training field together.
"We're through a few of those games now, and obviously after Tuesday night it will be one less.
"Jon Davies is good, he's on track with his protocols after his head injury. And Dan Biggar has been smashing me all morning, so he's fine and ready or tomorrow night."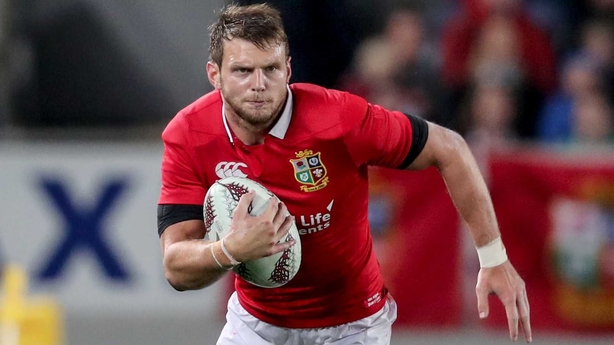 Wales star Biggar will start at fly-half having shaken off his own head injury issue, and has ranked himself as the Lions' current third choice 10.
Biggar feels he currently trails Johnny Sexton and Owen Farrell in the fly-half race - but coach Andy Farrell believes the Ospreys man has been too hard on himself.
"I think it's a bit harsh for him to say he's third choice from his point of view," said Farrell of Biggar's candid assessment of his own Lions status.
"Because he got a head knock in the first game and hasn't had that much game time.
"The other boys have played since and played pretty well but Dan's in the hot seat on Tuesday night and looking forward to it.
"I don't think it's a pressure situation, it's a group that needs to keep on building and the message to the boys this morning about Tuesday is we're building our plan, the things that we do behind the scenes as well as what we do on the pitch.
"That's team harmony, team systems, team togetherness, and Dan's in charge of that on Tuesday night."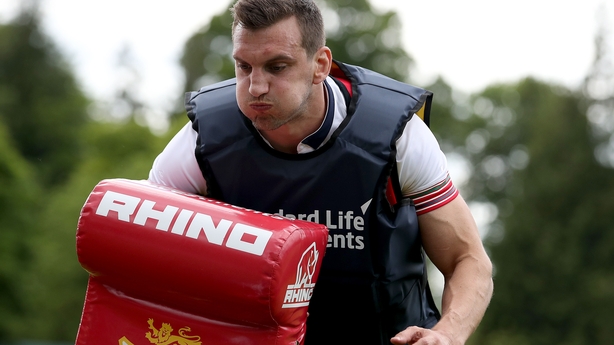 Captain Sam Warburton has conceded he may still miss the first Test against New Zealand despite recovering from an ankle injury.
Fit-again Warburton will skipper the Lions in Tuesday's Highlanders clash, but feels he needs to string two or three showings together to hit top form.
The Lions have three matches before the first All Blacks Test on June 24, so Warburton admitted he has his work cut out to be ready for that Eden Park showdown.
The 28-year-old believes he must boss the breakdown to fight his way into the Lions' Test team, as he revealed the lengths to which he went to overcome his ankle problem.
"I definitely need more games. I definitely admit that and I knew that coming into the tour," said Warburton, who had beaten a knee injury to make the Lions tour in the first place.
"I've learned from experience that it takes me at least two games and then the third game I'll probably be playing some good rugby but Gats (coach Warren Gatland) knew that.
"I've received this role as tour captain and I know there's every chance that I might not even get involved in that first Test because there's every other player.
"I see it as I'm tour captain, and if I've made the Test then that would be a bonus for me, but I've said there's three Tests to get selected for so it's not the be-all and end-all with the first one."
Warburton suffered his ankle problem in the patchy 13-7 Provincial Barbarians win that opened the tour.
"I'll be perfectly honest with Warren and if I feel I need more games then I'll tell him if I don't feel ready"
The Wales flanker has insisted he would sacrifice his own selection chances for the greater good if he felt he was undercooked.
"I'll be honest with Gats and Gats will be honest with me: if I play Tuesday and I still feel I'm a bit undercut, then I might not be ready for that first Test," said Warburton.
"Maybe that would be the situation, or maybe I could have a blinder on Tuesday and feel absolutely fine so we'll see how it goes really.
"I'll be perfectly honest with Warren and if I feel I need more games then I'll tell him if I don't feel ready.
"And if I don't need anything more then I'll obviously let him know that with a good performance.
"When I play well and I am match-fit, I am aggressive in the tackle, I'll contribute handful of good carries, and you become a lineout option.
In his desperation to fend off his latest injury issue, Warburton was able to ice his ankle through the night courtesy of a specialist rehabilitation machine.
"I picked up the injury about 15 minutes into the first game," said Warburton."I was thinking, 'oh no, this can't be happening'.
"Over the next five minutes it was sore but I've had a few bumps now and I tend to know when it's serious and I have to come off.
"We've got machines where we plug them in and there's a programme that you set and it's filled with ice, and you put it in an insulated bag so the ice doesn't melt overnight.
"It probably lasts about six to seven hours and you can set it to come on automatically every one-and-a-half to two hours.
"You stay in bed, but every hour-and-a-half you wake up from the humming noise of this ice machine and obviously the freezing cold ankle.
"It's just like having a baby where I'm perfectly used to waking me up every hour and a half!
"It's not too bad, I did a couple of nights then I was back up and running."