New Zealand coach Steve Hansen has piled the pressure on the British and Irish Lions, saying they have to start delivering results.
Warren Gatland's side followed up an unconvincing opening 13-7 win over a part-time Provincial Union XV with a 22-16 loss to Super Rugby side Blues on Wednesday as they still acclimatise to life Down Under.
The tourists have four more warm-up games before the first Test against the All Blacks on June 24, starting with the Crusaders on Saturday, and Hansen says the Lions have to start putting some results on the board.
"Confidence is a big thing in sport. If you have got plenty of it, you can do anything," said Hansen, who guided the Kiwis to the World Cup in 2015.
"There is a fair bit on the line. At some point you have got to start winning or people are going to be saying, 'This isn't working'. That is the thing you have got to keep an eye on."
Hansen concedes that the squad Gatland has brought over to his home country is the best Lions team ever, but says he is yet to see evidence of that.
Conor Murray wants to get to know Owen Farrell as #Lions take on the Crusaders #rterugby pic.twitter.com/BxYgA5XzVz

— RTÉ Rugby (@RTErugby) June 9, 2017
"I wouldn't say I'm expecting that X-factor from what I've seen so far on the tour, although if you look back at what those players are doing for their home countries, there is plenty of it," he added.
"You would expect an international team to beat a franchise team. And I've always said this is the best Lions side to come here.
"But the Crusaders are on a roll, full of confidence at the moment and full of All Blacks. The Lions probably don't have much confidence, because they still haven't got it together. Against the Blues there were guys out there still trying to find out who their mate is."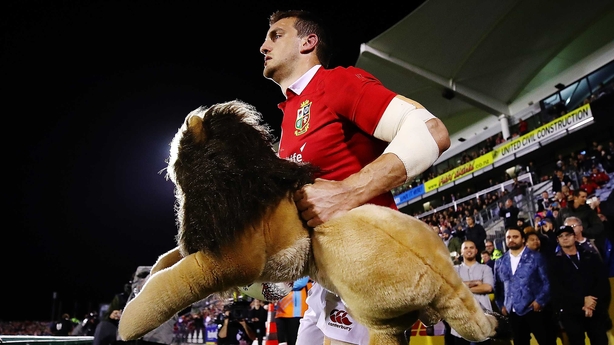 Meanwhille, Lions coach Graham Rowntree has "no doubt" captain Sam Warburton will play again for the tourists Lions before the start of the test series.
Warburton will miss Saturday's Crusaders clash in Christchurch after picking up an ankle injury in the tour-opening 13-7 win over the Provincial Barbarians.
Rowntree admitted the Lions have discussed contingency plans for the captaincy just in case Warburton is not ready to start the first test.
But the Lions' scrum coach revealed Warburton could even be ready to return for Tuesday's Highlanders match, leaving him plenty of time still to hit top form before the Tests.
"To all the people back home, don't worry about Sam," said Rowntree.
"We saw him in game one, he hurt his ankle a bit in that game. He's not able to train fully at the moment, but I've watched him train next to us, doing some rehab running, and he's working hard.
"He's just not able at the moment to do some of the twisting and turning off the line that's required for a high-intensity session.
"He's just having a few days out of the twisting and turning, but he's training hard."