Warren Gatland has insisted it would be "unfair" to write off Johnny Sexton's challenge for a British and Irish Lions Test shirt after an off night in Whangarei.
Ireland fly-half Sexton struggled in the Lions' opening match over the New Zealand Provincial Barbarians, with Owen Farrell stepping off the bench to help salvage a 13-7 victory.
The Barbarians led 7-3 at half-time thanks to Sam Anderson-Heather's try, but the Lions scraped home thanks to a late Anthony Watson score initiated by Farrell.
Boss Gatland hailed Saracens talisman Farrell's "big match temperament" in digging the Lions out of a hole - but insisted Sexton can still compete for a Test shirt.
Asked if Sexton's difficult night leaves him trailing Farrell for the Lions' Test number 10 jersey, Gatland replied: "I think that's pretty unfair in making an assessment like that.
"These guys arrived on Wednesday and are still recovering from travel, they haven't got into regular sleep patterns yet. We knew it would be difficult in terms of that.
"Owen Farrell has a big match temperament, there's no doubt.
I would have been happier of course if he'd knocked over that one he put against the post, that might have given us an easier last 10 minutes.
"But he's played some pretty good rugby in the last 18 months, and he's one of the standout performers in northern hemisphere rugby anyway."
Gatland did however admit the Lions management will still gauge future selection decisions on what unfolded against the Barbarians.
"There are certain things we'll look at individually, to some decision-making from tonight's game and where we can improve," said Gatland.
"That's a learning from tonight, there's a few things collectively, but definitely individually some of the decision-making that will help us improve moving forward in the next few games."
Sexton trudged off after 48 minutes of a disappointing Lions performance to open their 2017 tour of New Zealand.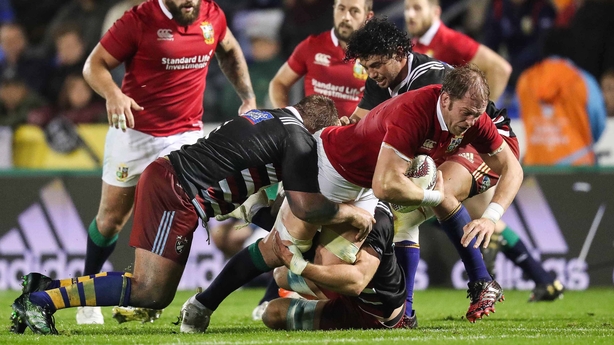 Head coach Gatland insisted the Leinster playmaker had not picked up any injury, despite him limping and asking Greig Laidlaw to take a shot at goal shortly before he was replaced.
Asked if Sexton was injured, Gatland replied: "No, no he wasn't no.
"A couple of our guys picked up back spasms - Ross Moriarty and Kyle Sinckler.
"Again we did community work yesterday with the guys sitting in cars for five hours.
"And they're all probably still recovering from the flight as well. The doctor is confident they will be fine."
RECAP: NEW ZEALAND PROVINCIAL BARBARIANS 7-13 LIONS
The Lions will move swiftly from Whangarei to face Super Rugby outfit the Blues in Auckland on Wednesday night.
Boss Gatland insisted he will stick to his plan of fielding an entirely different starting XV at Eden Park.
Asked how many changes he will make on Wednesday, Gatland said: "Fifteen. The plan is everyone gets a start in the first three games, and I've been continually saying that."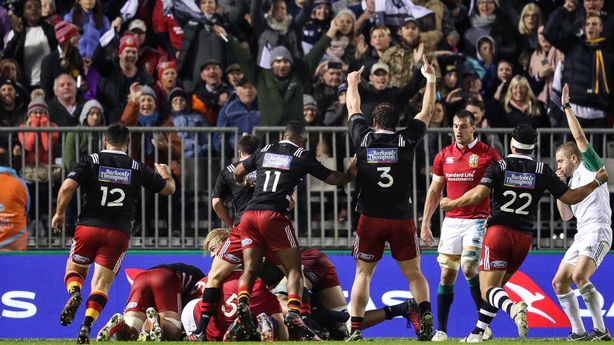 Barbarians captain and try-scorer Anderson-Heather admitted he will be back to the day job come Monday morning - a far cry from his Toll Stadium heroics.
"I've got a lot to do through Monday, Tuesday, a full diary," said the maintenance engineer. "I'll be straight back to work on Monday morning; life goes on."
Head coach Clayton McMillan hailed his Barbarians side for almost pulling off one of the great shocks in Lions history.
The hosts forced a penalty lineout in the Lions' 22 with a minute to play while trailing by just six points, only for the tourists to turn over possession and edge to the win.
"Not too many people gave us any chance but with two minutes to go we almost forced it," said McMillan.
"The Lions held out, and credit to them for that, but I'm just hugely proud of my players for sticking at it and producing a fine performance like that."