Last week, a Qantas superjumbo left London with a precious cargo organised by Irishman Ger Carmody, monitored by five sensors originally developed to protect fine art and pharmaceutical products.
Any attempt to tamper with the precious load - medical equipment, training kit, balls and tackle pads belonging to the British and Irish Lions - on the 17,000-kilometre trip to New Zealand would have been beamed back to a high-tech lab in Britain.
Behind the logistics is Carmody, an unfamiliar name among the 30,000 Lions fans who will follow the team but who was an integral member of the backroom team long before the squad of 41 players, or even coach Warren Gatland, were selected.
Lions Director of Operations Carmody, who has already chalked up 80,000 kilometres on Lions business since his two-year secondment from his role as IRFU Team Services Manager began in 2015, will nurse the squad through their 10-match tour.
Much of his work, though, will be completed, by the time the squad play their first game against New Zealand Provincial barbarians on Saturday next..
"It is about precision planning," said Carmody, who was also involved in the 2013 tour to Australia as logistics manager.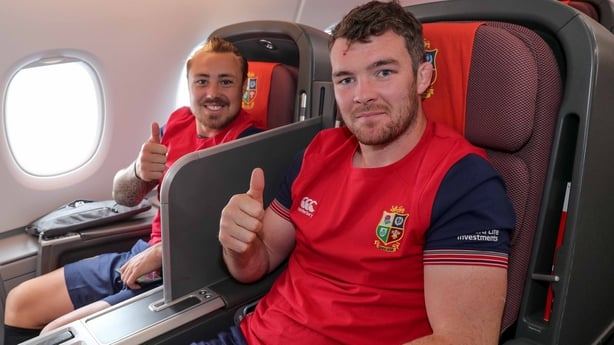 "We are trying to pre-empt every aspect of what could happen on the tour," he said. "When you are there exactly a year before it gives you a very good idea of what the situation will be like. We looked at every possible option, from hotels, to training grounds and facilities in every city we will go to."
Medical gear and training machines have already been shipped to New Zealand, while two trucks and two 50-seater luxury coaches are in place to transport the Lions around New Zealand.
Beyond the rugby, the players will have to think about little beyond what to carry in a light day bag. The rest of their wardrobe is taken care of, even down to their personalised shoes.
Among the accessories, a €700 velvet jacket, two pocket squares and a €175 scarf. And that's before 36 items of training kit handed to each player.
"We have a lot of hats - peaked hats, woolly hats - apparently it's going to be cold," said Ireland centre Robbie Henshaw.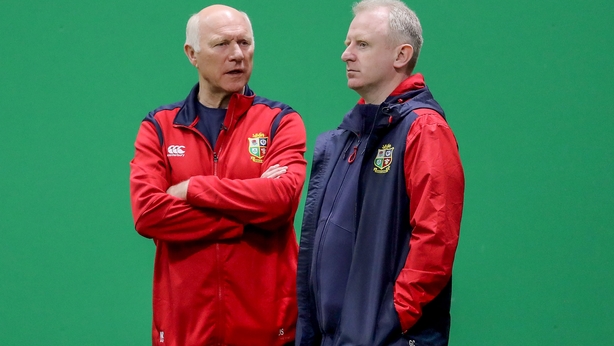 For all their finery, Carmody (pictured right, with team manager John Spencer) says the players' needs will be simpler.
"They want good food and a good night's sleep so we try to focus on these things."
Each player is guaranteed a double bed - a departure from previous tours where room-mates had to argue over who got the single.
"The internet is also important because the guys like to Skype home," said Carmody, who will send out an advance party round each venue 48 hours in advance for a last-minute check on training facilities, vehicles and room allocation.
Back at base, players will check a colour-coded daily activity planner to ensure they understand the requirements of media and sponsors, a vital aspect of a tour which is expected to generate an estimated €15million profit for New Zealand rugby.
The squad will also cash in. Squad members will go home €80,000 richer. The rewards will be even more substantial if they do what no Lions side have done since 1971 and win in New Zealand, with the lucrative after-dinner circuit ensuring a ready market to re-tell their tales.
Here are the 64 items of clothing handed to each member of the 41-man British and Irish Lions squad for the tour:
Training kit: Training Jersey, Superlight Poly Tee Training Short, Training Sock, Vest top, First layer top, Gym Short, Fleece Short, Polo t shirts, Full zip hoody, Training T-shirts, Cap, Rain Jacket, Training T-shirts, Fleece bottoms, Crew Sweatshirt, Slim fit tracksuit pant, 1/4 zip top, Gilet, Presentation Jacket, Presentation trouser, Storm Jacket, Beanie Cap, Contact Top, Gloves, Hoody, Large Holdall, Medium Holdall, Boot Bag, Gym Bag, Backpack, Large Wheelie Bag, Contact paint, Base layer top, Base layer leggings, Base layer shorts, Gym Socks.
Accessories: Navy blazer, White athletic fit short, Tour tie, Lions socks, Velvet jacket, Formal trousers, Evening tie, Woven boxers, Jersey boxers, Belt, Cufflinks, Shoes, Chinos, Checked formal shirt, Casual shirt, Jumper, Pocket square x 2, Scarf, Collar stiffeners.