Rassie Erasmus said Munster will "suck it up and start all over again" after their heavy Pro12 final defeat to Scarlets on Saturday evening.
The Welsh outfit blew the province out of the water in Dublin, scorching over for four tries in the first half-hour and closing out a comfortable, and hugely impressive 46-22 victory.
Munster were well and truly shell-shocked as the triumph they so desperately craved after a hugely challenging year slipped out of their grasp.
Erasmus admitted his players were stunned and bitterly disappointed, but insisted it had been a year of huge progress, and urged his team to come back stronger for the setback.
"We can't argue with anything. They were much better than us."
"I guess when the emotion dies off and we sit in a week's time and we look back and assess the season we'll say, 'listen it wasn't too bad,'" he told RTÉ Sport.
"I'm not sure that if we play them three times that that will always be the difference but we can't argue with anything. They were much better than us.
"They're a team that's been together for three years, they've built a really strong squad, they know their coach and they really peaked.
"Apart from us playing poorly they played really really well. No excuses; suck it up and start all over again."
Munster just failed to get going when they needed a performance most.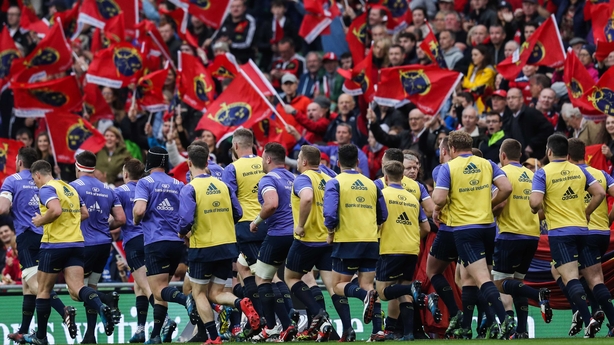 Tyler Bleyendaal, Andrew Conway and Keith Earls gave them some respectability, but Erasmus conceded they just didn't have enough to earn silverware, while also paying tribute to the terrific support that drenched the Aviva in red.
"This squad has much more potential to do much better," he said.
"You grow on the field so much but mentally yo take a little bit longer to grow. You handle some situations, you learn from some situations.
"We haven't grown enough to beat a team in the final but this team has tremendous potential.
"The thing that upsets me and saddens me is the supporters. That's the thing you wish you could just say, 's**it, here's something more for you'. Unfortunately we couldn't, we're not there yet. That's the thing that hurts. I can just say thank you and nothing more."