Mark McCall says that the Saracens team that retained Saturday's European Champions Cup final is even better than the outfit that won the title last year.
The English won their first ECC in 2016 and they held onto the trophy in style with a 28-17 win over Clermont Augergne, with the former Ireland international hailing their improvement over the past 12 months.
"It is great to win back-to-back (finals) but the manner in which we did it today was the hugely encouraging thing," the Ulster man explained.
"It felt we were dominant for long periods - with a strong scrum and line-out we dominated territory and attacked very well - but we were never away on the scoreboard.
"It was one of those games where they scored their 100-metre try, a great try, but our reaction was outstanding.
"We really attacked the game for the last 20 minutes, kicked behind them and put them under pressure, and I think we got what we deserved at the end.
"The pleasing thing was it felt and looked like we improved from last year. We showed a lot of great qualities, all parts of our game were strong today, and if we're hungry enough there's no reason why we can't get better."
The final at Edinburgh's Murrayfield was billed as the classic match-up of the immovable object that is Sarries against Clermont's unstoppable forces.
Yet for much of the first half the Top 14 giants were left creaking as Mark McCall's side popped the ball about with effortless, flawless ease.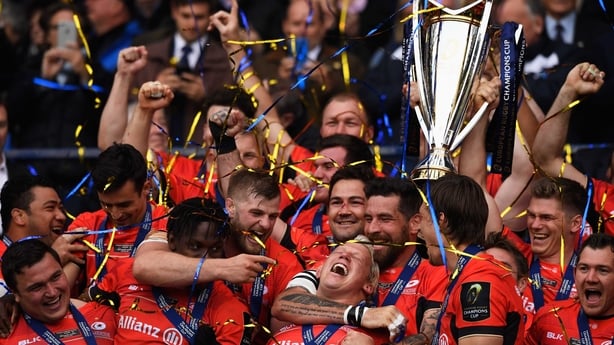 They were rewarded with scores from Ashton and George Kruis but eventually Clermont caught their breath, hitting back through Remi Lamerat before half-time.
And it appeared for a spell that Saracens' relentless drive for glory was about to come to a shuddering halt when their opponents drew themselves within a point after a sensational length-of-the-field run by Peceli Yato set up Nick Abendanon to score.
But the English champions clung on to the continental title they lifted for the first time last year when Alex Goode dived over in the corner seven minutes from time.
Defeat was another bitter pill for Clermont.
They are now the first side to lose three European Cup finals, a miserable record surpassed by their record in Top 14 deciders where they have lost 11 out of 12.
Their head coach Franck Azema said: "We're disappointed of course. We lost to a much better team.
"We didn't give up, we didn't break, but Saracens were favourites and it showed. We weren't able to reverse the pressure."
"Of course we believed we could win after our second try but they put us under pressure all the time."