Les Kiss said Ulster used the emotion of a day of farewells to fuel their slaying of Leinster at the Kingspan Stadium.
Tears flowed as Ruan Pienaar and Roger Wilson bade farewell to the province after a 17-13 win.
For Pienaar in particular, it was a tough afternoon. The string-pulling South African was desperate to stay on, but the IRFU blocked Ulster efforts to extend his contract.
Wilson is Ulster's most capped player, but his 221st appearance on Saturday was his last. He heads for retirement after a stellar career that included over 100 games for Northampton Saints.
It's never a stable beast this game
Kiss hailed both men, and others heading for the exit door, as he reflected on the merry-go-round nature of the game at the top level.
"It's never a stable beast this game," he told RTÉ Sport.
"It moves and it shapes and it changes and people move on, new people come in. There's a lot of farewells tonight and over the next few weeks for this club.
"Roger, 200-plus games for us, Ruan, a super legend up here, Ricky Lutton who finished off today plus some other guys, the two coaches Allen Clarke and Neil Doak.
"It'll be hard to get (the Ulster shirt) off Ruan's back think! There are a lot of disappointed fans about him leaving but that's the nature of this game.
"There's some big farewells. It's emotional. Overall, that's what the game delivers and you've got to be able to move with it."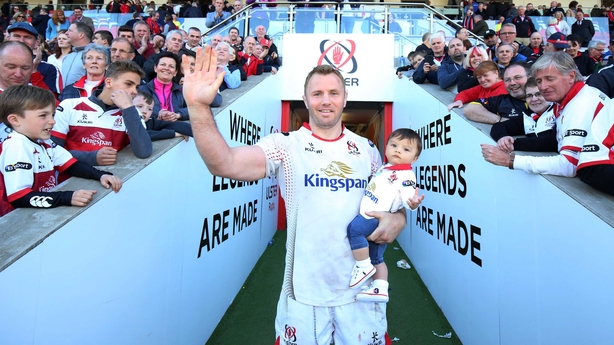 Ulster did at least end the season on a high but t wasn't enough to lift them into the play-offs.
They had the impossible mission of earning a bonus-point win over Leinster and eating into the Ospreys' 73-point scoring difference advantage, which was simply a bridge too far.
Nonetheless Kiss took heart from a gutsy final-day performance. 
"I think emotion was underpinning everything but we held a certain composure at times and if things didn't go right we didn't lose our way," he said.
"We kept fighting back into the point, we kept fighting hard for each other. I think the emotion underpinned that but we had to be strong in the basics of the game.
"Our setpiece was under huge pressure a number of times but if you've got character, spirit, and a bit of emotion underpinning what you're trying to do you fight through that."