Connacht's Tiernan O'Halloran is keen to take the positives out the Pro12 defeat to Leinster on Saturday with the Champions Cup play-offs now coming into focus.
Connacht fell to a disappointing 24-37 loss and while they showed form at the Sportsground, they could not sustain it for the full 80 minutes, and that's something O'Halloran wants to rectify.
O'Halloran told RTÉ Sport: "We know the form Leinster are in at the moment, they're on fire, so we knew we were in for a tough game.
"But it's just about putting in an 80-minute performance and unfortunately we just couldn't put it all together."
"But it's still an amazing achievement by Mull to get 300 and all of us gave our appreciation at the end to him"
Connacht will finish seventh or eighth in this year's Pro12 and therefore will have a chance at qualifying for next season's Champions Cup through the play-offs in May.
Cardiff and Connacht will challenge for the 20th and final spot, with one team travelling to France and the other to England.
The seventh place Pro12 team goes up against seventh from the Top14 with the team finishing eighth in the Pro12 taking on the seventh-place Premiership team. The winners of those two matches will then face each other on the weekend of 27 May.

And O'Halloran says Connacht can take encouragement from yesterday's performance ahead of those games, despite the result.
 "We'll try and look at all the positives of the game. Obviously, there were some good things we can take out of it, but at the moment it's a disappointed dressing room," he said.
"Leinster at home is always a big game for us every year and something we look forward to.
"At this stage of the season we were hoping we were going to finish strong at home.
"But it looks like we're going to be in a play-off anyway, it's just whether we're going to be in seventh or eighth, so we just have to keep building towards that, take the positives and work towards the end of the season."
Yesterday's match also marked captain John Muldoon's 300th appearance for the province and O'Halloran was keen to praise the achievement, but disappointed not to mark the occasion with a win.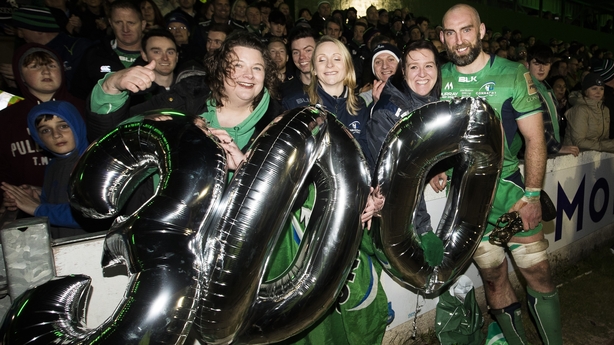 "To get 300 caps is an incredible achievement and to do it all at one club as well, it's just unbelievable.
"We all wanted to put in a performance for Mull and get that win which would have been so special to mark the occasion.
"The crowd got behind it, everyone seemed to get behind it but unfortunately we couldn't get the win to put a bit of gloss on it.
"But it's still an amazing achievement by Mull to get 300 and all of us gave our appreciation at the end to him.
"It's something that all of us can only dream of to get anywhere near 300 appearances, so fair play to him."