Ben Youngs admits England will feel unable to celebrate their successful RBS 6 Nations title defence if they fail to seize a unique opportunity to enter the history books.
Eddie Jones' men head to Dublin for the climax to the tournament against Ireland in search of two special prizes.
Victory at the Aviva Stadium on Saturday would deliver the first back-to-back Grand Slams of the Six Nations era and eclipse New Zealand's record of 18 consecutive Test wins.
Whatever the outcome they will be presented with the trophy after last weekend's rout of Scotland confirmed them as champions, but Youngs knows from personal experience that can be a bitter-sweet moment.
The Leicester scrum-half was present in 2011 when England were crushed 24-8 in Dublin, the silverware presented that night unable to heal the wound opened by an unrealised Grand Slam.
"Winning the Grand Slam is so big because it's very hard to do. Also it doesn't seem right to lose a game and then go and get a trophy. It just doesn't seem right," Youngs said.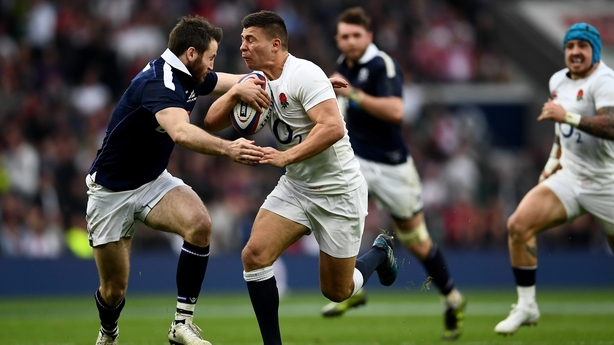 "That's one of the main reasons that when we came off against Scotland, we moved straight on to Ireland.
"Although we have the title, we don't feel like we've won it yet and it won't feel like that unless we get the result we want on Saturday.
"The thought of being defeated and going up to get a trophy....it just wouldn't feel right. That night in 2011 was a strange one.
"It wouldn't feel right, but you shouldn't use that as a fear but as a motivation. We're just solely focused on getting the result and then everything that comes with that is great."
Jones has stated that "greatness" awaits England if they become only the sixth side to manage successive clean sweeps and Youngs has urged his team-mates to rise to the occasion.
"We've got to embrace it. Eddie spoke really well when he addressed the side on Sunday evening about that chance to make that step," Youngs said.
"One of the things was that the chance to win back-to-back Grand Slams will probably never happen, potentially, for any of us again. So why waste that opportunity?
"He said the last thing we want to do is use that as a negative thing and hold us back in any way, shape or form.
"All this week has been about attacking it, embracing it, and getting excited about it. Our motivation is huge.
"We've got a chance to win back-to-back Grand Slams. A chance, as Eddie put it, to put ourselves as a team that people potentially see as a great side. That's enormous motivation.
"I see our motivation and desire to win the game as probably higher than Ireland's because we have got so much to win."
England's strongest side may not play together again until next year's Six Nations with Jones previously stating he will rest those players involved in the impending British and Irish Lions' tour from autumn duty.
The return of Billy Vunipola and Anthony Watson has restored them to the brink of full strength and they enter the final hurdle against Ireland enthused by a 61-21 mauling of Scotland - arguably their best performance under Jones.
"What we have is an unbelievable amount of clarity around how we want to play. With clarity you get belief and with belief you then just stick to that game plan," Youngs said.
"You don't need to go off script or pull rabbits out of hats because everyone has belief within the plan, within the structure.
"We've prepared very nicely this week on the back of a good result. We'll be working hard and making sure we're well equipped to be where we need to be.
"Those first 20 minutes are going to be vital for us and we'll put a massive emphasis on making sure we get those early exchanges right."