A planned merger between Stade Francais and Racing 92 has sent shockwaves through French rugby, with the head of the national players' union calling it "disgusting" and promising to help fight it.
Players and fans alike reacted with anger when the surprise announcement was made on Monday, triggering speculation in French media of a possible strike in the Top 14 league at the weekend.
Racing reached the final of Europe's Champions Cup last season while Stade Francais were finallists in 2001 and 2005. The Racing squad features Dan Carter, a world champion with New Zealand's All Blacks, and both clubs are packed with internationals, so their presidents argue the combination will give birth to a top European side.
Players and fans, however, strongly disagree. Stade Francais' Djibril Camara said it was like "you're suddenly being told you're going to live with your neighbours who you hate".
Racing's Henry Chavancy said: "I've been checking but no, it's no April Fool."
Asked about the strike rumours, players' union chief Robins Tchale-Watchou said: "I am meeting with Stade Francais players today, we'll see what comes out of it."
The former Stade Francais player, now at Montpellier, told Reuters: "Whatever the players decide, we will support them 100 per cent. The players are going to fight."
Tchale-Watchou said the presidents of the two clubs owed explanations to the players.
"The way it has been done is disgusting," he said. "This has been done without any consultation with the players, the fans or the institutions. It's total panic."
Jean-Pierre Chivrac, the head of Racing's fans association, said: "It's like being stabbed in the back."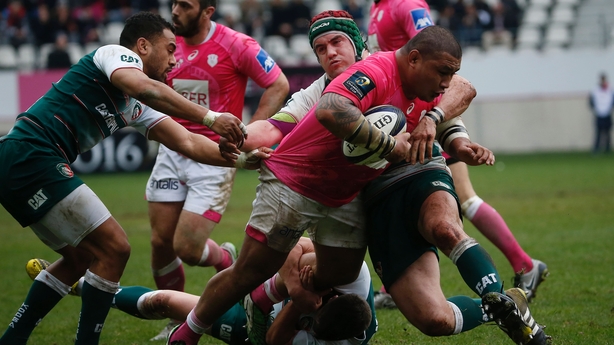 With Stade Francais president Thomas Savare struggling for funds, the project is being seen in local media as a takeover rather than a merger.
It raises tricky financial and contractual questions. As teams are subject to a monthly salary cap, the new club will have to let go of some top talent, leaving players and staff casting around for a new job three months before the end of the season.
"What do we do about those players who signed pre-contracts for next season, those players who have started making arrangements for next season?" said Tchale-Watchou.
Both Stade's Jean Bouin stadium (20,000 seats) and Racing's Yves du Manoir stadium in Colombes (14,000 seats) are rarely full for league games, though the new super-club is expected to play in Racing's brand new U Arena that should be ready by October.
"You won't fill one stadium with two half stadiums. It's not some French can-can, it's rugby. Fans won't go and support another club just like that," said Tchale-Watchou.
He is hoping that the Paris city hall, which funded the renovation of Jean Bouin for about €160million and receives a €1.3million yearly rent from Stade Francais and soccer club Red Star, will fight the merger.
"The City should ask the club to pay a rent for the next 25 years," he said.
Paris mayor Anne Hidalgo said: "Stade Francais will have to answer to the Parisians and Paris, which renovated the stadium."
The planned merger has divided the sport's top officials in France. Federation president Bernard Laporte, a former Stade Francais manager, said his organisation was "shocked" by the announcement and demanded an interview with national league chief Paul Goze after he said he was in favour.
At stake is the future of two teams with 20 French titles between them, who contested the first league final in 1892.
"They're just burying 130 years of rugby history," Tchale- Watchou said.