Perhaps it's harsh to expect these young men to have memories of a 16-year-old match fresh in their minds.
Tadhg Furlong is just 24-years-old and Keiran Marmion not even a full year older.
It's hardly reasonable to expect then-eight and nine-year-olds to recall in full technicolor, the 'old days'.
But Keith Wood's try and Peter Stringer's tap-tackle on Dan Luger in 2001 are embedded in Irish rugby folklore.
They are now buried deep enough that Furlong takes a little detour back to the 2007 Croke Park clash before returning to reminisce on Wood's memorable score.
"I actually do, Jesus, I do remember that," the Leinster prop told RTÉ Sport.
"I remember the little loop play off the back of the maul and he goes crashing over: I distinctly remember that, yeah."
Two years later, another potential slam-buster, Martin Johnson standing his ground like a good captain?
"I was 11 at the time so it doesn't stick out," he says of the 2003 hammering off an England side who would go on to win the World Cup later that year.
Connacht scrum-half Marmion, born in England and raised in Wales, is less familiar with the tale.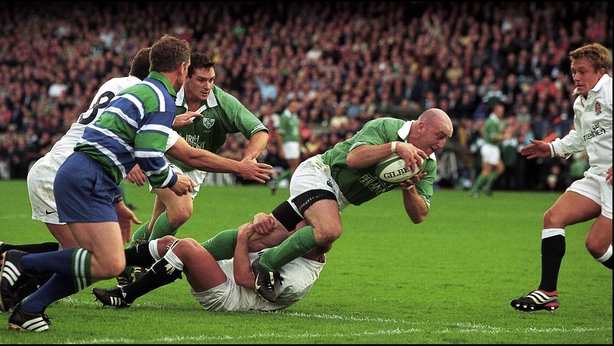 Of the 2003 encounter he may be relying on some Reeling in the Years footage.
"I've heard about it," he says of Johnson's refusal to budge.
It's entirely forgivable but Ireland have no trophy to play for on Saturday and must find something, anything to fill up on ahead of the Saturday evening clash (5pm, live on RTÉ2 and RTÉ Radio 1).
Ending England's 18-game winning run and preventing a grand slam, as well as ranking points, will have to serve as the motivation for the fact that it will be another trophy-less season.
These days, slam-busting isn't what it was. After the success of the mid-2000s and the three Six Nations titles over the last eight years, spoiling the party, even if it is against England, is a poor consolation for this group.
But Joe Schmidt and his side will have to avail of every possible incentive if they are to stop what, on the evidence of their demolition job on Scotland, appears to be a chariot built like a juggernaut and picking up speed.
It hasn't happened yet but Schmidt could do worse than set up a video session with a replay of the 2001 game.
"Within the team meetings? [It hasn't been mentioned], not at all," adds Furlong.
"The focus is massively on us and trying to get the most out of the game as we can and try to prove to our supporters what it means to us."