Ireland have lost more often under the watch of Friday night's referee Wayne Barnes than any other, but players will hope lessons are learned from the last visit to Cardiff.
Joe Schmidt's side travel to the Welsh capital (KO 8pm, live on RTÉ Two and live radio commentary on RTÉ Radio 1) with the Six Nations title still very much up for grabs and will face a home side hoping to exact the wrongs of their recent defeat to Scotland.
Coupled with their defeat to England in round two, the Welsh will be looking to spoil the Championship ambitions of their rivals with their own looking beyond reach. 
As ever at Test level, the influence of the match officials could have a crucial bearing on the outcome and 39-year-old Barnes has been tasked with the campaign's one and only Friday night fixture.
The barrister-cum-referee has overseen Ireland matches for the last decade and of all the whistlers who have officiated at least five Irish games in that period, the losing record under his watch is significantly higher than any other.
Ireland have won only four games in the 13 he has taken charge of, with a 69% losing record significantly higher than any other referee. The only official with a higher percentage is Jaco Peyper (75%), though the South African has only taken charge of four games, most notably the November defeat to New Zealand and last year's controversial loss in Paris.
Barnes' first outing was the 2007 World Cup clash with Georgia, a game that nearly found itself among the greatest upsets in sporting history.
The win/loss percentage can't be used as black and white gauge of a referee's quality or possibly favourtism to teams - Nigel Owens is second behind Barnes with Ireland losing 53% of their games he has officiated, though is widely considered to be one of the best in the business - but it will be a concern ahead of the crucial match on Friday.
Ireland lost seven on the bounce with Barnes in charge until they defeated Wales 26-3 in the 2014 Six Nations, while the last visit to the Welsh capital one was a frustrating one from an Irish perspective.
Wales' 23-16 win was built on the foundation of an early 12-0 lead as Leigh Halfpenny profited from Barnes' strict interpretation of tacklers not rolling away. Two debatable scrum calls in the second half also went against the visitors and captain Paul O'Connell was among those seemingly bemused.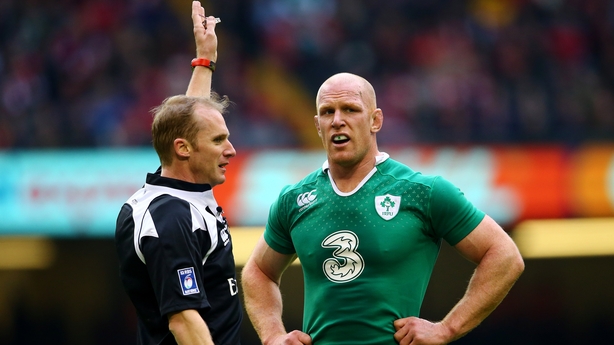 The backrow too were clearly frustrated and queried a number of calls, with Peter O'Mahony told in no uncertain terms to keep his opinions to himself.
While Irish fans were up in arms, Schmidt insisted players had to take responsibility for their own actions, though tellingly admitted that there was "some very, very stringent refereeing of the tackle area".
As is the way in professional rugby, detailed analysis of the match-day referee is par for the course, and speaking about the defeat to Wales two years ago, hooker Seán Cronin said it was up to the players to find out what Barnes was likely to penalise players for and act accordingly.
"We'd a long review in terms of being in camp with Joe and a lot of us have learned lessons from that"
"I know a lot of people were giving out saying that Wayne Barnes wasn't a good fit for us but a lot of us that were involved in the Ireland-Wales game, we had identified some of the things he was hot on and we ended up getting pinged for it," he said not long after the loss.
"We'd a long review in terms of being in camp with Joe and a lot of us have learned lessons from that."
Whether those lessons will be repeated on Friday remains to be seen, but the Irish defence, under the watchful eye of Andy Farrell, has taken great pride in becoming a side with renowned discipline.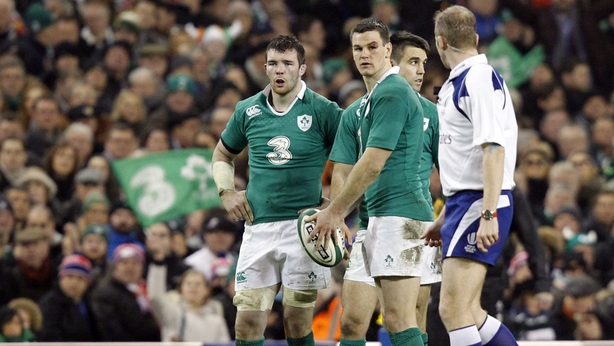 Cheap penalties have been at a premium - the 11 conceded in the three November games against New Zealand and Australia a clear indicator of that - but they face an official with a very particular way of addressing the breakdown.
It is easy to forget that Barnes oversaw the Grand Slam decider in Cardiff, that Jamie Heaslip could have little complaints over his 2010 red card against New Zealand and that the yellow cards handed out to Brian O'Driscoll, Donnacha Ryan and Conor Murray in the 2013 defeat to Italy were fully merited.
As Cronin intimated, the Irish players and management will be hopeful that the bitter lessons of two years ago will stand the team in good stead on Friday.
Ireland's record 2007 - 2017 (of referees who have managed five game or more)
Wayne Barnes  P13  W 4  L9  Ireland win rate: 31%
Nigel Owens  P15  W7  L8 Ireland win rate: 47%
Jerome Garces P6 W3 D2 L1  Ireland win rate: 50%
Roman Poite P7  W4  L3 Ireland win rate: 57%
Craig Joubert  P12 W8 L4  Ireland win rate: 67%
Glen Jackson P5 W4 L1  Ireland win rate: 80%
***
Live Six Nations coverage of Wales v Ireland on RTÉ Two and RTÉ Player from 7pm on Friday (KO 8pm), live radio commentary on RTÉ Radio 1 from 7.45pm and live blog on RTÉ.ie and the RTÉ News Now app.
Live coverage of Wales v Ireland (KO 11.30am) in the Women's Six Nations on RTÉ Two and RTÉ Player from 11.15am on Saturday.
Live Six Nations coverage of Italy v France (KO 1.30pm) and England v Scotland (KO 4pm) on RTÉ Two and RTÉ Player from 1.20pm on Sunday.
Live coverage of Wales v Ireland in the Under-20 Six Nations on RTÉ Two from 6.15pm (KO 6.30pm) on Saturday.