Bernard Jackman says Johnny Sexton proved his doubters wrong with his performance against France, while the French themselves will look to the IRFU model in order to restore the team's international fortunes.
Sexton returned from injury to lead Ireland to an impressive victory on Saturday, in turn answering the critics who believed Paddy Jackson should keep the number 10 ahead of the oft-sidelined Leinster man.
And Jackman believes a smart team performance meant the game was always likely to go Ireland's way once a tricky first half had been navigated.
"I think we took the sting out of them in terms of their attacking play – they spent so much time defending that it nullified their attacking threat which was a big positive for us"
The former Ireland hooker told RTÉ Sport: "I think there's areas to work on, but any day we beat France by more than a score I think we should be reasonably happy.
"We found it hard to break them down to pull away and win more convincingly, but I didn't think once the second half started the game was in any doubt.
"We played the game in the right areas and were pretty dominant in terms of possession as well.
"And some areas worked exceptionally well – I thought our line-out, which was 22 from 22, was really, really clinical and that's something that's a real positive going into the last two games."
Jackman also thought Ireland's game management was spot on in achieving the win.
He continued: "Ireland just wanted to keep the pressure on and they felt that that would pay later on in the game.
"In fairness to France, they did look very tired at the half-time whistle, but they didn't deteriorate too badly – they were still manning up in defence particularly throughout the whole second half and they made Ireland work for every yard.
"But I think we took the sting out of them in terms of their attacking play – they spent so much time defending that it nullified their attacking threat which was a big positive for us."
Jackman then singled out Ireland's half-back partnership of Sexton and Conor Murray for praise.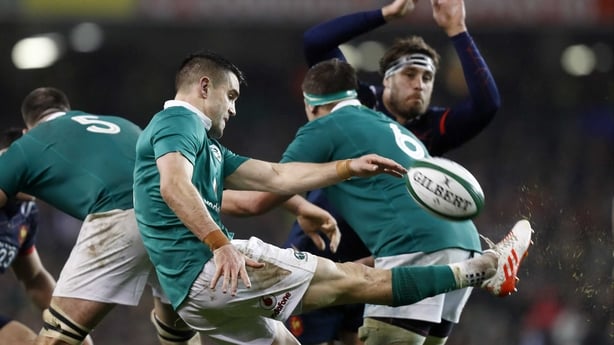 He continued: "They're both threats with ball in hand, they both have very good kicking games and more importantly they know when to keep it in hand and when to kick.
"Conor was excellent and I think Johnny deserves even more credit because of the fact that he's coming from a long way off and there was huge pressure on him.
"I think it's the first time in a long time that his starting role in the team was being questioned by a lot of people.
"But he went out there and in difficult conditions – because the way Johnny plays, he's so flat in the gain line and with that slippy ball it's even harder to play flat – but he just took the game to the French and didn't shirk any of the physical questions that were being asked of him and he lay down a real statement.
"Not just for his role as an Irish starter but for a Lion, he proved a lot of people wrong."
Jackman, head coach of French side Grenoble, then gave in insight into the reaction in France with changes to the structure of the game afoot, but only after a battle with the Top 14 clubs.
He continued: "It's been received really badly. I think they felt that they weren't at the races and they're really worried about the state of French international rugby.
"Bernard Laporte took the opportunity, he went on French TV yesterday in an open table debate, and he said 'we're not at a level, it's unacceptable to lose to Ireland like that and not be one of the best rugby countries in the world and changes are going to happen and he's going to speak to 40 players this week about dual contracts'.
"In fairness he was very complimentary about Ireland. He said the Irish model, where the players are contracted to the Union, is the model that they need to try and copy.
"The problem is in Ireland that system is the only system we ever knew and we naturally had four provinces. It's a lot harder to take control of 14 different clubs and potentially more because of the relegation and promotion.
"So he has a job on his hands now, he is a politician, or has been a politician, and he generally gets the job done but I think a little bit of a war has been declared and I think eventually the changes he will make will benefit French rugby."