Paddy Jackson's evolution as an international out-half means that Johnny Sexton has no "divine right" to a starting berth with Ireland, according to Richie Murphy.
Sexton missed out on last summer's tour to South Africa while recovering from shoulder surgery and Jackson has stood up to the plate since that time.
When Ireland eventually woke up in Murrayfield, Jackson was one of the star performers and he kicked nine from nine against Italy.
Yesterday, kicking and skills coach Murphy declared that Sexton had fully recovered from a calf strain and is available for selection for the France game on Saturday.
"He's (Jackson) still only 25, Johnny was only getting capped for the first time at the age that Paddy is at now so he's really stepped into that breach"
Former Ireland skipper Brian O'Driscoll maintains that a fit Sexton should walk on to the team, no matter that the Ulster man has proved more than able.
"If Sexton is fit he starts. I've played with both," he wrote on Twitter.
"Jackson is a good player and hugely improved but Sexto is world class."
"No doubt he's been very good, just think Johnny brings more."
However, Murphy is adamant that the choice between Lions out-half Sexton and 25-year-old Jackson will come down to how they train before Thursday.
"Johnny gets picked like everyone else; he has no divine right to get picked," Murphy said.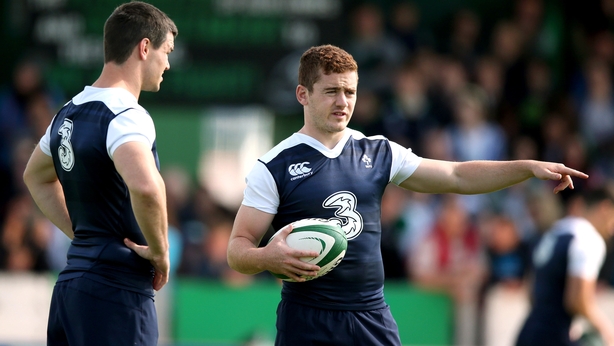 "Will he get picked? That is a decision that has to be made.
"I am not trying to create any confusion. All I am saying is that there will be a decision made on the back of how he has performed over the last two days."
Jackson was the man in the driving seat when Ireland beat South Africa and Murphy points out that it is only his age and Sexton's stature within the squad that sets them apart.
"Paddy's been brilliant," he said.
"We've been very lucky that when Johnny's been out Paddy has stepped in a filled that gap and filled it really well, since last summer.
"He's really stepped up to the mark, he's improving every time.
"He's still only 25, Johnny was only getting capped for the first time at the age that Paddy is at now so he's really stepped into that breach, he's worked hard with Johnny off the pitch.
"He's been really good it's starting to come to the stage where there's other options.
"It's probably the experience [that's the difference] so Johnny's just been around that little bit longer and seen it all so how he interacts with the group can be slightly different because he's more of a senior member than Paddy but that gap is closing.
"The players who play with Paddy are very confident in his ability and they listen to him and he runs the team really well for us."
Sexton, 31, has been plagued by injury since the Pro12 final but Murphy maintains that, rather than getting too despondent about missing out through various niggles, the Dubliner is just getting on with it.
"I think he's the same person he was," he said.
"Obviously he picked up a couple of injures. It's very hard for me to say this but he might be a bit frustrated but I don't know that, I haven't seen that.
"He's in good form and given the opportunity this week he'll be ready to go."
We need your consent to load this SoundCloud contentWe use SoundCloud to manage extra content that can set cookies on your device and collect data about your activity. Please review their details and accept them to load the content.Manage Preferences
Watch Ireland v France live on RTÉ2 from 4.30pm Saturday, listen live on Radio 1 Saturday Sport and follow our live blog on RTÉ Sport Online.
Watch Ireland U20 v France U20 live on RTÉ2 from 8pm Friday and watch Ireland Women v France Women live on RTÉ2 from 12.30pm Sunday. Follow live blogs on RTÉ Sport Online.