Ireland captain Rory Best says his team were punished for an uncharacteristically poor first-half performance against Scotland and reckoned the Irish squad would have to take "a good hard look at ourselves".
Joe Schmidt's side looked like they would sneak a win in Edinburgh after fighting back from a 21-5 deficit at one stage in the first half to lead late on, but Greig Laidlaw's late penalties put paid to any ambitions of Ireland taking a Grand Slam this spring.
In truth it was a disjointed Irish performance, particularly in the opening 40 minutes as Stuart Hogg (twice) and centre Alex Dunbar - from a lineout move from the training ground - punished an Ireland side that looked a pale shadow of the team that defeated South Africa, New Zealand and Australia last year.
On a day that Ireland conceded 13 turnovers and failed to keep possession at key stages, the hooker said it simply wasn't good enough from him and his team-mates.
"It's not what we came here for.  We're disappointed. There's not a lot of voice in the changing room," he told RTÉ Sport.
"We're taking a good hard look at ourselves.
"We're disappointed especially with how we started the game. For large parts of the first half we did the opposite of what we talked about coming here to do."
The manner of the three tries conceded was particularly hard to take for a defence that is normally water-tight.
"We were very naive," he admitted.
"For one of them we were caught very narrow. For another we didn't exit well, something we pride ourselves on.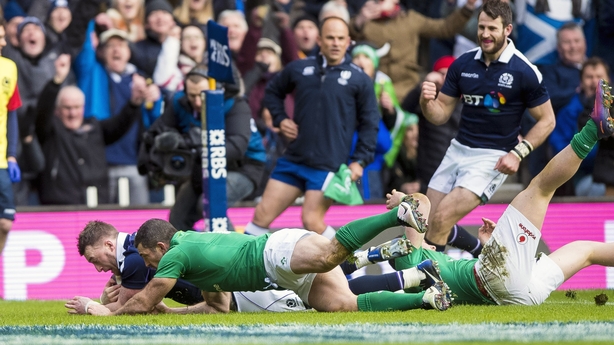 "The third one we got caught with a special play at the lineout. Credit to them, they took their opportunities really, really well, but it was uncharacteristic of us."
On his 101st cap for Ireland, Best admitted that for all their failings, the win was still within their grasp as they held a one-point lead going into the final 10 minutes, but poor execution cost them dearly when Paddy Jackson was penalised at the breakdown for the match-winning penalty.
"We'll take a long hard look at it tomorrow night, through Monday and then we have to park it. We have to keep looking forward," he said.
"We have to perform and certainly start a whole lot better [against Italy next weekend] than we did today."