Sean Cronin says he's targeting a return to the Leinster side for the business end of the European Champions Cup.
The Ireland hooker will miss the entire Six Nations campaign due to a hamstring injury picked up in the recent Pro12 win over Zebre.
But he says once he stopped feeling sorry for himself, he started to focus on winning his way back into head coach Leo Cullen's Leinster side in time for a European quarter-final.
"It was gutted, very disappointed, the few days after thinking about the exciting times ahead," admitted the 30-year-old Limerick native.
"I think I was playing to a good level, but I'm just trying to pick the positives out of it now. I'm trying to get other areas of my body that I can improve on during the rehab along with the hamstring.
"The lads are going very well so hopefully that continues so I can try to get back into the squad for the tail-end of the season. Hopefully there will be a few exciting games there.
"When you get setbacks like this you are going to be down for a few days, but then you have to try to pick the positives out of the situation. The big focus is coming back a better, fitter player and trying to force my way back into the squad."
Leinster face an away day against Castre in their final Pool 4 game against Castre in France on Friday and if they win they can secure a home quarter-final.
After that the province's internationals will turn their attention to the Six Nations, which begins on Saturday, February 4 against Scotland at Edinburgh's Murrayfield.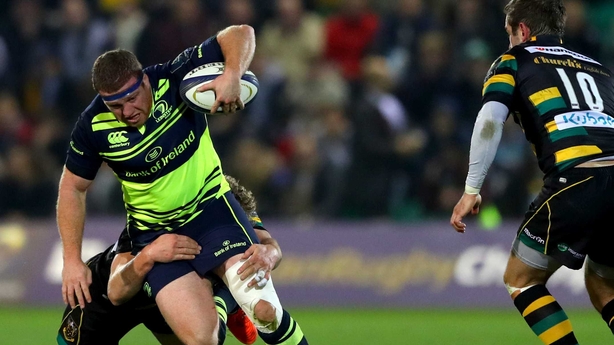 "I'm not a very good patient," revealed Cronin, Speaking to RTÉ 2fm's Game On. "They're trying to hold me back a bit because there is a high rate of re-injury.
"I was mad to get on the bike and the rower to try and keep a bit fit. I just have to keep telling myself I don't want to aggravate this and put myself back – I want to hit the ground running when I get back, hopefully at the end of March.
"There's a good bit of improvement last week after a fair bit of pain last week and hobbling around in a bit of a brace.
"There was a big improvement over the weekend and I'm back on the bike and I've done a bit on the rowing machine. I've started the rehab so it's improving and hopefully it will keep improving over the next few weeks.
"I was a bit taken aback by the time-frame I was given, but if you don't rehab them right there's a high percentage of a reoccurrence. That's why the focus is on getting it right and getting back on the pitch as quick as possible."
The ECC quarter-finals start on the final weekend of March.
Listen to Leinster away to Castres on 2FM's extended Game On this Friday. Toulouse host Connacht on Sunday afternoon with coverage on RTE 1's Sunday Sport.