Connacht head coach Pat Lam believes a quarter-final spot is now in his team's hands after they kept their Champions Cup hopes alive with a 66-21 victory over Zebre.
The Sportsground rout leaves the Irish province nicely positioned in Pool Two and battling for qualification with Wasps and Toulouse ahead of next Sunday's crucial game in France.
"We have worked hard to get into this situation," Lam said. "It's now all in our control. If we want to get the win in Toulouse (next Sunday), it's up to us, so we need to have a good week this week."
Although not their highest score in Europe - that remains a 75-8 win over Spanish outfit Centransa El Salvador in the 2005 Challenge Cup - Connacht posted 10 tries against Zebre. Eight of those were converted by scrum-half John Cooney, who played at fly-half due to the club's injury crisis.
By half-time the home team had racked up six tries from Matt Healy, Cooney, man of the match Tiernan O'Halloran, prop Finlay Bealham, scrum-half Kieran Marmion, and centre Craig Ronaldson for a 40-14 lead.
We had a goal not to let them cross our line, and we failed to achieve that
"The positive is that our goal was to have the five points from this match, and we got that," said Lam, who added that he was "bitterly disappointed" to see the defence allow the Italian side to score two tries inside the opening 12 minutes.
"We had a goal not to let them cross our line, and we failed to achieve that, and I wasn't happy at half-time - the way they got possession in the first place and the way we defended. It was a reminder of what has happened in the last few games, little moments that have killed us, so we still have a lot of work to do.
"Toulouse will punish us badly if we don't get it right next weekend, so it is important to have a good week's training now.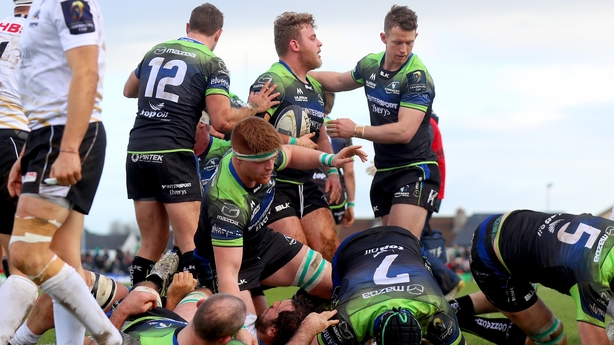 "Our confidence always comes from the training we do and (following the recent injuries) last week was the first time in five weeks the starting XV has completed all the training sessions, and that brought confidence."
Lam said heading to Toulouse not relying on other results was a positive.
"We have worked hard right thorough this pool to get ourselves into a situation where we go out to win, so we do our work, we prepare, and whatever it takes to win the game is what we are after," he said.
"Of course we are aware of other scenarios, but we have a mindset that is not about bonus points, but preparing to go into the biggest game of Connacht's history."
Zebre's Kiwi full-back Kurt Baker felt that the final 20 minutes, during which centre Mattia Bellini ran in their third try, was something the Italian outfit could build on.
"The first 60 minutes was pretty disappointing from the supporters' and players' point of view, but in the last 20 minutes we showed we can play some good rugby," Baker said.
"For us I think it's just an attitude thing sometimes. At the end of the day, if a player doesn't want to be there, he doesn't want to be there. We're trying hard but I think it's just sometimes our execution and sometimes our attitude."