Leinster head coach Leo Cullen admits he is sometimes "shocked" that players don't understand instructions as the province become the first Irish team to play under the new tackle laws.
On Tuesday, World Rugby introduced new measures aimed at reducing the number of high and dangerous hits.
A referee may now sanction a player who recklessly or accidentally makes contact with an opponent's head during an attempted tackle.
A statement from the organisation said: "World Rugby has further strengthened its commitment to injury prevention by announcing details of a zero-tolerance approach to reckless and accidental head contact in the sport.
"While injuries in the game are not on the rise, the federation continues to be proactive in furthering evidence-based strategies to reduce injury risk for all players."
Leinster host Zebre tomorrow night at the RDS (7.35pm) and Cullen told RTÉ Sport: "It's something that the players have to be aware of."
Asked if he was certain that there was clarity among the squad, he replied: "I am shocked sometimes when I explain a message and I'm not necessarily sure it does sink in.
"They are being made aware."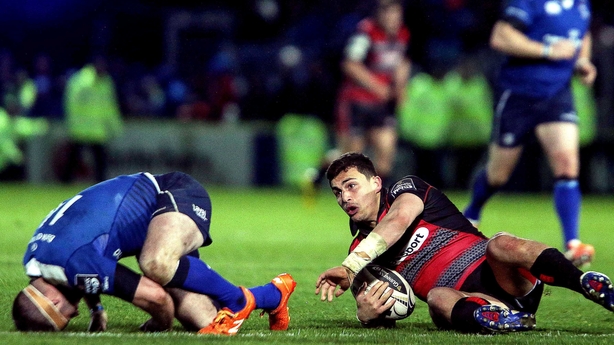 Cullen didn't specify whether or not the management had made any changes to the tackling drills but stressed that it's an area that they are concerned with.
"It's something we're very conscious of," said the former Ireland international. "One of our physios has undertaken a pretty extensive study on concussion. And a lot of it's based around the tackle technique.
"[The coaches] do a lot of work with the players in tackle technique. There are a couple of windows a week where we'd be very conscious of making sure we get a good tackle technique so we get good positive entries into tackles.
"A lot of concussion episodes do come from tackle technique, and obviously for some tackles that slide up."
Scrum-half Luke McGrath, who will start alongside the returning Johnny Sexton, added: "They [the laws] are there for a reason – to look after player welfare.
"You can be unlucky and you can give away a high tackle but you just have to obey them."
Independent Referees Commissioner for the Guinness Pro12 Ed Morrison said: "For over a year, players have been aware that they are at risk of receiving a card if they go near the head or the neck and World Rugby has asked that officials are extremely vigilant when it comes to foul play.
"Referees and Television Match Officials have all been briefed on this issue to ensure a consistent application of the new sanctions.

"The goal is to lower the height of the tackle and change the culture, with regard to reckless and accidental contact with the head."
NEW LAWS
Reckless tackle
A player is deemed to have made reckless contact during a tackle or attempted tackle or during other phases of the game if in making contact, the player knew or should have known that there was a risk of making contact with the head of an opponent, but did so anyway. This sanction applies even if the tackle starts below the line of the shoulders. This type of contact also applies to grabbing and rolling or twisting around the head/neck area even if the contact starts below the line of the shoulders.
Minimum sanction: Yellow card
Maximum sanction: Red card
We need your consent to load this YouTube contentWe use YouTube to manage extra content that can set cookies on your device and collect data about your activity. Please review their details and accept them to load the content.Manage Preferences
Accidental tackle
When making contact with another player during a tackle or attempted tackle or during other phases of the game, if a player makes accidental contact with an opponent's head, either directly or where the contact starts below the line of the shoulders, the player may still be sanctioned. This includes situations where the ball-carrier slips into the tackle.
Minimum sanction: Penalty
10.4(e) Dangerous tackling of an Opponent including: (i) a tackle or attempted tackle above the line of the shoulders even if the tackle starts below the line of the shoulders; (ii) grabbing and rolling/twisting around the head/neck area even if the contact starts below the line of the shoulders.
LE – 2 weeks
MR – 6 weeks
TE – 10+ weeks
(A dangerous tackle which results in a strike to the head shall result in at least a mid-end entry point sanction)