IRFU Performance Director David Nucifora has said Johnny Sexton will be given all the time he needs to fully recuperate and is confident a patient approach to the outhalf's hamstring woes will ultimately reap rewards for province and country.
The Ireland number 10 will again visit the Sports Surgery Clinic in Santry this week and is being monitored closely as he continues to recover from an injury suffered against the All Blacks in Dublin last month.
His troublesome hamstring had prompted calls to give the playmaker a rest period and although senior coach Stuart Lancaster said on Tuesday that Leinster are hopeful he'll feature against Ulster on New Year's Eve, Nucifora insisted the 31-year-old will get the green light only when there's satisfaction he's "100% fit".
"It's like any player who succumbs to injury; we'll look at the best way of getting that player back on the field and keeping him on the field," Nucifora told RTÉ Sport's Michael Corcoran.
"We got to the point with Johnny where he was breaking down with a hamstring issue so the medical teams got together and put a plan into place.
"It's about the player, it's about making sure that we could get him over the issues he's got at the moment and if that took a prolonged period of time to get him right, that's what everyone agreed needed to be done.
"If he comes back fitter and stronger then he's going to be there and able to play for all the teams he's contracted to play for for the rest of the season. That's the aim."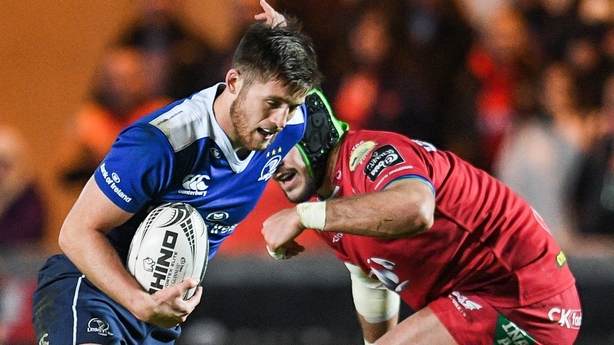 Sexton's absence - compounded by the ankle ligament damage Joey Carbery suffered against Northampton Saints at Franklin's Gardens at the start of the month - has at least paved the way for one young gun to make his mark.
Academy graduate Ross Byrne [above] has been thrust into the spotlight and coped admirably, thriving in his baptism of fire on first-team duties.
"It's about having a plan in place to get him back to 100% fitness," Nucifora added of Sexton.
"He's well on the road to that and we'd be confident that that's going to happen. In the meantime it gave a few of the young blokes a go. Ross Byrne certainly did very well over the last two weeks.
"He's another young player that's been exposed to high-level rugby so there's lots of positives to come out of it as well."
You can listen to Munster v Leinster live (5.30pm) on RTÉ Radio 1 on St Stephen's Day