World Rugby has issued a series of new guidelines aimed at reducing reckless and accidental head contact in the game.
While insisting injuries are not on the rise, the federation is to implement evidence-based strategies to reduce injury risk for players.
In a change to the current law, World Rugby has redefined illegal high-tackle categories and increased sanctions to deter high tackles via a law application guideline.
This will apply at all levels of the game from 3 January, with the introduction of minimum on-field sanctions for reckless and accidental contact with the head, effectively lowering the acceptable height of the tackle.
The guideline will be supported with a global education programme.
World Rugby chairman Bill Beaumont said: "World Rugby continues to be proactive in aligning with the latest evidence-based recommendations in this priority player welfare area to ensure players and coaches at all levels of the game are appropriately educated, managed and protected when it comes to head impacts and injury within the environment of a contact sport.
"We believe that we are playing a leading role in terms of the development and implementation of best-practice interventions and this important study further reflects our commitment to an evidence-based approach to player welfare.
"We believe that the invaluable data from this study will inform the law review process and lead to changes in playing or training practices."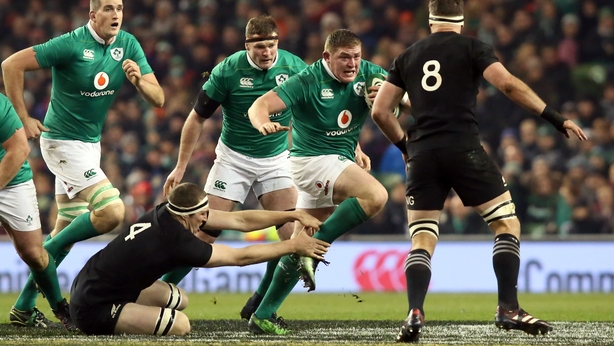 Ireland prop Tadhg Furlong was one of those to welcome the new directive, saying: "When it comes to protecting the head and neck of players, everyone is rightly very cautious now.
"The culture around concussion has completely changed and it's no longer acceptable for players to continue in a game if they're even suspected of having a concussion.
"When it comes to dealing effectively with concussion in sport, rugby is at the forefront.
"The International Rugby Players' Association supports any measure that protects our welfare and we are in favour of this initiative, which we believe will help further to reduce head and neck injuries at all levels of the game.
"Rugby is a physical sport and there will always be a level of injury risk associated with it but the sport is doing as much as it can to make it as safe as possible."
We need your consent to load this YouTube contentWe use YouTube to manage extra content that can set cookies on your device and collect data about your activity. Please review their details and accept them to load the content.Manage Preferences
The two new categories of dangerous tackles which will be regarded as penalty offences are:
Reckless tackles
A player is deemed to have made reckless contact during a tackle or attempted tackle or during other phases of the game if in making contact, the player knew or should have known that there was a risk of making contact with the head of an opponent, but did so anyway. This sanction applies even if the tackle starts below the line of the shoulders. This type of contact also applies to grabbing and rolling or twisting around the head/neck area even if the contact starts below the line of the shoulders.
Minimum sanction: Yellow card
Maximum sanction: Red card
Accidental tackles
When making contact with another player during a tackle or attempted tackle or during other phases of the game, if a player makes accidental contact with an opponent's head, either directly or where the contact starts below the line of the shoulders, the player may still be sanctioned. This includes situations where the ball-carrier slips into the tackle.
Minimum sanction: Penalty