Dylan Hartley will be allowed to continue as England captain by the Rugby Football Union regardless of the outcome of the hearing that threatens to curtail his RBS 6 Nations participation.
Hartley will discover on Wednesday afternoon the length of the suspension he must serve after being sent off for landing a swinging arm on the head of Sean O'Brien in Northampton's defeat by Leinster.
Champions Cup organisers have confirmed that the 30-year-old has been charged with striking, entailing a five-week suspension for a mid-range offence and eight weeks if the infringement is considered high-end.
An appalling disciplinary record comprising 54 weeks of bans for misdemeanours including biting, gouging and butting are likely to result in an increase to the sanction imposed and he could be unavailable when France visit Twickenham on February 4.
RFU chief executive Ian Ritchie, however, points to Hartley's superb leadership during an unblemished run of 13 successive Test victories to explain why he should remain at the helm.
"I think Dylan's got credit in the bank," Ritchie told BBC Sport.
"I think most people would say it's been a fantastic year. We've had 13 wins out of 13 and Dylan has made a huge contribution and he should be allowed to continue that.
"Dylan has clearly played a fantastic part in captaining the team, on and off the pitch just to be clear. His leadership credentials are very strong. He's made a huge contribution.
"So you view all these things in perspective and in perspective one looks at the totality of what he's done and what's happened over the years. I think we should be supportive of that."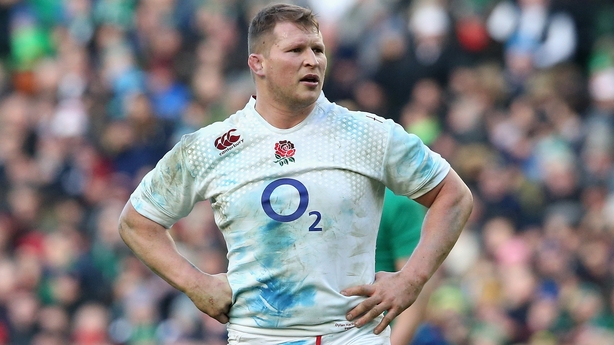 The biggest call of Eddie Jones' one-year reign has been to appoint Hartley as captain despite the disciplinary baggage that accompanies him and his judgement has been justified by the hooker's influence in helping England win a Grand Slam and complete an historic series whitewash of Australia.
Jones was present at Franklin's Gardens on Friday night to see the dismissal and registered his disappointment by running his left hand down his face, but Hartley looks set to retain the confidence of his head coach.
"If he's eligible for selection it's ultimately a matter for Eddie, but we should recognise and support all that Dylan has done in the last 12 months," Ritchie said.
"It is primarily a matter for Eddie and if you look back over it, Eddie's judgement has been really good. We should recognise that and I'm sure we will."
Ritchie declined to comment on the incident that ended O'Brien's evening - the Ireland flanker subsequently failed a head injury assessment - until after the independent hearing that takes place in London.
As a second-half replacement, Hartley had been on the pitch for only six minutes when he struck O'Brien from behind and former Ireland and Lions captain Brian O'Driscoll insists he has no defence when he faces the hearing.
"It was incredibly reckless, a definite red card. There were no complaints, from him, (Northampton director of rugby) Jim Mallinder, or most people," O'Driscoll said.
"We just have to wait and see what the disciplinary hearing makes of it. He's tried to come on and make an impact, but even if it only catches his body, it's still a yellow card because a swinging arm is a swinging arm. You have to make an attempt to make a wrap.
"That was a swinging arm and it was cut and dried for me. I'm just surprised that certain people did see it that way, because I thought it was clear cut as I've seen."