In-form Ireland prop Tadhg Furlong has said Mike Ross has been a great role model and mentor in his development, but dismissed talk of a Lions spot.
The Wexford native put in another stellar performance in the 27-24 defeat of Australia as Ireland completed a 2016 clean sweep over the southern hemisphere's big three of the Wallabies, New Zealand and South Africa.
The increasingly-influential Furlong has catapulted himself to the front of the queue for the Lions' number three shirt next summer with a string of fine November performances.
Furlong's bullish ball-carrying, his unyielding drive and smart set-piece work have all helped Ireland move their tight game on still further under boss Joe Schmidt and forwards coach Simon Easterby.
But the 24-year-old has insisted he feels a "big, big step" away from the Lions picture.
"It's kind of daunting in a way, to be honest with you," said prop Furlong of links to next summer's Lions squad.
"Because you know in your own head that 'jeez, my scrum wasn't great there' or 'my entry wasn't great here, and if I do this against a really great scrummaging pack, I'm going to be torn apart here'.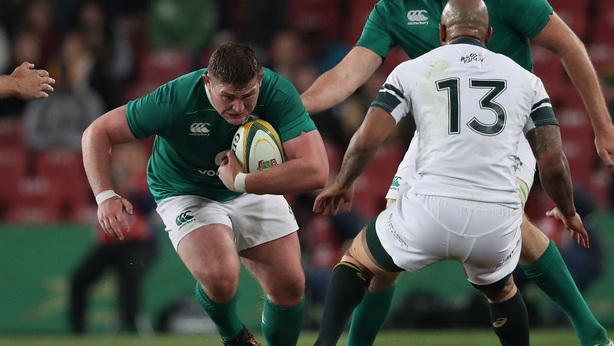 "That is your thought process. And with people throwing that out, you get kind of embarrassed.
"The Lions is synonymous with such a big brand and so many great players have played there. Do I see myself there at the minute? No.
"I think I have a long journey to go and, as I said, I've only started four games for Ireland, two Heineken Cup games for Leinster and it is a big, big step to be making those shouts."
England's Dan Cole, Wales' Samson Lee and Scotland's WP Nel will all be in the mix for Lions selection, but Furlong has emerged as the standout tighthead across Ireland's impressive autumn series.
Furlong for one is refusing to let himself get carried away - insisting his emergence as Ireland's starting tightead remains in its infancy.
The Leinster star also laid much of the credit for his own progress at the feet of 36-year-old provincial team-mate and veteran of 61 Ireland caps Mike Ross.
"You're only one bad scrummaging performance from being torn apart, so there's definitely work I can do in that area"
"Mike Ross has been a stalwart for years and years and he's delivered so well for Ireland that no other tighthead has really got a look-in, in terms of his consistency in the scrum and general soundness around the pitch," said Furlong.
"To come up under him, I've worked with Mike a long time through the academy at Leinster.
"He's been a really good mentor for me I suppose to step out of his shadow and get a few games has been really good for me.
"Look, you can't get carried away either. You're only one bad scrummaging performance from being torn apart, so there's definitely work I can do in that area.
"It's something that I'll reflect on these three games I've played in. Breaking it down now over the next week, I'll put plans together to try and improve in that area."