Italy boss Conor O'Shea has warned that his side's historic win over South Africa is not a sign that everything is "all right" within Italian rugby.
The Azzurri shocked the Springboks in Florence on Saturday, recording their first win in 13 attempts with a 20-18 victory.
O'Shea, who took over the reins before summer, had seen his side crushed 68-10 by New Zealand a week previous.
"The one danger of a result like we've had is that people think that actually things are all right and things will get better," the former Ireland full-back told 2fm's Game On.
"Things aren't all right and things will not get better on a long-term basis [automatically].
"But this particular group of players – to see their reaction, to see the crowd sing the national anthem 10 minutes after the final whistle...was a memory for life."
O'Shea is adamant that despite taking such a prized scalp, a result that forced the South Africa camp to apologise to the nation, he knows that they are fighting to change a culture.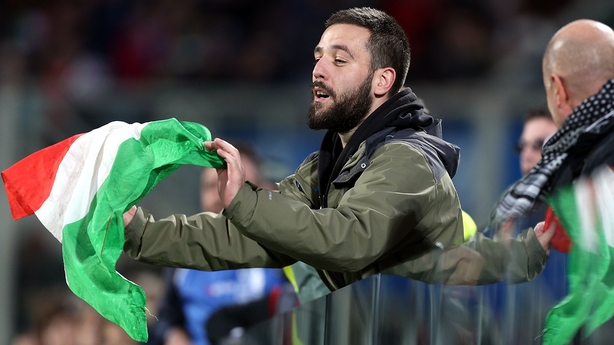 He added: "There's different stages of evolution with countries but a result like this can have such an impact in the long term.
"We turned up to training today and there was over a thousand kids that came down to watch.
"It's just incredible how a result can galvanise people.
"That's doesn't mean it happens every week and I've said to them, we're not going to win [all the time] but we got ourselves into a position where small things within the match were going to decide it and some days they go your way and sometimes they don't.
"But if we're competitive on a more regular basis then the people coming up behind will start seeing that things are achievable.
sempre 🔝 un pomeriggio #insieme ai nostri fans!
qualche foto dall'allenamento aperto di #Italrugby oggi al @PETRARCAPADOVA #ITAvTON pic.twitter.com/N0YwyoXY6w

— Italrugby (@Federugby) November 21, 2016
"That's what I challenged this group [to do].
"It's not about winning Six Nations or World Cups – that's where Ireland are at.
"We're in a position of trying to make ourselves more competitive and changing the mentality of rugby.
"We knew if we could stay with the Boks, which we did, that the pressure would start mounting on them.
"There are two different types of pressure but the one of expectation [was there], when the weight of the world is on your shoulders, you could feel pressure growing on them as the match went on.
"I'm just happy for the guys because they get enough criticism and abuse."