RTÉ analyst Brent Pope has described Ireland's victory over New Zealand as a "huge shock" and adds that Joe Schmidt's side have in them to beat the world champions again at the Aviva Stadium on 19 November.
The rugby fraternity in Ireland are still basking in the 40-29 victory on Saturday last in Chicago, with Pope, who was there to witness the game in the Windy City, concluding that the outcome represented the biggest shock in New Zealand's history.
Speaking to RTÉ Sport on Morning Ireland, Pope said: "Not many sides beat the All Blacks. This is an All Black team that many were saying were perhaps the greatest side of all time. They are back-to-back world champions.
"They had as near a full team they could select on Saturday and were beaten by a team that had never beaten them before. It's a huge shock.
"I thought that this was a game too early for Ireland. Stepping up from Pro12 to international rugby would have been too big for a lot of the players, with a few key players missing like Sean O'Brien.
"At one stage I was remarking that it was all too easy, especially in the first half. A fantastic result."
"I felt it would have been a bridge too far and I expected the All Blacks to win in by 10 to 12 points.
"That wasn't being arrogant on my behalf. I thought it was realistic and most of the Irish that were in Chicago felt that.
"At the end of it all, New Zealand were well beaten on Saturday and have no complaints. Ireland fully deserved the win."
"At one stage I was remarking that it was all too easy, especially in the first half. A fantastic result."
Looking ahead to the sides renewing their rivalry on Saturday week, Pope continued: "I think Ireland have a real chance in two weeks' time.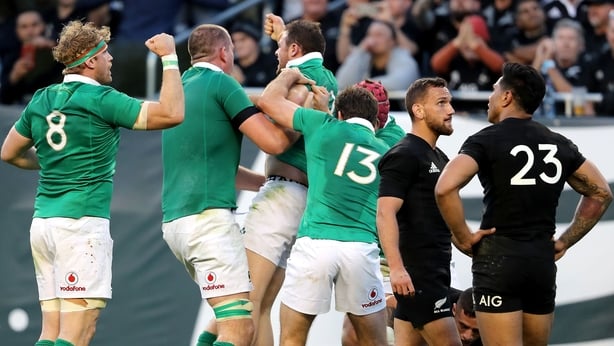 "New Zealand will be nervous about that game. People are saying that Ireland will get a backlash but this All Blacks may not be able to recover all that quickly. They have a few key injuries now and can't bring anybody else in at short notice in a key position like second row. 
"There is a real opportunity for Ireland for Ireland to pull off another victory. That would be sensational and equivalent to a series win." 
Indeed, beating the world champions should now give Joe Schmidt's belief that they can really deliver on the big stage, adds the former Kiwi international.
"Schmidt will now be telling his men that they have found a new level and you don't come down from that.
"If you can win those games like that, you can win all games. If you can beat the world champions so convincingly then why can't Irish rugby go after a world cup?
"We just need some consistency in our game."
Live coverage of Ireland v New Zealand on RTÉ television and radio on Saturday 19 November.