Joe Schmidt's contract extension brings "certainty" to Irish rugby according to IRFU Performance Director David Nucifora, who was adamant the recent contentious decision on Ruan Pienaar's future was the correct one.
Ireland head coach Schmidt earlier this week signed a new deal with the IRFU that will see him continue in his role up to the end of the Rugby World Cup 2019 in Japan.
And Nucifora believes it is a massive positive that the New Zealander has extended his stay.
"He's hugely committed to Irish rugby and I think he's just glad he's made the decision now and he knows exactly what's in front of him..."
Nucifora told RTÉ's The Breakdown podcast: "It's huge, it gives us certainty now in Irish rugby – about what it's going to look like right through to the World Cup. It enables us to plan up to the point and beyond it, that's a good thing.
"We're fortunate to have Joe. He's a world class coach and to be able to secure him right through for another World Cup is a huge positive."
In the months prior, there were doubts whether Schmidt would extend his contract or not, with family reasons touted as a reason he might return to his native New Zealand.
We need your consent to load this SoundCloud contentWe use SoundCloud to manage extra content that can set cookies on your device and collect data about your activity. Please review their details and accept them to load the content.Manage Preferences
However, it seems he was just taking his time to ensure he made the correct decision.
Nucifora revealed: "Joe had an option in his contract and that's what he's decided to do.
"It wasn't as if Joe went back out into the market place seeking other employment – he just wanted to think through his own circumstances and make sure it was the right decision for him and his family going forward.
"He's hugely committed to Irish rugby and I think he's just glad he's made the decision now and he knows exactly what's in front of him and he's obviously working towards that."
Nucifora also sympathised with Ulster following the IRFU's decision not to offer Pienaar another contract due to their succession policy, but was adamant it was the correct decision for Ireland in the long run.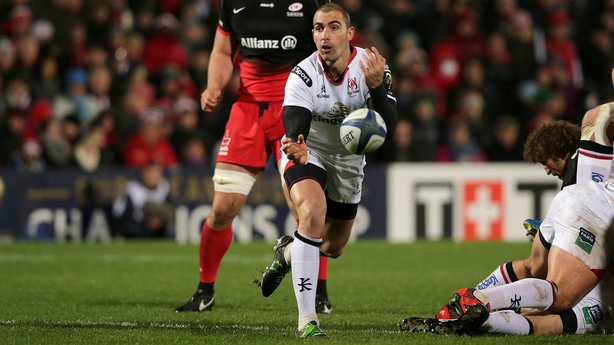 The South African wanted to remain with the province, but Irish chiefs blocked the attempt, challenging the Ravenhill province to promote from within instead.
Nucifora continued: "I understand the disappointment for Ulster fans that Ruan has moved on, but he's given Ulster rugby seven really good years of his career.
"For him to stay more than seven years – they were looking at extending that out to nine years – that doesn't really fit into the model of Irish rugby.
"We've got to try and create opportunities for other players, particularly in a specialist position like half-back.
"We've got to make sure that there's opportunity for Irish talent to continue to develop and come through.
"Like with any of our non-eligible players that are here, we always try and keep communicating with the provinces around what their plans are beyond that player so that there is a Plan B when they do move on."
We need your consent to load this SoundCloud contentWe use SoundCloud to manage extra content that can set cookies on your device and collect data about your activity. Please review their details and accept them to load the content.Manage Preferences